Rustic kitchen décor does not only create a warm and cozy place where you can all huddle after a long and tiring day but it also brings back stories and memories of the bygone days. you may have lived in urban places all your life but still probably remember a county kitchen from description in a childhood book or holidays in the hills or countryside.
You can recreate the magic of county décor with the help of few tasteful changes in your very own kitchen. If you are remodeling then follow the ideas described below to make a unique rustic kitchen that friends will praise and foes will envy.
Opt for dark wood and match it with shades of red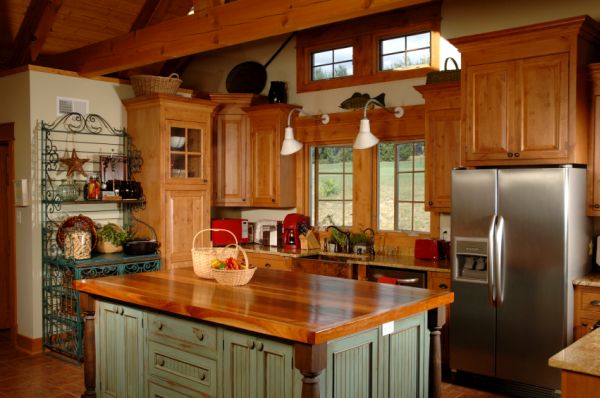 Tasteful use of wood floors and wall panels can give your kitchen an instant rustic makeover and pairing red with it makes it doubly gorgeous. Use wooden floor planks and wooden beams for the ceiling in your kitchen.
Mend old rustic wooden cabinets and use them in your kitchen as well for a well coordinated look. Make sure there is sufficient light for conducting intricate chopping and cooking. Use a red finish island to bring together the look and add a pop of color to dispel the monotony of dark wood. Stone works really well with wood so you can consider a stone fireplace in your kitchen or near it.
Black kitchen cabinets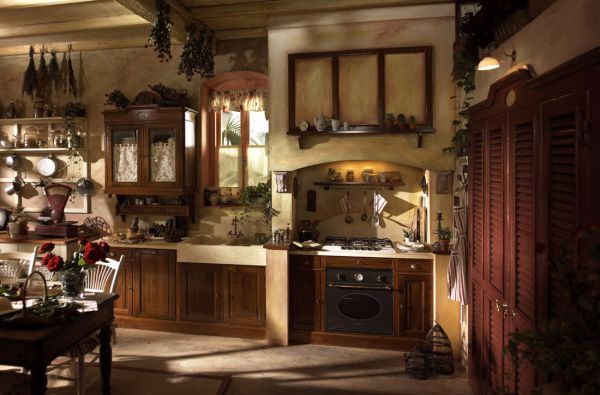 Neutral whites and sand beige goes really well with black painted kitchen cabinets and black stone countertops. If you are using wooden countertop then try painting it black as well. The black brings back memories of quiet and spacious county kitchens filled with the smell of roasted duck and meat pie. Use butcher's Block Island for taking the rustic concept forward and creating a better coordinated look.
Paneling can enhance the rustic charm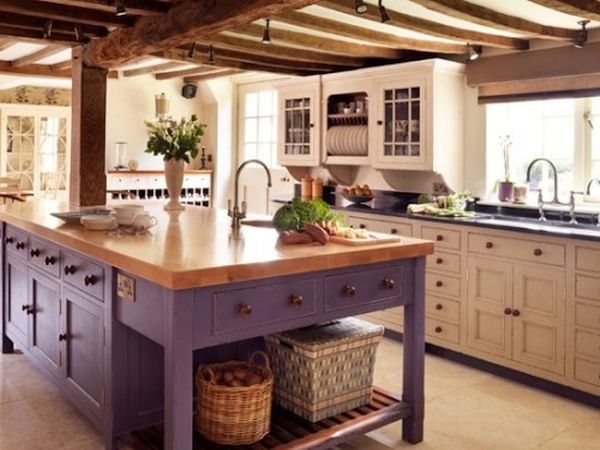 Black or dark flooring with white washed flat-board wood paneling looks great and spells rustic like nothing else. You can play with the broadness of panels and their placement style to bring variety.
For more effective visual impact, use both horizontal and vertical wood panels. You can also experiment with the finish of the panels. Use vertical panels on a simple island counter to make it look more interesting. Both linoleum and wood floors work well with the rustic theme.
Install display cabinets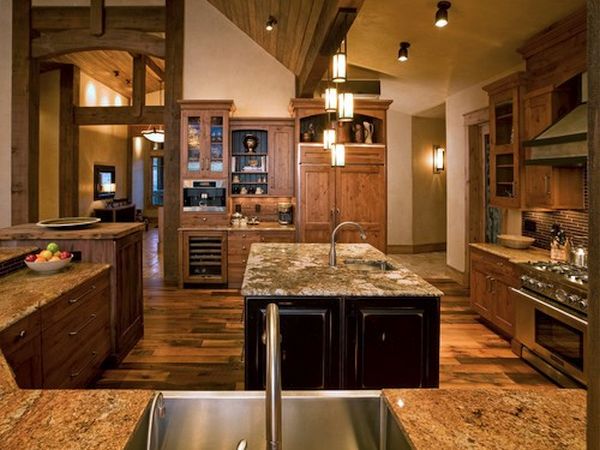 Colorful cutlery and utensils on display can make your kitchen look more rustic and county-like. Install large open wall cabinets for displaying different items. You can neatly arrange cake plates, canning jars, pots and glass jars their. Instead of opting for an entirely new open cabinet just replace the doors of existing cabinets with glass. Also paint the wall cabinets white or any suitable color.
Create more space for work with planning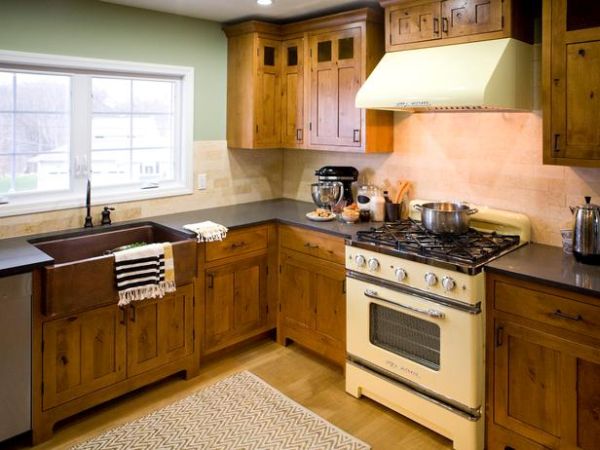 The best thing about the county kitchens is that they are very functional. It is convenient to work in a rustic kitchen. Make your kitchen more functional by adding an additional island with a sink.
This way the cooking and cleaning spaces get separated. You can cook while children can sit eating in one island and your partner does the dishes. Rustic kitchens are best for spending quality time together with family and friends.
Use the worn looking paint for the old vibe
If you are someone who likes laid back, homely décor then opts for rustic primitive painting. Chipped paint and restored wooden cabinets will surely add an old world charm to your kitchen.
Rustic kitchens are warm, comforting and easy going. Use wooden floors and wall panels along with separate islands and display cabinets to create the old world kitchen in your urban living space.