Dabbling in crafts can be a relaxing experience. It's also one which gives an outlet to your creativity and you can spend your free time making your own decorations for your home. Make your own Halloween and Christmas decorations as well as some nifty furniture. And if you have kids, a craft room can save you from mess in the kitchen or all over the house. A craft room need not be fancy or be huge, it's just a space which is organized, and contains all the tools you require within easy reach.  Take a look at these tips and create your very own craft room:
Consider your projects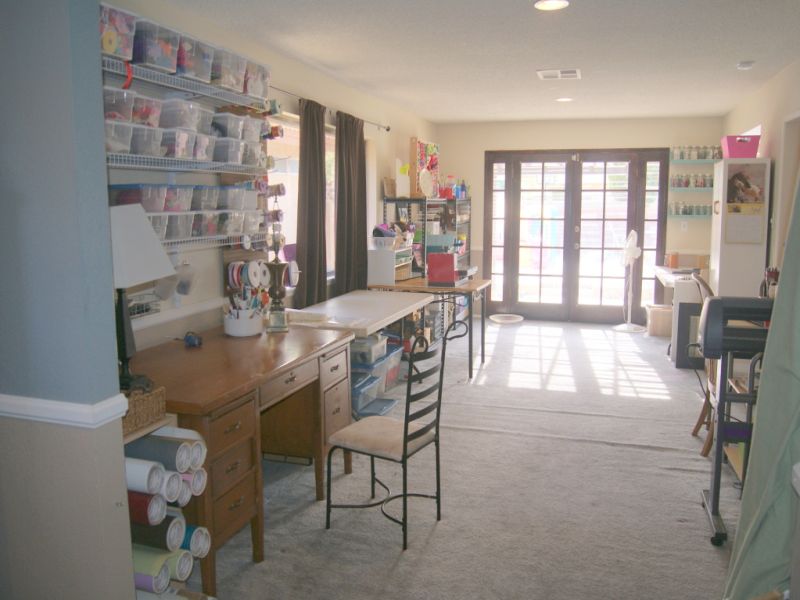 The first thing you must think about is the kind of projects you like to take on. You will need a sturdy surface which is big enough for your projects and is easy to clean as well. You will need a strong light source. Height can be added to your table keeping blocks under the legs or by adding PVC pipe on the legs, the ideal height being 31 inches. If you plan to sit for a long time, use stools with back support.
You can increase lighting with LED floor or desk lamps or look for the best solution from the range of designs available in stores, or buy online.
Have ample storage space
Plan for storage such as closet/s which can hide your mess. You could buy something which has shelves, cubbies and drawers which can contain small things like nails and other small supplies which are lost easily. Hang a rod horizontally to hang ribbons, wire and spooled supplies. This will save storage in your closets and drawers. Having storage with adjustable shelves and divided drawers to accommodate all your tools, jars and boxes will save your craft room from clutter.
Designated sewing zone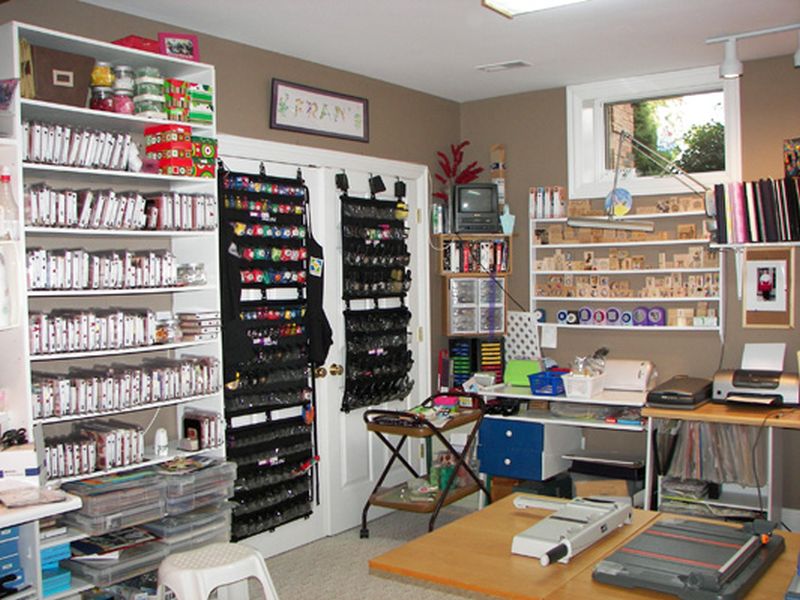 Choose a narrow surface to put the sewing machine on and your stool can be put under it when you don't need it. The peg-board over the table keeps all your sewing supplies handy and a wall mounted lamp can provide enough light for you to sew.
Suspended shelving
Suspended shelving can take care of albums, journals, shell collection and so on to add a decorative element to the room.
Add a pretty rug
You can add a pretty rug or a bold one according to your taste which can transform your craft room into a homey and cozy space you'd like to spend time in.
Use the wall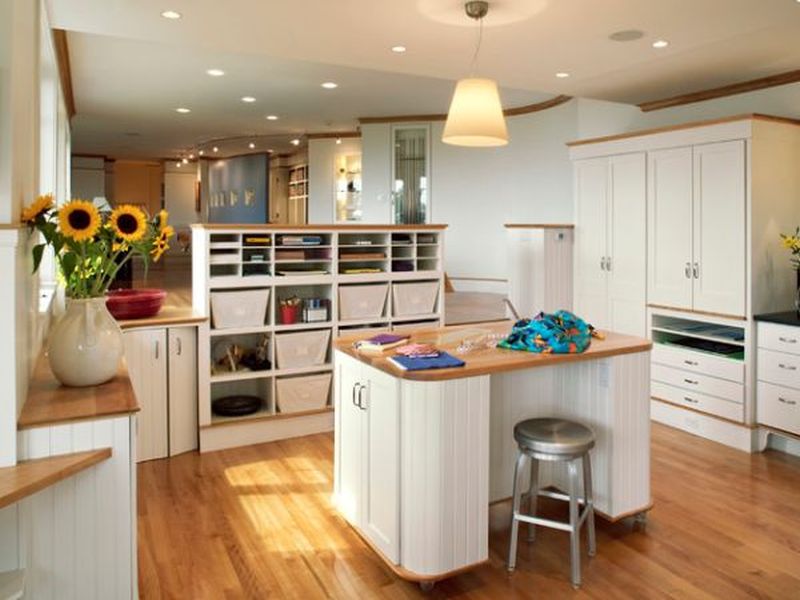 The wall too can be used to hang certain supplies like metal tools, scissors, hooks and peg-boards if magnetic strips are glued to the wall. 
Put in a sink
A sink is great to have in a craft room, as you can clean up easily and conveniently. You don't have to carry all your materials down to the kitchen or bathroom and can clean your mess in the room itself. 
Reuse cans, tubs and pizza boxes
Empty cans can be used to store paintbrushes and corrugated cardboard can be inserted in between to separate them. Baby food and margarine containers can be turned into paint holders or used to fill water to rinse paintbrushes. Pizza boxes which are unused can be used to keep rubber stamps. Kitchen canisters can be used to store cotton balls, felt scraps, and yarn. 
Organize by type
Organize things by type. Sort everything into piles of the same type, which would help you to know the amount of space that you would need to allocate each item.
Label all boxes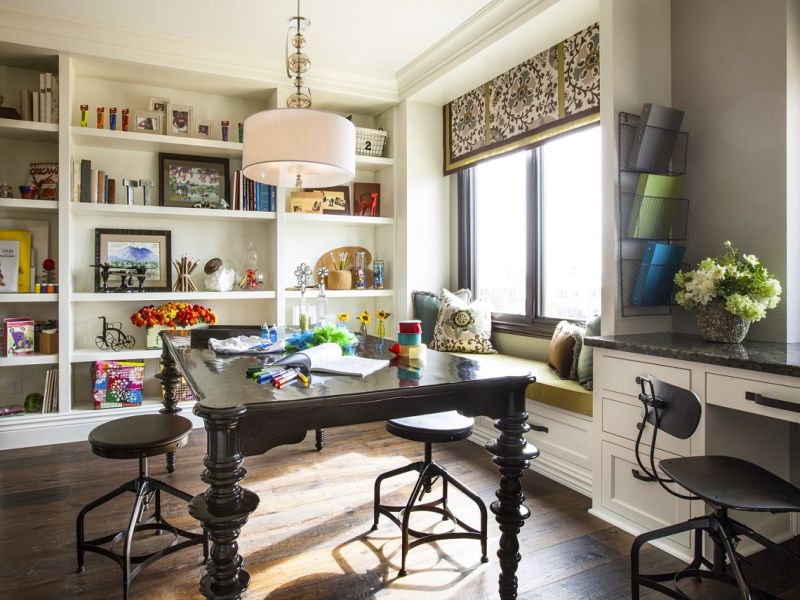 To find everything at a glance, label all the containers which hold your supplies. This would save time and streamline your craft making process. 
Use a hat tree
A coat rack or hat tree can be used to hang up smocks you wear when you're working on your project. 
Converting a room into a crafts room to indulge your craft making hobby is easy and fun. You can do that by yourself or if you're willing to shell out some money, get some professional help to help you with your craft room.