Are you dreaming of decorating your patio and taking it to the next level? Your patio is the place you'll spend most of your time during the summer. Decorating it will make it even more attractive and inviting. Choosing the right patio décor will make you feel like spending more time outdoors and getting your quota of much needed vitamin D.  While you're at it, you can go for some ecofriendly patio décor, which would be the best for your home and the environment. There are tons of ecofriendly ideas – some of which are listed below to inspire you to decorate your patio in a green manner:
10 ecofriendly patio décor ideas
You can upcycle things in your basement or attic to decorate your patio. In fact, these could be your very own ecofriendly patio finds. Make your patio a charming place to spend time in with these great ideas. First, some green ideas for patio flooring:
Lanterns and lights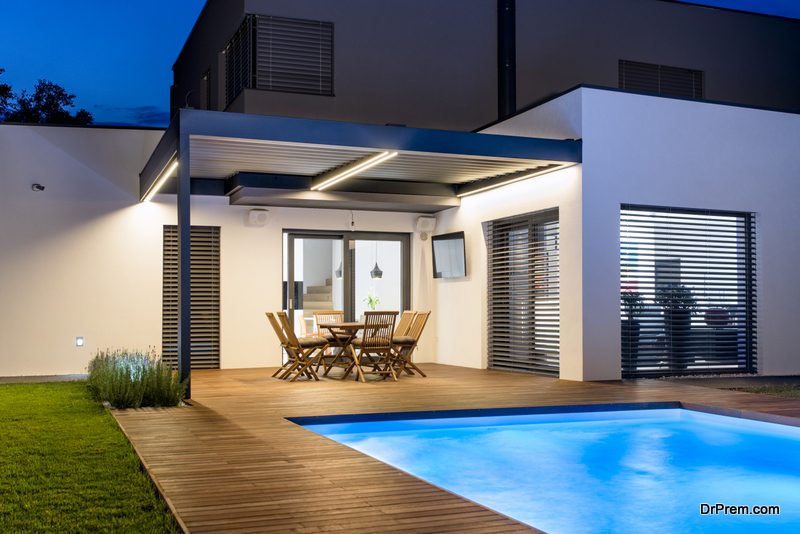 Patio lighting sets the mood for entertaining. You can transform your patio space into a charming and enchanting place with beautiful lighting. Ecofriendly patio design ideas include installing solar lanterns and lights to light up in an sustainable manner. You can also buy solar powered string lights to brighten up your patio – its sustainable home décor at its best.
Rattan trays
If you're interested in sustainable home décor, rattan trays are a beautiful ecofriendly option. They can do double duty as you can use them for both indoor and outdoor entertaining. They provide a good base for summer cocktails. You can also use them as a base for potted flowers or plants to add an extra ecofriendly patio décor vibe.
Branch shelf
This would be a unique addition to your outdoor wall. You can either buy one or DIY one. You just have to find a branch, trim the bumps. With screws, drill the branch into the wall. You can't place heavy items on it, but you can display small and cute décor items on it. Even unadorned, it looks stylish and gives a designer look to your space. It's one of those eye-catching patio design ideas you can easily implement.
Gravel and Decomposed granite
Gravel suits any style of landscaping, from Provencal to Modernist styles. Crushed pebble is the greener gravel choice you can make. Another option is by using decomposed granite. The ground cover has a lovely pink tint, which can give your patio floor a new look.
Outdoor pillows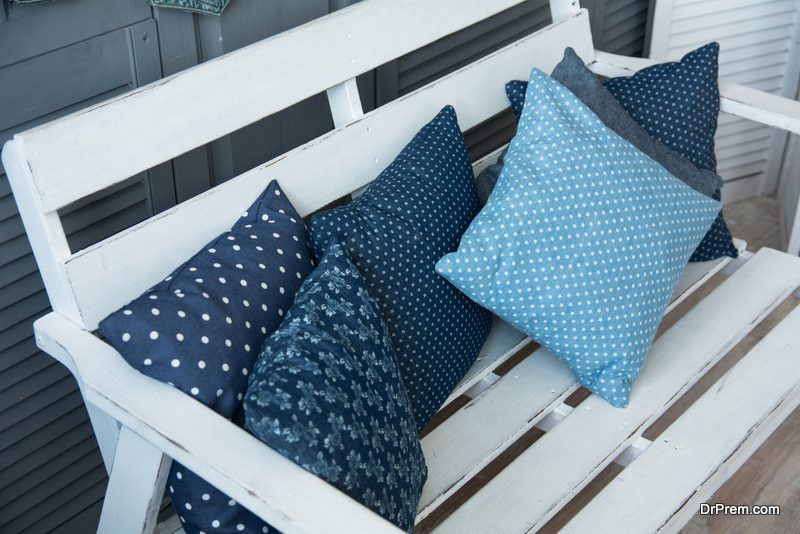 Outdoor pillows can add personality to the patio. Plop these plush pillows on chairs or patio sofas to add a dash of color outside. There are weather resistant pillows too, which means you don't have to worry about the colors fading in the sun. Soft and cushy outdoor pillows are a comfortable and pretty, making them perfect patio accessories.
Outdoor rug
Add a finished look to your patio with recycled polyprolene rugs, which just have to be hosed off. The chic and sophisticated rugs add visual appeal and are perfect as ecofriendly patio décor.
Tree stump tables
Side tables are always handy and useful. Tree stumps can be used as stools or tables outdoors. Paint them or stain them to get a finished look.
Pavers
Local stones have a natural look. They can easily blend in perfectly with the native soil and plants of your house. Pavers are excellent ecofriendly patio décor. The carbon footprint of the stone is much less than those imported over great distances.
Firepits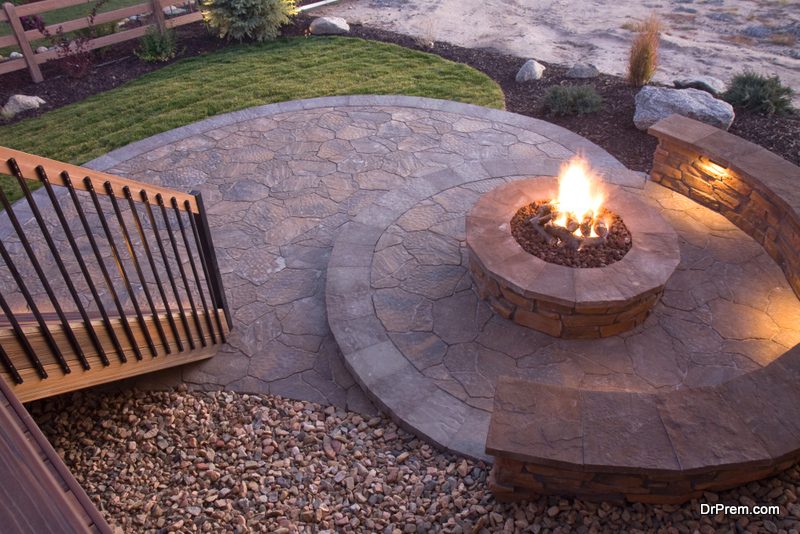 You can add fire tables to enjoy warmth and firelight on cool summer evenings. Fire tables and firepits create a cozy ambience for the whole family to enjoy. Green the experience by using ecofriendly fuel such as natural gas, logs made from recycled sawdust or natural wax, or bioethanol fuels. Firepit is one of the patio design ideas, which work well for all weather, winter and summer.
Terracotta planters
Add an earthy feel to your patio with terracotta planters. These look artistic as well and are made from sustainable material. Or else, you can upcycle any concrete blocks you may have into chic planters. Place a wire mesh at the bottom of each block, fill it with potting soil and stones and paint the outside of the planter. You'll have a sturdy and durable planter as well as save the concrete from ending up in landfills.
Recycled cutlery, plates and glasses
Bamboo, rice husk, corn waste etc cutlery is non-toxic, BPA free, heat resistant and dishwasher safe. Cutlery made from recycled material is usually reusable, so you can invest in them for your outdoor entertaining.
Ecofriendly throws
Use throws outdoors when it's cold as they provide cozy warmth. Some are made of recycled polyester come in bright or pastel colors, which can match your outdoor color scheme.
Green furniture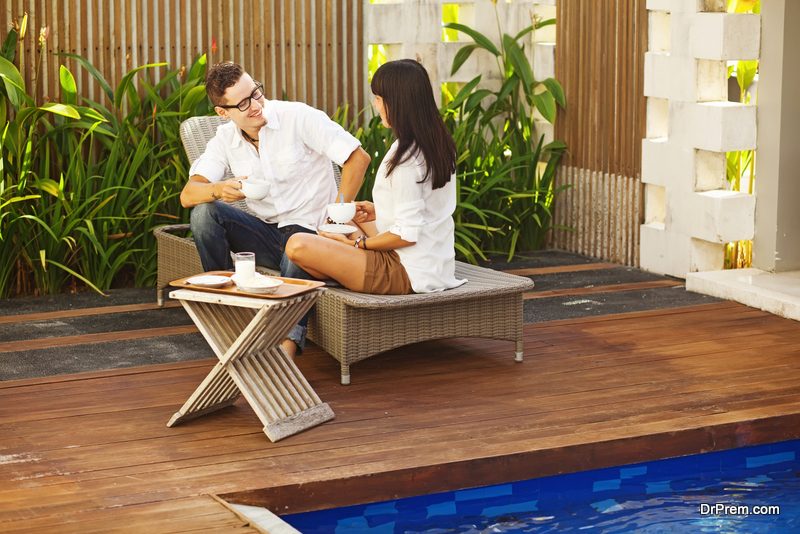 Wicker and bamboo outdoor furniture are durable and add to your ecofriendly patio décor. You can check out furniture, which has FSC certification too. You can also upcycle your tree stump into a lovely patio seat/bench or table. By using your tree stump and giving it a new lease of life, you can save it from being chopped and used as firewood.
Ecofriendly patio décor is incomplete without ecofriendly furniture.  Contemporary chairs and tables made from recycled material such as plastic jugs constitute ecofriendly patio finds.  There are many colors you can choose from (company called Loll designs), and they are UV resistant and waterproof.
They might even inspire your guests to search for green furniture for their backyards. Relax in the lovely but environment friendly chairs and while away those lazy summer days.
Metal basin flower pot/s
One of the cheapest flower pots you can have are metal basin pots. If you have one or more lying around, just splash a coat of paint and plant flowers in them.
Wellington boot planter
Don't throw away that wellington boot – just paint them and plant some pretty seasonal or perennial flowers in them. You can place them in a corner of your patio. They look charming and add color and nature to your patio.
Look around your home and think up ways to up cycle them as amazing patio décor. Fill your patio with natural and recycled furniture and décor items to create a beautiful space you'd love to spend time in. Enjoy decorating your patio keeping the theme green – green materials as well as lots of greenery to get closer to nature in your backyard.