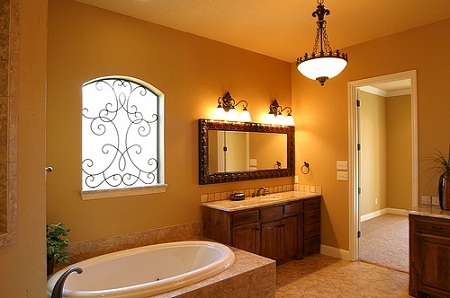 If you want to change your bathroom into a beautiful, interesting and functional area, there is no way better than remodeling it. Various elements contribute to an effective, pleasant bathroom that will address your needs and preferences. Below are some important tips that you can consider while remodeling your bathroom.
Wall Protection and Beautification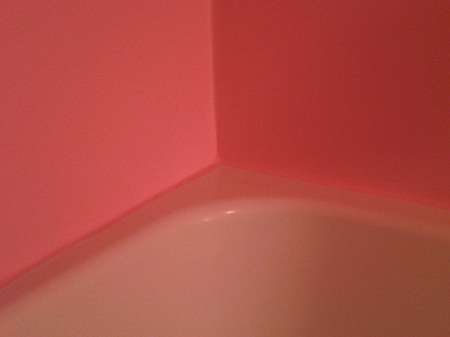 Bathroom walls attract a lot of moisture due to splashes of water that occur either from shower or bath tubs. There are various options that are available to keep away the moisture.
a. You can apply waterproof material over the paint which protects the wall from moisture damage, retaining the color of the paint intact.
b. Installing bead-boards not only accentuates the bathroom walls, but also protects the walls from stains and molds that may arise due to moisture in the bathroom.
Vinyl-coated wall papers that are designed specifically for bathrooms to protect the bathroom walls.Make more space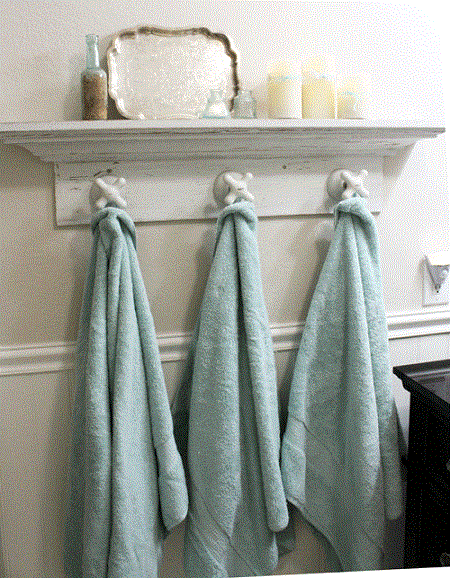 You can effectively make use of existing bathroom space by making space to hang essential things in a bathroom. Towel bars and hooks can be used to hang clothes, towels and bathrobes. These can be installed either on the wall or as a back door towel rod or hook to conserve more space. You can also organize your bathroom by installing hanging shelves. These work like hooks except that these have small shelves to store other essential things such as shampoo, lotion, soaps along with towels. These are effective for small bathroom and saves lot of floor space. Modern shelves such as linear storage, where there are shelves on top of each other can also be used to maximize the use of bathroom space.
Dim lighting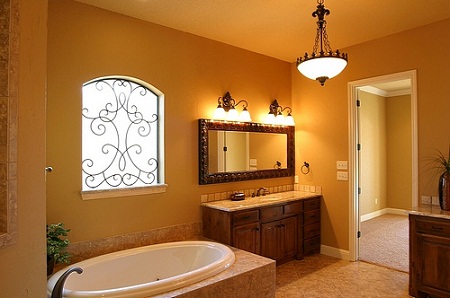 One of the modern bathroom trends is to have dimly lit bathroom that helps you relax without hurting your eyes. Installing a dimmer switch is ideal which adjusts the intensity of the light as per your needs. These conserve energy as well as increase the durability of the bulbs. Dimmers vary in size depending on your bathroom lighting requirements. Touch dimmers are modern way to dim lights that work by touch induction. The light dims in stages (e.g., off, dim, medium and full). Rotating dimmers dim the light through knob rotation which is normally fixed on the walls. Remote dimmers work by remote control to control the intensity of the light.
Custom cabinetry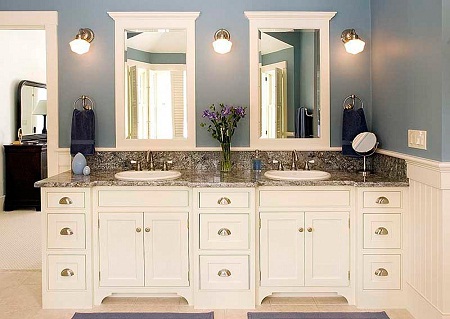 Organize your bathroom storage better with cabinets. You can custom design the cabinetry that suits your preference and taste. Types of cabinetry are many such as – tall, sink cabinets, shallow shelves, built-in shelves, wall cabinets and storage drawers. To improve the aesthetics of the bathroom, go for cabinets that have inbuilt electric plugs installed inside the cabinets that efficiently hides the electric cords. For small spaced bathrooms, shallow cabinets and recessing the sink area adds more space. If you have more space, then you may consider having cabinet drawers of medium size with extra depth to tuck away all your bathroom necessities.
Decorative taps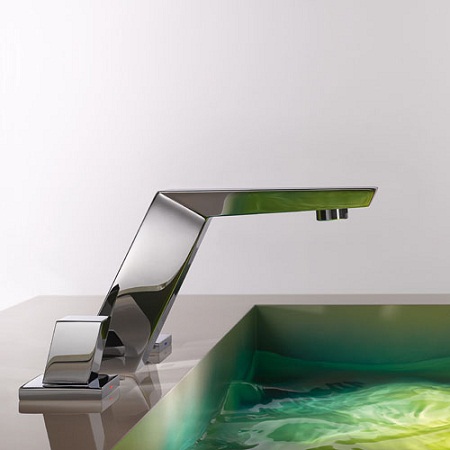 Taps are inevitable for a bathroom design. There are various designs and styles to spoil you, giving you endless options to choose the best functional tap to suit your bathroom. Taps are available as set or mixers. Mixers supply cold and hot water under a single tap. Sets usually have two handles while mixers have one. Decorative taps are available in various types of metal that give a cool and sophisticate appearance to the bathroom. Consider factors such as the type of sink, bath, water supply and bath-design before choosing the right tap for the bathroom. Do remember that mixer taps are high in cost and installation and needs higher water pressure.
Bathroom Flooring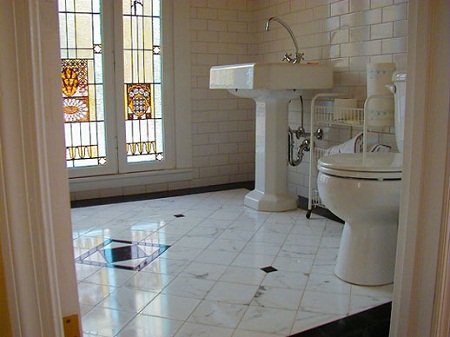 You must consider various factors such as the aesthetics, durability, ease of installation, maintenance, safety and waterproofing before choosing the tiles for the bathroom. Ceramic, Porcelain, marble, glass, stone are some of the types of bathroom tiles. The tiles pattern and color of the bathroom should complement the theme of your home. Use tiles that are non-porous, stain and moisture resistant. Choose light colored tiles that set the mood. Dark colored tiles make the room look darker and smaller. Also, look for tiles that have small pattern on large tiles, though, small tiles do enhance the visual appeal but are harder to maintain due to the grout between each tile.
Bathtubs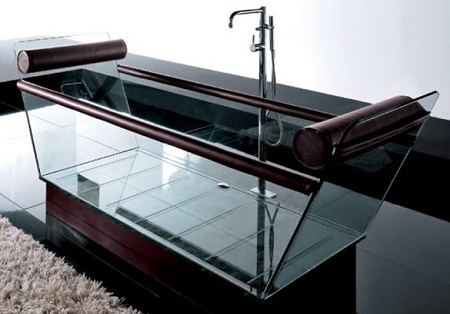 There are varieties of bathtubs, each for different purpose – walk-in, soaking, and general purpose bathtubs. Your space and budget are some of the factors that you should determine before purchasing a bathtub. Bathtubs are made of different materials – fiberglass, wood, acrylic, marble and porcelain. If space is a constraint, consider a recessed unit that won't eat up much space. A freestanding tub is ideal for better spaced bathrooms. Bathtubs come with various accessories such as jets and waterfalls. It gets more expensive with better and more features. Ensure that the color, material of the bathtub should complement other features of your home.
Shower Curtain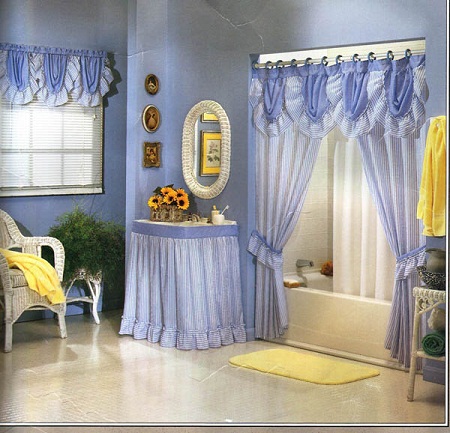 Shower curtains are the main highlight of a bathroom. Set the right mood by choosing the appropriate shower curtain that complements your toilet, walls and other accessories of the bathroom. Go for quality shower curtains that will withstand humidity, water splash and easily washable. Avoid PVC curtains since they are dangerous for the environment as well as humans as they emit carcinogenic chemicals. Polyester and PEVA (polyethylene vinyl acetate) curtains are good alternatives. There are beautiful designs of that you can choose to enhance the beauty of the bathroom. Better the designs and colors; the higher is the cost of the shower curtains.
Bathroom Tiles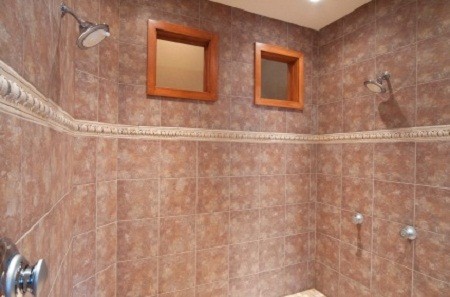 Bathroom tiles stand out since they cove a major portion of the bathroom area. These cover the counter-tops, bathtub area and on the floors of the bathroom. The factors that you must consider for bathroom tiles are similar to the ones when you consider for bathroom flooring. The tougher the tiles are, more will they withstand the grime, water and traffic. Porcelain, ceramic, glazed wall tiles are suitable for wall tiles and counter tops. Color, texture and pattern vary and choose after carefully considering the remaining coordinates of your home
Bathroom Shower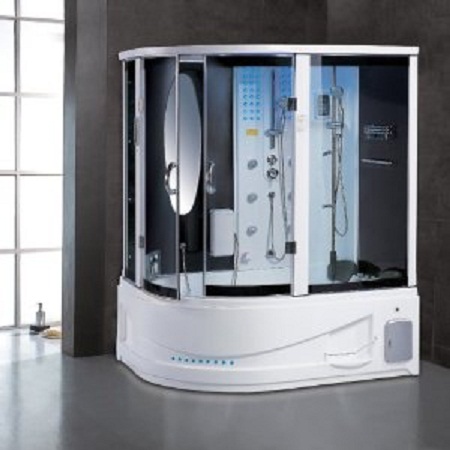 Complete remodeling of your bathroom by choosing the best bathroom shower of your choice and preference. However, do consider the water pressure, space, and other features that you would like to have before considering a bathroom shower. Mixer valve shower and instantaneous electric shower are the broad two types of showers. Shower baths effectively combine the functions of shower and bath in a graceful way and also saves space.