Homes are being designed in the modern century, with more and more designers pulling down the tricks up their sleeves. Right from the aspect of design to raw material, a radical thought, a strive for innovation is being seen in all facets of the world of architecture. This is seen in not only the basic structure and skeleton of the house itself, but even its miniscule elements such as drapes and curtains. With the watchword for the new age being "green", what with all the hype over globalisation and pollution and its related harmful effects, there is a whole new effort that is being put by all designers to go the extra mile so that inhabitants can proudly say that they live in an eco-friendly house. The hype over eco-friendly is such that people are even opting for eco-friendly paints to apply on their walls, let alone raw materials. Thus, in the wake of such a situation, comes the thought of architects and designers to opt for eco-friendly curtains that are built with special composed materials that in all facilitate the cause of recycling and conservation.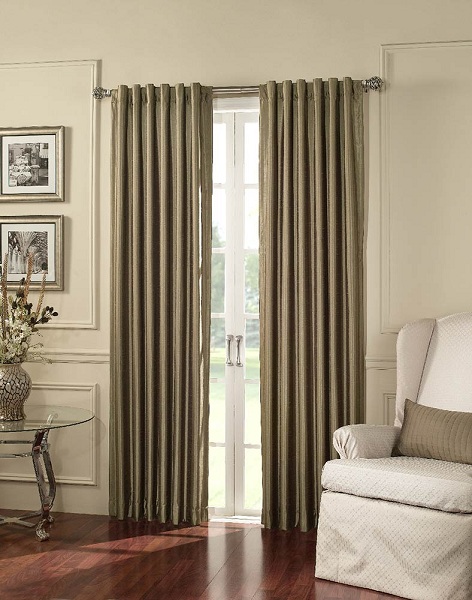 The first facet of the issue that is being considered is the material that is being used to stitch together the curtains. Designers are opting for more and more organic fabrics, such as organic cotton or hemp, as because organic fabrics make for easy recyclability and biodegradability. However, designers have even gone a step ahead in their search for the best material available, and have come up with bamboo fabric, which is not only biodegradable and eco-friendly, but also has a longevity quotient that is higher than the other fabrics.
Nylon or polyester is also a good option, since they minimise power consumption when it comes to manufacture and processing, and are also good material since they are resilient and offer good protection.
Colour and treatment while undergoing processing, is also a big factor for modern curtains. Consumers are choosing more and more of curtains that have not undergone any bleaching or harmful pigmentation while processing. Consumers are even opting for organic wool curtains as not only is it eco-friendly but also fire resistant.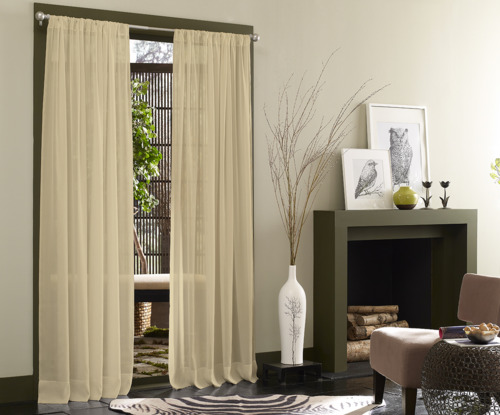 The third entity that comes to mind is the singular aspect of colour. Colour is a factor as with the selection of light coloured curtains during summer, it will help to expel any absorbed heat, thus reducing the dependence upon electrical methods to cool the room. Similarly in winter, with the implementation of a dark coloured curtain, heat can be retained inside the room.