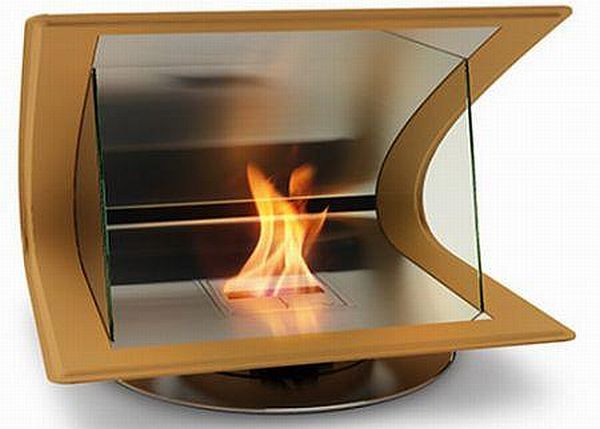 Now you can make your home more green with the new eco-friendly fireplace that not only provides you a cozy home during the harsh winters but are modern and aesthetically built, adding more style to your home. Here are eight designs worth considering if you plan on buying a fireplace that is environmentally friendly.
1. Eco-Friendly Vidro Fireplace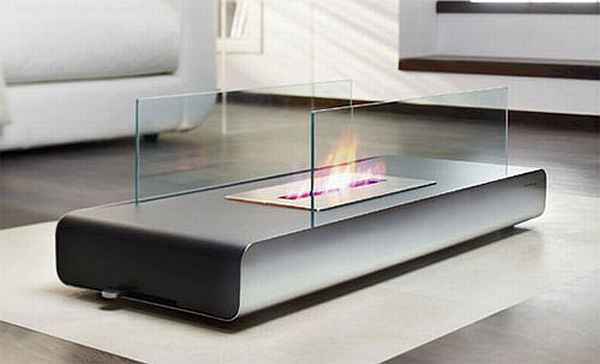 The Blomus Vidro Fireplace is a modern design for an eco-friendly fireplace which uses ethanol that is smoke-free and clean as fuel. You can decide out of two variants of this fireplace for your house – Blomus Vidro wall fireplace and Blomus Vidro floor fireplace. The best feature of this fireplace is that it does not need a chimney and it won't blacken your ceiling either. However, the not so good feature is that the ethanol propelled flame is small lit so much that it appears invisible unlike the conventional crackling fireplaces. However, it still provides warmth and is portable.
2. FIREBO-X: Portable fireplace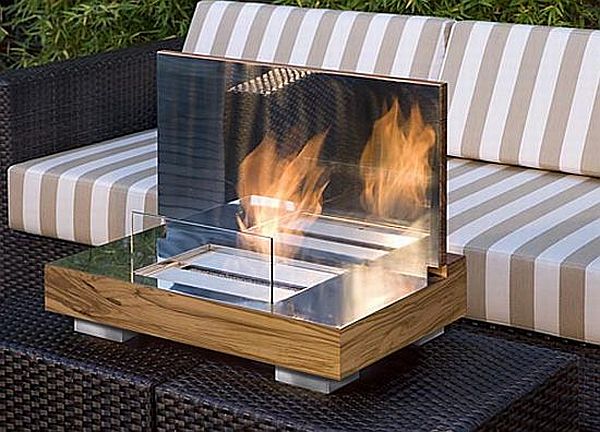 The FIREBO-X fireplace from the German designing company Schulte Design is a great portable fireplace that can be used both indoors and outdoors. This fireplace uses an eco-friendly liquid bio-ethanol that leaves behind no residues. The fireplace is shaped like a wooden box which looks very elegant. When opened up, the box contains the burner which is crafted from shiny stainless steel and also a reflector that forms the inside of the box's lid. This compact fireplace requires less than two feet of space and can be accommodated anywhere.
3. Ethanol-fueled 'Fusion' fireplace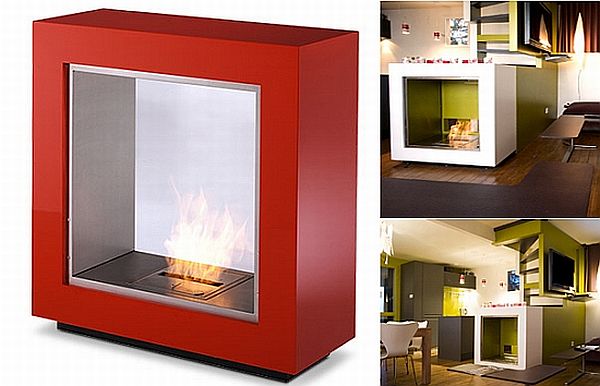 The Fusion fireplace is an eco-friendly one that uses denatured ethanol as fuel. It has been designed by Marc Philipp Veenendaal, which provides optimum warming to the home. This fireplace is aesthetically built and hence would easily fuse with your modern decor, perhaps adding more grace to the same. The exterior color of the fireplace can be customized to the customer's requirement.
4. Fireplace – Igloo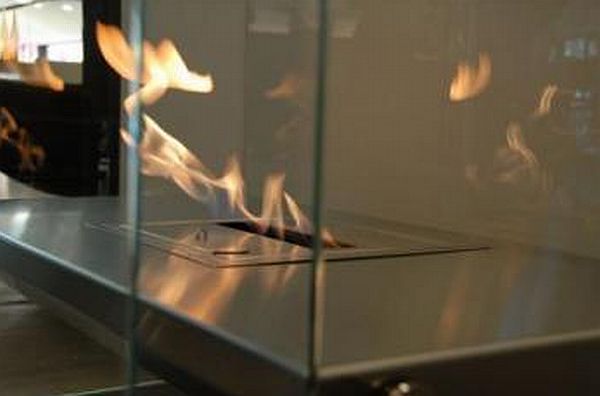 The house of EcoSmart, France, has come out with the Igloo fireplace which is a modern design comprising of a rectangular fireplace that is surrounded by thick glass on the three sides along with a floating shelf by Corian that is non-combustible. The EcoSmart burner is then inserted inside the tray that is present on the floating shelf. This is a great design for a freestanding fireplace that is literally fuel less.
5. Carl Mertens, Fireplace for the tabletop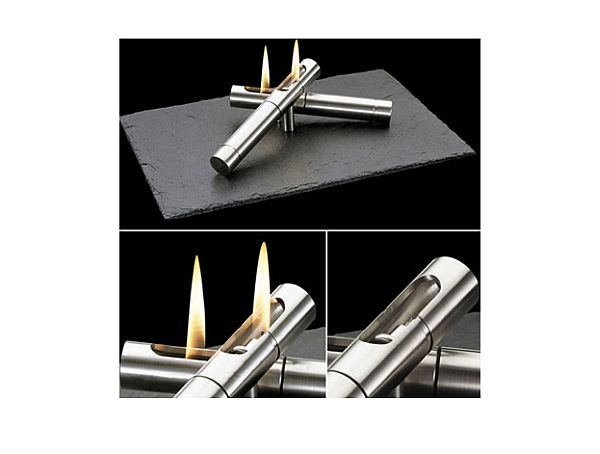 The Carl Mertens is a unique table top fireplace design that comprises of two oil lamps made out of stainless steel placed on top of a slate surface. This fireplace has been designed for Carl Mertens, Germany, by the designer Gido Wahrmann. This small and compact fireplace is perfect for warming up a small room that does not have the space for a fireplace. Apart from functioning as a centerpiece, this fireplace produces a lot of light and warmth as well.
6. Fireplace by Spark Fires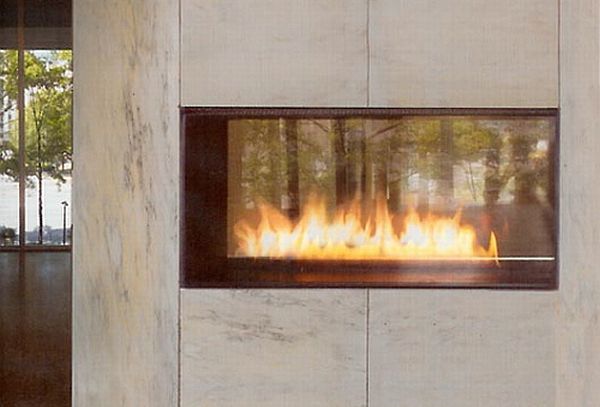 Spark is a company that makes modern-day fireplaces that suit the taste and sensibilities of today's people. The Spark Modern fireplace has created the impression of a a crackling by fitting fire ribbons that reach a height of anything between 3-6 feet and burn gas – eliminating the use of logs. Most modern eco-friendly fireplaces make use of ethanol for fuel, which does provide warmth but they do not give the appearance of a traditional fireplace, however, this design is eco-friendly and also looks like the familiar fireplace with flames rising up. The design of this fireplace is sleek and modernistic and is eco-friendly , which is the main feature.
7. The EcoSmart Zeta Fireplace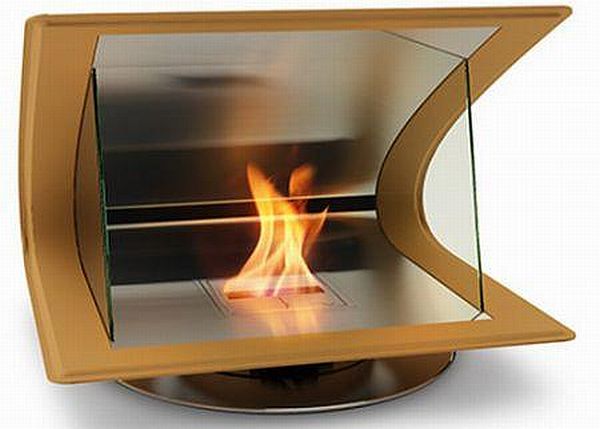 The EcoSmart Zeta fireplace is a stunning creation by John Dimopoulos from Sydney which required no fuel and is also portable. The base is made out of stainless steel, leather and lumber, whereas the body is made out of wood. The inner part is made out of aluminum that gives it an oblique oval shape. This stylish fireplace is fueled by ethanol which makes t an eco-friendly alternative to the traditional fireplace. This fireplace is available in various leather shades, so you can pick what suits your home decor accordingly.
8. The eco friendly fireplace by Safretti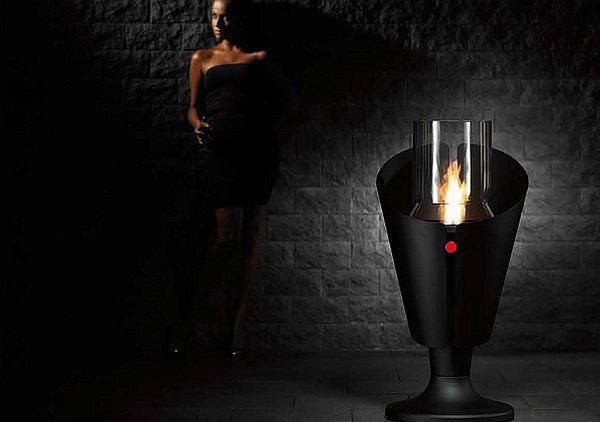 This fireplace by Safretti is inspired by the Olympic torch and hence it is aptly named the OlympiQ. This portable torch fireplace is eco-friendly that adds to its qualities and it would look perfect for outdoor winter gatherings as it is stylish and has a modern appeal to it.