After a long tiring day, all you want to do is get back to your home and lie down on your cozy couch or bed to unwind. But you may not realize that these places are filled with dust that enters your house through windows or doors.
Now the question arises: what do you do to clean fabrics on couch or bed? Beat up the cushions? Well, that way you're just spreading settled dust all around your home. However, Korean designer Minkyo Lim has found a better way to remove dust from fabrics in form of stick-like Dual Beater.
What is Dual Beater?
Dual Beater is nothing but easy-to-use vacuum cleaner for fabrics. Shaped like a baseball bat, the device is meant to beat your pillows, bed sheets and fabric-covered couches; plus it inhales all the floating dust and debris. This way the electronic device not only cleans up textile fibers, but also removes unwanted particles from air.
So, you don't have to inhale any irritants or dusty materials. No matter you want to clean up your couch or give a fresh look to your bedding, this is one convenient solution to completely  get rid of dirt.
Inspiration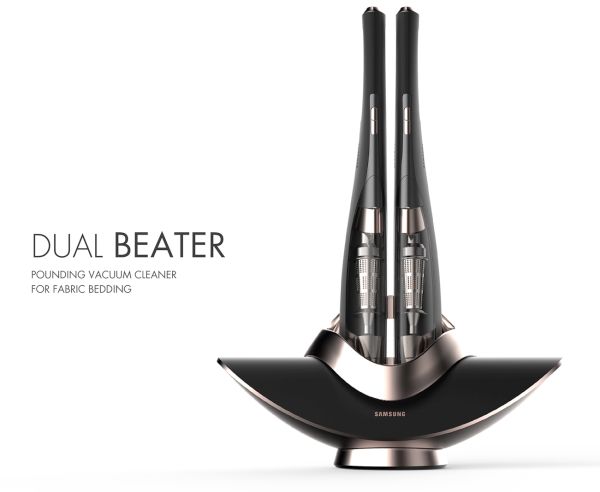 The fabric vacuum cleaner has been inspired from Korean tradition of hand beating mattresses and other cushioned materials. The technique was used ages ago to remove dust and dander, while stretching and polishing a cloth. But Minkyo Lim added modern twist to this age-old tradition by inventing Dual Beater. Just like the traditional hand beater, you need to beat the wand-like object against any furniture covering. Magic begins whenthe vacuum cleaner suck up all the dust that rises when you start beating a particular cloth.
Why this was created?
Homeowners use vacuum cleaners for cleaningtheir floor, carpets, as well as car seats. Butoften neglect fabrics upholstered on furnishings, even though these fabrics come in direct contact with our skin. In fact, regular cleaning of bed sheets and couches is necessary to prevent built-up of dead skin cells, leftover bits of food or debris. That's why the designer decided to create a handy light-weight vacuum cleaner to keep your living space clean and tidy.
With Dual Beater, removing every bit of dust and debris frombed sheets or pillows becomes easier like never before. Just like a magical electronic wand, it makes your bed and sofa look like new again.
Source : Behance.Net