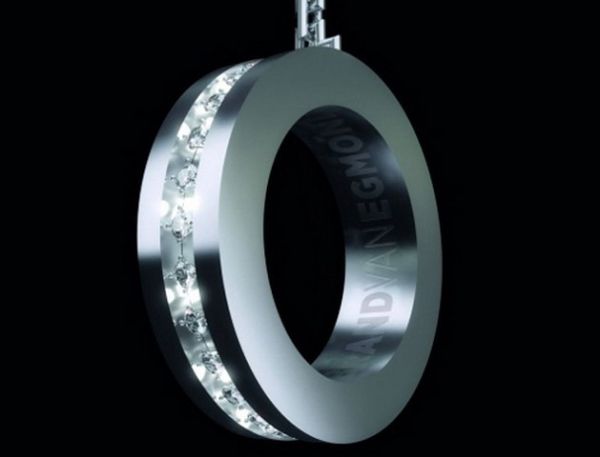 The design of lamps and lighting fixtures has evolved with time. You do not have the typical lamp shades in squares and rounds resting on a tall support anymore, designers are experimenting with different shapes and sizes. A shape that reflects light and also adds beauty to your home is a ring. Given below are a few circular or disc shaped lamps that will make your home look riveting and absolutely splendid. Different materials like gems, crystals, metal, and wood have been used to give a different look to your age old table lights.
1. Circle Hook Light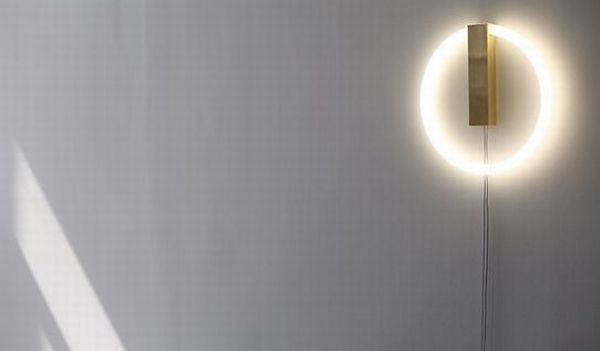 Quite an innovative design, a circle that gleams with fluorescence. This design is the brainchild of Taylor Levy and the CW&T studio. This fluorescent lamp has been dubbed as the Circle Hook Light. It will blend easily in contemporary homes and even in some modern or industrial ones. You can use it in almost any room like the hall, bedroom and even spaces like balconies and bathrooms.
2. Ring-shaped Induction Lamp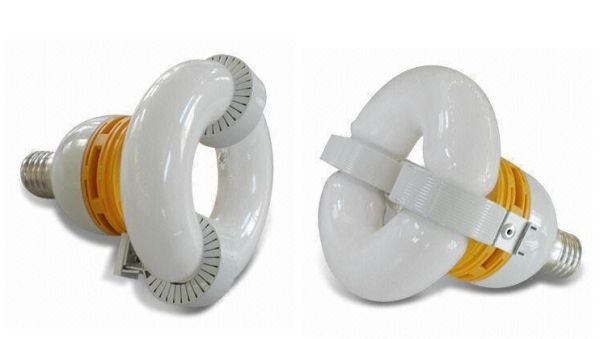 A creation from Enlam Lighting Technology Company, this lamp has a unique shape. The base is shaped like a bud that holds a ring. It will light up your surroundings evenly due to the uniformity in its light output. It remains stable evn in wide temperature changes. The amalgam inside gives it numerous beneficial properties – the bulb starts instantly and does not cause much pollution. This eco friendly light also has a magnetic hoop structure and a ferrite magnetic core. There is also no magnetic core power loss or magnetic leakage from the lamp.
3. Ring shaped 22 Watt fluorescent lamp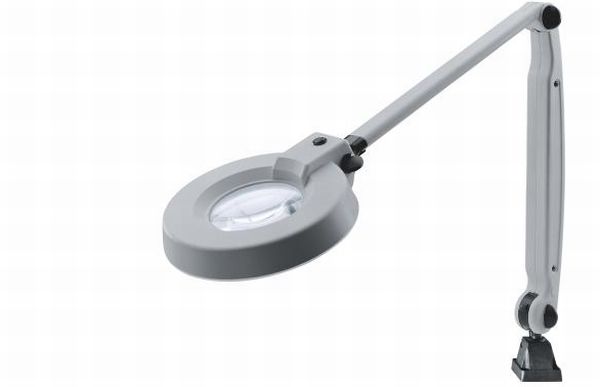 Another loop shaped light; this creation is from the Waldmann Group. Called the Magnifier Luminaire RLL 122 T, this lighting fixture emits a strong beam without any shadow. The highlight is that it is fitted in with a blocked lens of 8 diopters and also a 4 diopter glass magnifier that functions without creating any distortion. The sturdy table top lamp has spring balanced joints. You can fiddle around and tweak the light easily, there is hardly any vibration given off.
4. Wall Piercing Lamps Large Visual Ring Shaped LED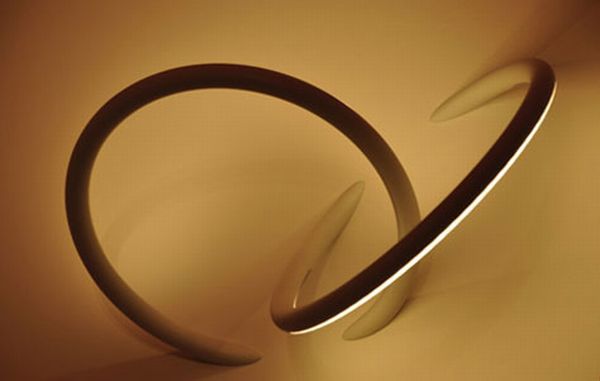 Looking like wall artwork, the most amazing thing about this lamp is that you can arrange the bands in different shapes. Give a different look to your house using the very same rings each time. It has a progressive and futuristic look which will clash with simple, rustic and old style homes. The LED lamps can be fixed on to the wall. This Flos creation made from aluminum and polycarbonate diffuser is available in three different models.
5. Minimalist LED Ring Lamps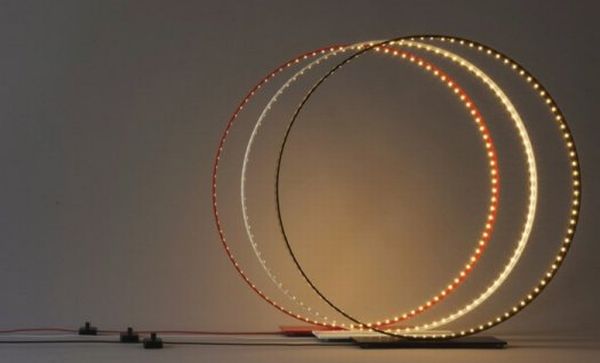 These are discs that give out a halo of light from the LED fixtures along their inner surface. The ring shaped body rests on a rectangular base and comes with a dimmer button and an electronic transformer. Though the light is quite bright, the radiance does not hit you loud in the face, instead shafts roundabout its surroundings. It is an eye catching piece that will jazz up your bash or festivities. The low energy guzzling tabletop light is a product of Le Deun, France.
6. Fana and Boogie Pyramide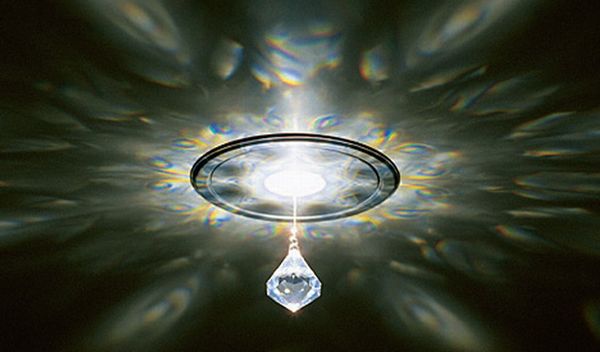 Who doesn't love sparkling Swarovski crystals, they look royal and absolutely magnificent when embedded in lights. A light made for lush and expensive homes rammed with marble, glass, steel and other posh upmarket glitz. This metal and crystal circle dazzles onlookers even when it is switched off but will perpetually blow your mind when the luminosity comes into play. The light is reflected and refracted from the crystal pieces creating a disco ball like lighting effect. The crystals used are transparent and pyramid shaped, thus they reflect light in colorful patterns around the fixture.
7. Ring-Shaped Fantastic Light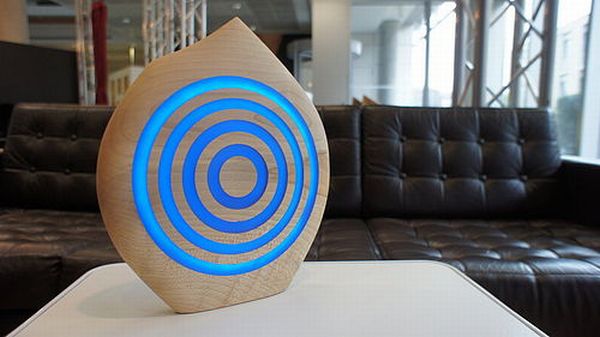 It looks like a somber piece of wooded sculpture sitting on your table, but the spiral circle lights up to brighten your surroundings. The wooden lamp is made from a single piece of solid wood and has a spiral light ring entrenched inside. It comes with a remote control with which you can change the color as well as intensity of the gleam emitted. This unique piece that combines lighting with artwork is conceptualized by Bedside lamp.
8. Diamonds From Amsterdam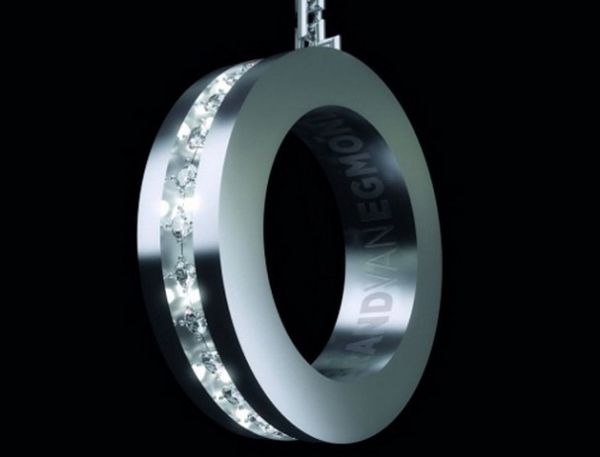 Another extravagant piece for plush homes, this light hoop will remind you of luxurious bling and is rightly named 'Diamonds from Amsterdam.' But it is just another lavish chandelier for your home with modern design sensibilities. A really good thought, since most premium studded chandeliers are available in ornate patterns of yesteryears. This design is however minimalistic and subtle yet exudes grandeur. Along with glittering gems, stainless steel with a matte black finish is used here. Also available in oval, all gemstones are studded in the central band of the ring like structure. Sold by the house of Brand Van Egmond, the lamp is a brainchild of William Brand and Annet van Egmond.