Most cities, small and large, are experiencing steadily increasing rent prices. Very few locales have rent control in places, and it seems the ones that do still somehow find the loopholes to ignore it. San Francisco, New York and Los Angeles have witnessed phenomenal jumps in the cost of rent over the past five years.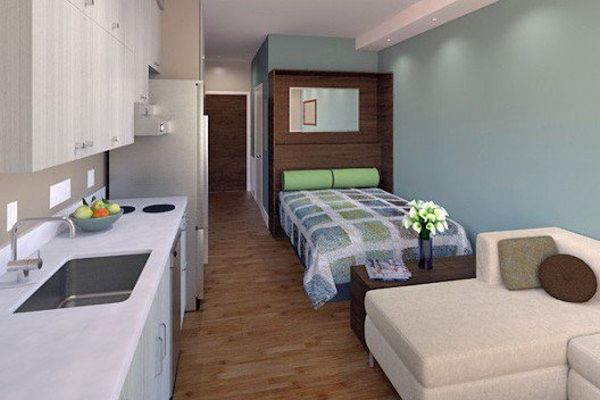 In some up-and-coming urban neighborhoods, rent skyrocket 40% in one year, and there still aren't enough laws in place for tenants to be able to fight back. Until rent control legislation catches up, if you are not in the market to purchase your own property, you will probably have to make due with a little less square footage than you find ideal. Here are some tips to make your small apartment feel a little less claustrophobic.
Stay light and bright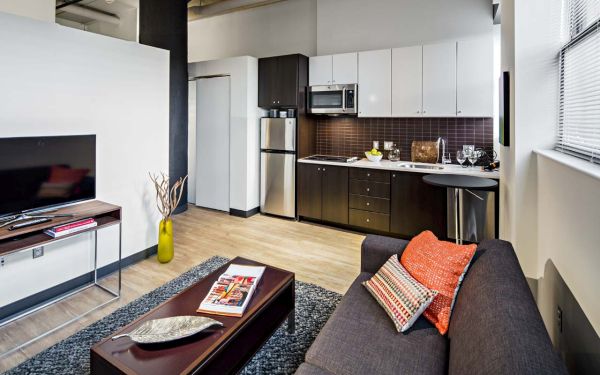 One of the first rules of making a tiny space feel roomier is to employ light colors. You don't have to stick to a sterile white hospital feel. Any neutral or pastel tone that reflects light will make your living space feel more open and airy.
Keeping the walls and perimeter furniture light will provide an expansive feel. A darker couch can serve as an excellent statement piece in the center of the room. Give it a little levity by placing it on a lighter colored area rug and utilizing a couple bright pillows or throws.
Another great way to capitalize on light to give the illusion of spaciousness is, of course, keeping the windows in view. A breezy, light cotton curtain or even a gauzy shade will allow in more light and make your room feel much bigger. Unless you have nosy neighbors, don't be afraid to keep those curtains wide open during the day to let the sunshine pour in. Natural light will do wonders for your mood, and a wide open window will trick the eye into thinking there is more depth within your space.
Make a big statement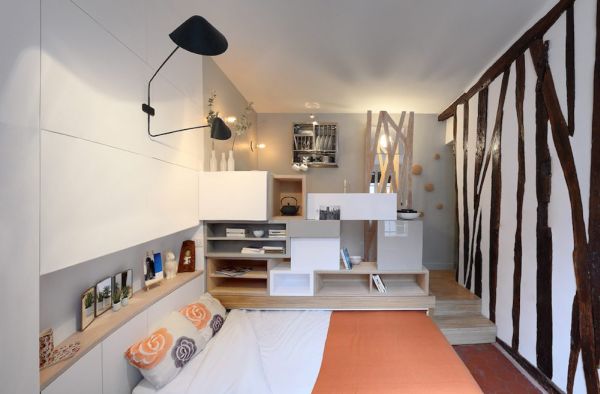 This one might be a bit counterintuitive. Surely you would want to fill a tiny space with tiny things, right? Oddly enough, that is not the way to go. Smaller areas tend to look cluttered very quickly. When the eye is drawn to too many things at once, you can be overwhelmed by a sense of disorder and untidiness.
Stick to statement pieces as your focus, with some minimalistic additions on the side. One large sectional couch on the far wall with perhaps a small armchair nearby will appear far more expansive than a hodgepodge collection of sofas and chairs.
Let this concept also guide your art choices. A giant painting taking over one wall is far better space-wise than a series of art you may have collected over the years that do not share a common theme. Fluidity and unity is key in making small spaces work.
Eyes up here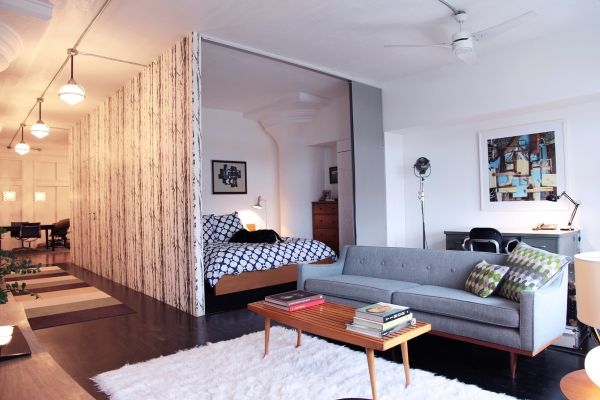 Many people opt to paint their ceiling with a bright or jewel tone, to draw the eyes upward and give the illusion of height. Keep in mind this really only works if you stick to the light and bright rule and your walls are neutral or white. In older apartments, vaulted ceilings are fairly common, and this look can actually be quite effective.
If you are renting from a place that will not allow you to paint, consider applying a pattern with temporary, removable wallpaper. Another easy trick is to place shelves high up on the wall, just below the ceiling, which also aides in drawing the eye out of the center range of the sitting area and makes the entire room appear to have far more depth.
The importance of structure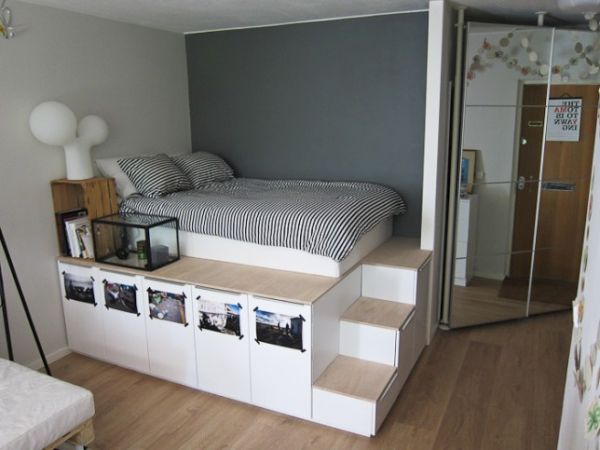 Color and texture can play a huge role in how we view living spaces. If you have a lot of books, opt for a color-coded placement on your shelves, rather than organizing them alphabetically. It's true that this might not be the most user-friendly way to arrange your novels in terms of being able to find what you're looking for at a moment's notice, but blocks of color standing together gives an illusion of structure, which helps keep your mind away from clutter.
A great tip to consider is utilizing a row of old National Geographic magazines you can purchase cheaply at a thrift store. Eugene Chrinian is a veteran of the furniture industry who offers advice on how else to decorate your home, based on his experience with Ashley Furniture. Structure, color and style are all of equal importance when rearranging your abode with space in mind.
Living in a big city and being forced to downsize may not be ideal. In fact, you may feel like you are really getting the raw end of the deal. However, take this challenge as an opportunity to creatively explore the space with what you have. With these simple tricks and a little imagination, you can absolutely make your compact city apartment feel ready for guests and comfortable for you and your family in your day to day life. You don't have to sacrifice living in a great neighborhood for more space if you truly love where you live.
Article Submitted By Community Writer