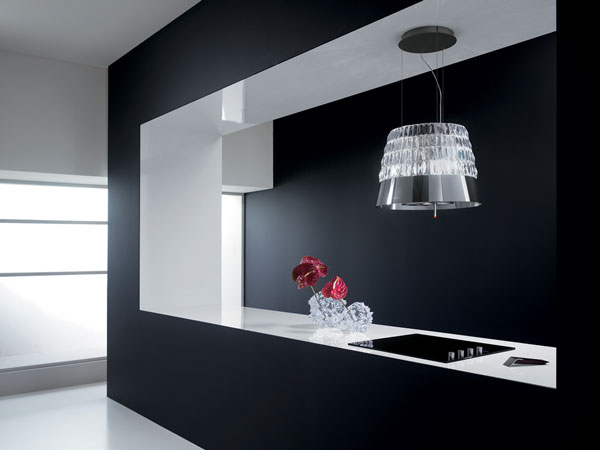 The Designer/Manufacturer
The cooker hoods have been manufactured by the Italian company, Elica.
Overview
Innovative designs have been a hallmark of Elica and it has done the same with its latest collection too. Forget about the dreary hoods with fans slotted in as the latest designs from Elica look nothing like them. You will feel like you have purchased lush light pieces or showy knick knacks for your home. Modern designs with clean visible lines give a distinct look to these cooker hoods and they come in suave geometric shapes.
These kitchen gizmos have a glossy, metallic, shiny or luminous veneer. In fact, most of them look like glitzy light fixtures, wall mounted lamps or chandeliers. A lot of different shapes have been used in the collection. There are globes, discs, boxed enclosures, inverted cups, rings, and also flat rectangles. Many of them are suspensions that can be dangled from the ceiling using stringy wires.
What's unique?
The company has completely revamped the age old look of the cooker hoods in this collection. You don't see the boring and dull extractor fans anywhere. All the pieces look absolutely stunning and have been given a groovy minimalistic seem. The range has designs for all types of home as both simplistic as well as lavish patterns have been included in the collection.
High Points
Apart from the fact that the entire collection looks absolutely gorgeous, the range boasts of many other useful features. Cutting edge technology has been used to manufacture the pieces which will make life a whole lot easy for you. All the hoods are highly efficient and nifty. You will simply love them around your cookhouse.
Via: Freshhome