A rocking chair is perhaps one of the most fascinating pieces of furniture amongst the crowd. It has invisible wings to take you on an imaginary journey to the wonderland of your dreams.
The nostalgia
The Euvira rocking chair combines the charisma of its contemporary design and the comfort of a well-crafted conventional rocking chair. The best part of a rocking chair is the relaxing element that it imparts to the one seated on it. One goes down the memory lane, remembering the childhood and the mischiefs of the time.
The rocking chair holds a very special place for the grandparents. Not only they read and pass their time on the chair but also their laps become playground for their grandchildren. Numerous stories are delivered sitting on the rocking chair, which become difficult to forget.The Euvira is cozy enough to make the one seated doze off to sweat dreams.
The design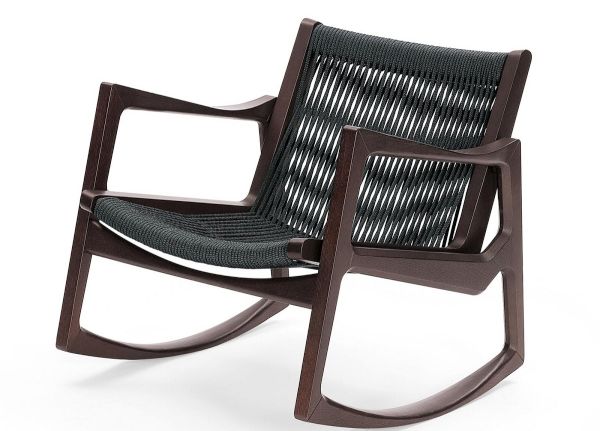 The height of the seat is just 36 cm, which makes the center of gravity of the person seated low, making the swing more stable. On the first glimpse of the Euvira, one recalls of the great furniture piecesby some eminent Brazilian designers.
The seat of the rocking chair is slightly curved to offer enhanced comfort, while the back is straight for a good support. The back and seat are made from strings of a strong fiber, which makes it airy to counter sweat and lightweight to carry around easily.
The armrest and the runners maneuver and taper in a way to entice the hearts of the onlookers.It is easy to shift the Euvira chair from the balcony to the patio or the living room, being non-bulky it is not difficult to carry around.
The material and the elegance
There are two options available for theEuvira chair, perfect for light or dark themes of an ambience. The lighter shade one has hemp-colored cords, like the strings of a harp and the frame is pale oak; a reminiscent of classic Scandinavian art.
The other one is dark stained oak with black colored cords, making us recall of the black beauty or rather a rocking black beauty. To elevate the elegance of the Euvira, leather, leatherette or fabric upholstery may be used.
The Euvirahas the potential to attract attention in any corner of an individual's home. Combining comfort, nostalgia and contemporary art, the rocking chair is set to rock thy world.
Source : Matisse.Co.Nz