The dining room must be decorated beautifully not only to make it look better, but also for a warm atmosphere. The lamps give your dining room a beautiful layout, you can use large pendent lamp or can opt for smaller ones. These lamps must be installed at an accurate height so that they do not interfere with the movement at the table, or provide such a glare that sitting at the table become tedious. Here are some beautiful pendent lamp designs epically to give your dining room a great look.
Zeppelin by Flos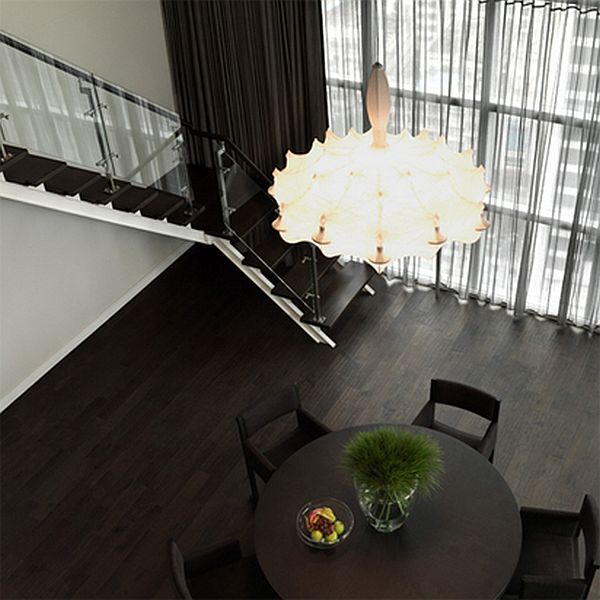 Zeppelin pendent lamp has been designed by Marcel Wanders has been created with inspiration from the spider's web. The lamp is created in the shape of a thick spider web that covers the Torchere style chandelier. It covers most of the dining table and is suited for both, rectangular and round shaped dining table.
Avage Sospensione by Luceplan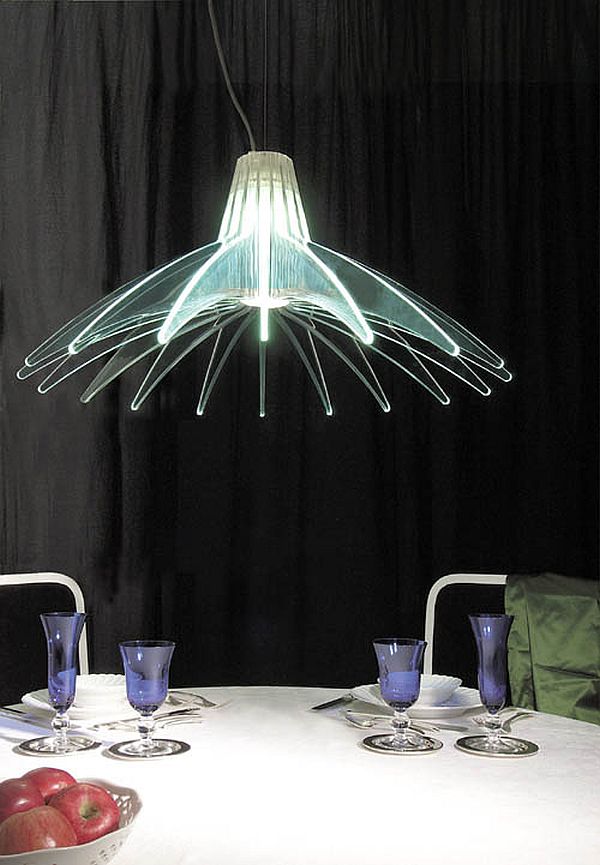 Designers Diego Rossi and Raffaele Tedesco have designed this cute pendent lamps for Luceplan. These lamps can be hung in clusters at the desired heights over the table and work well for the dining table. They are available in different colors, shape and sizes, have created based on the inspiration from fruits and flowers, and are available in three color filters, namely red, yellow and blue. The design gives a tropical touch to the dining table.
Malagola by Catellani and Smith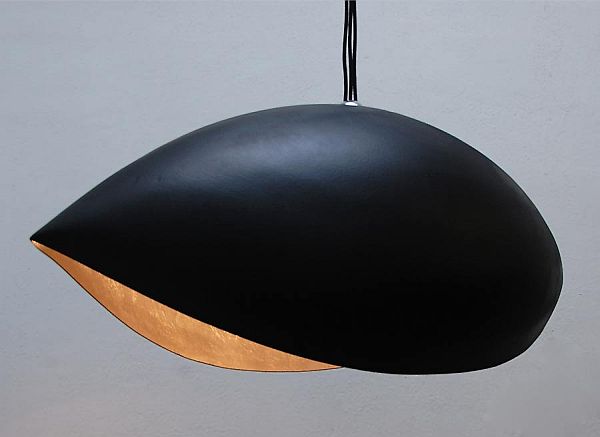 The Malagola pendent lamp is made of organic materials and inspired by cowrie shape, which has been simplified and refined with gold detailing and silver plating. The shade of the lamp is opaque and softly corrugated reflecting various other sources of the room. The golden light illuminated by the lamp is focused upon the table surface.
Fucsia by Flos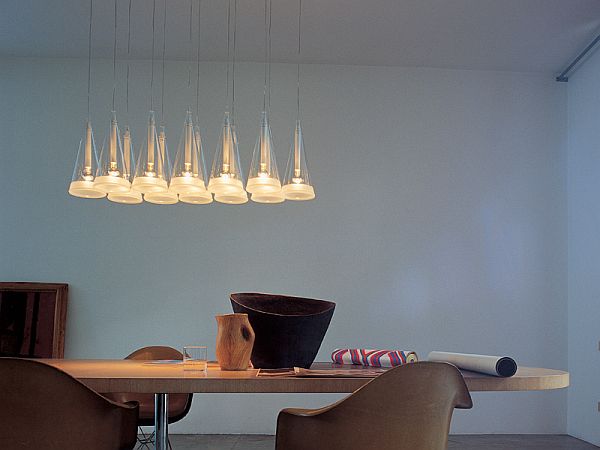 Fucsia pendent lamps designed by Achille Castiglioni for Flos have discreet and elegant look resembling upside-down champagne glasses. The lower rims of the lamp are sand blasted that gives an eye catching effect of sparkles and transparency is achieved without any glare. You can hang up 3-4 groups of lamp in a row over the dining table.
Fly Icon by Kartell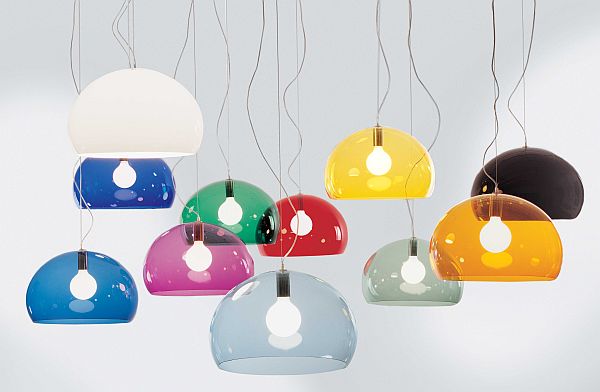 Designed by Ferruccio Laviani for Italian design label Kartell, Fly Icon is popular pendent lamp. The shade of the lamp is transparent and is made in the shape of sphere like soap bubble in various colors such as red, pink, blue, orange, green and violet. You can pick lamp of any color in a row of 2-3 over dining table.
Leaves S by Slamp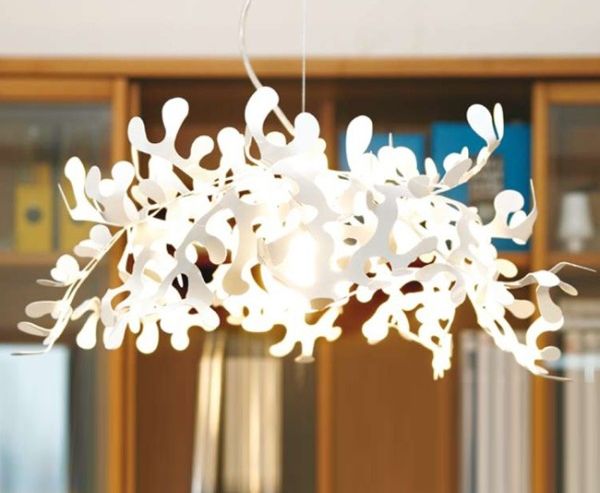 The Leaves S is designed by Villa Tosca created for Slamp, serves as the best example giving light and airy presence over the dining table. The shade is in red, green or white colors that had been inspired by vegetation forms. The light source of the lamp is enclosed by the shade like a nest of paper filtering the light indirectly. It's neat and extravagant design gives a retro layout to the dining table.
Blossom by Belux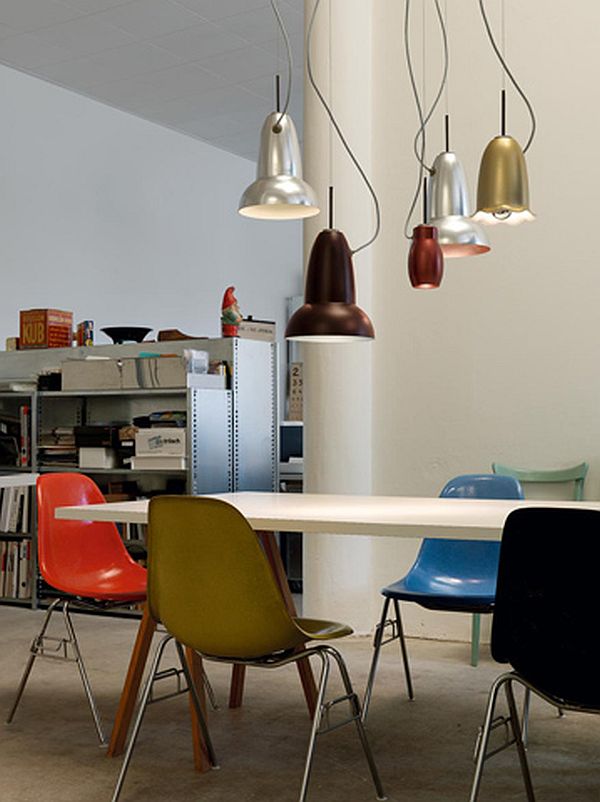 The Blossom is a design from Hella Jongerius for Belux. These lamps are simple and recipient shaped with the advantage of fitting in any area of dining room. The shades are made of metal consisting of several pastel hues for light modern layouts. They are also available in earthy colors fitting in retro environment. You can suspend the lamp in cluster or can be disposed in series over the dining table lighting the surface.
Le Soleil pendent lamp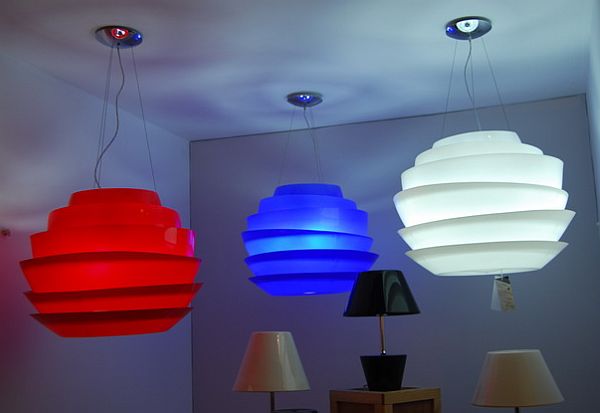 Le Soleil lamp consists of synthetic shade available in colors like pink, white and turquoise surrounding the source of light with a slight transparency, giving a very neat effect and joyful appearance.
Summary
The dining space of the room is very special place and must be lighted up with beautiful lamps for creating a warm atmosphere to enjoy our food and beautiful moments with our family members.