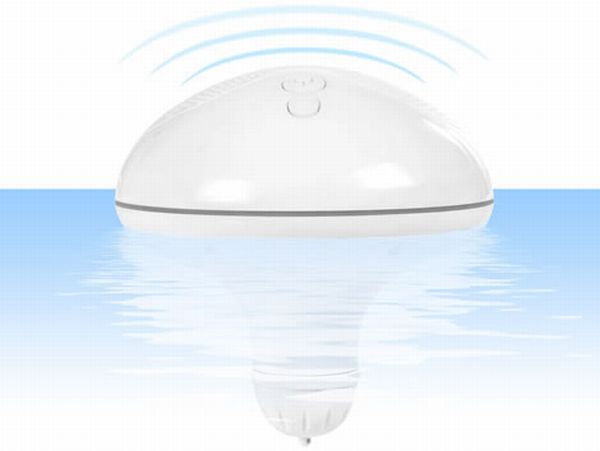 The floating pool speakers which are waterproof has become the new rage in town, particularly for those who love to throw pool parties and are very outdoorsy. These techno toys can be thrown into the pool where they float around making sweet music sound even more inspiring. If you have a pool and spend a lot of time in the water then these gizmos are just the thing for you to relax around with your favorite playlist. It is water resistant with a clarity of sound cutting through obstacles with its integral water resistant speaker drives. With four hours on a single charge, you can now float around and enjoy the clarity of sound right in your pool. These new gizmos have made life much more enjoyable for the outdoor lovers as they can now tune in to their favorite music even while diving around in the pool. The designs are appealing and comes in various styles created for long service and durability and is user friendly. Listed here are seven such floating pool speakers for a great splash of music and fun.
Wireless floating speaker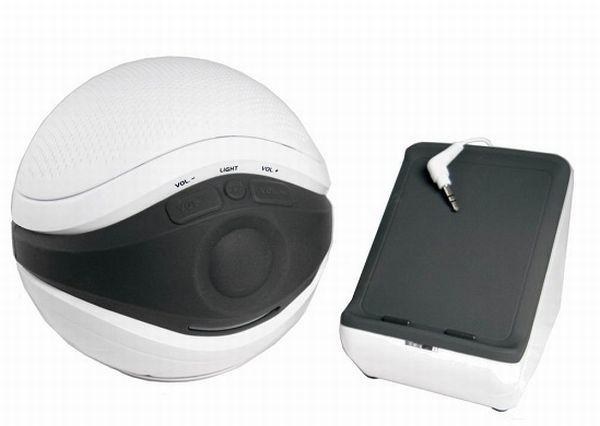 These cool speakers picks up tunes up to 150 ft distance from a small transmitter hooked to the sound system. You can carry your music around with you anywhere around in the house, garden and the pool. You can even hook these speakers to your computer, TV, stereo or iPod whichever has 3.5 mn audio output and you will be pounding away with music. It is a floating waterproof bulbous speaker using a 3.5 mn Jake for the transmitter and 4 AA batteries for the speaker. For the transmitter it requires 3 AAA batteries which have to be bought separately. It comes in a handy 14x14x13 cm and suitable for ages 12 and above.
Wireless floating pool speaker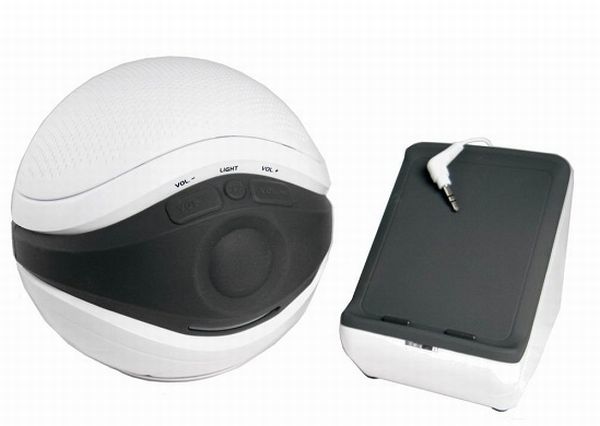 This speaker uses a base station for transmitting audio signal up to 150 ft distance and is waterproof. It is worth listening to music with mood lighting should you require it. There is no need to worry about getting your music player or iPod wet as it can transmit music without getting near the water.
Swimline floating wireless speaker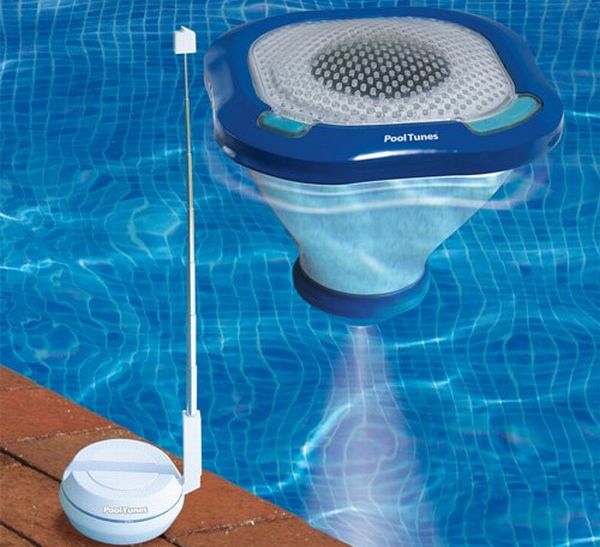 With a standard mini output Jake, the swimline floating wireless speaker produces music from its wireless transmitter. By plugging the transmitter into the earphones Jake, it broadcasts to the floating speaker up to a distance of 100 ft. The floating speaker has LED light provision for night party. They are absolutely waterproof made of high quality materials and design. It has a 3 watt full range speaker compatible with most output Jake. The speakers are battery operated and requires 4 C batteries and the transmitter requires 4 AAA batteries. The LED light has a control switch and it has rocker style volume control panel.
Waterproof speaker (Digital DS 1105)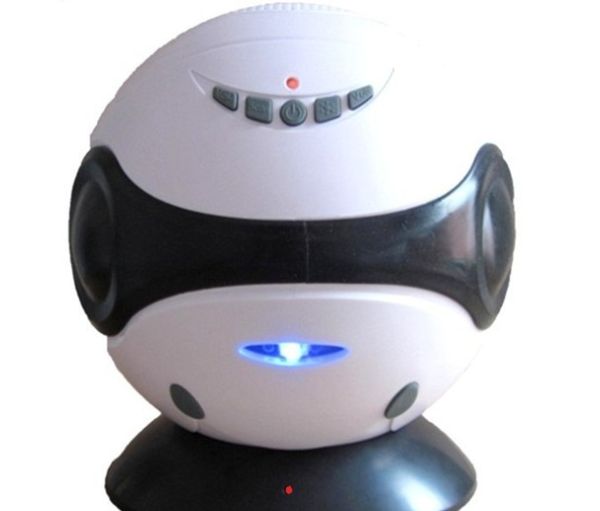 These speakers are waterproof design with an 18 cm body cushioned by rubber material. It has a USB communication port and can be used in the pool, bathtub and both indoors and outdoors. It has a smart charging base and speaker and uses 7xAA rechargeable batteries. It has the capacity of built in 1 GB memory and can blink LED mood lights underwater.
Wireless iPod floating speaker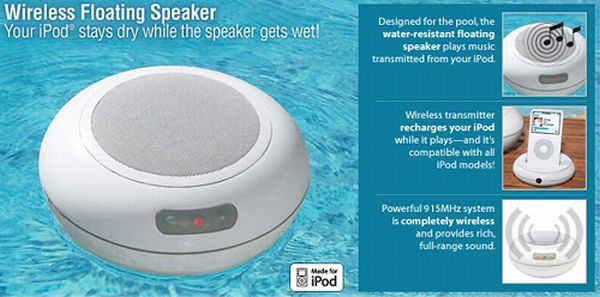 Without your MP3 player going anywhere near the water, the floating speaker wireless connect to an iPod dock and operates at 915MHz. It is waterproof and the sound clarity cuts through any obstacles to keep you tuned and at pace with your music. It has a sleek streamlined design with control buttons for volume.
Waterproof Bluetooth speaker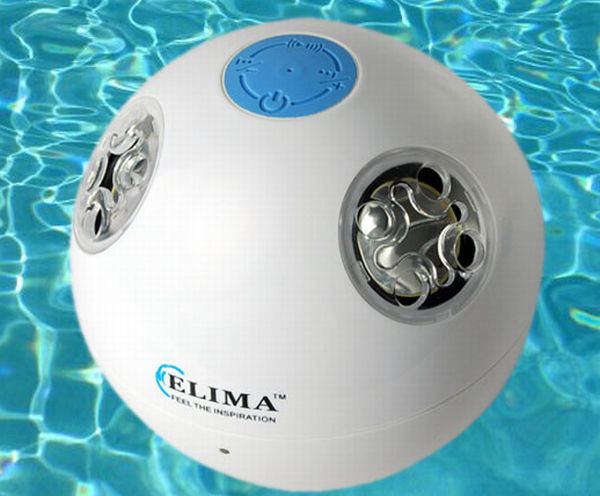 Designed and created by Elima, this floating wireless speaker connects to any bluetooth device with transmitting support of A2DP or AVRCP. It has an iPod water case as well although you can leave your iPod outside the pool. This sleek orb shaped speaker receive transmissions from 30 ft distance and is about 6 inches in diameter. For that crystal clear sound, there is a 2 watt speakers in a shape designed for easy accessibility as it bobs around in the water.
Nextar wireless floating speaker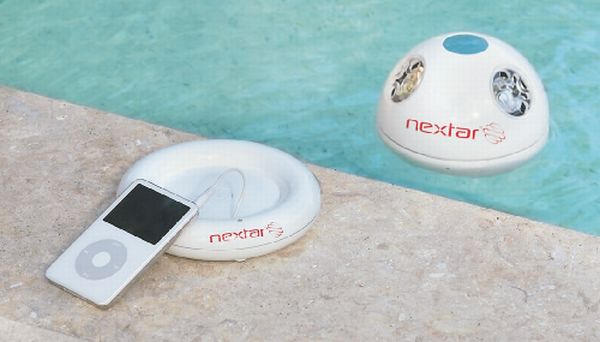 You can keep your iPod dock on a dry spot while you jump into the pool with the wireless speaker. The iPod dock is equipped with Bluetooth that can be hooked up to any MP3 player. The speaker has a four hour capacity playing time before recharge. It is an ideal water companion with its waterproof design and it transmits quality sound which is unbeatable.