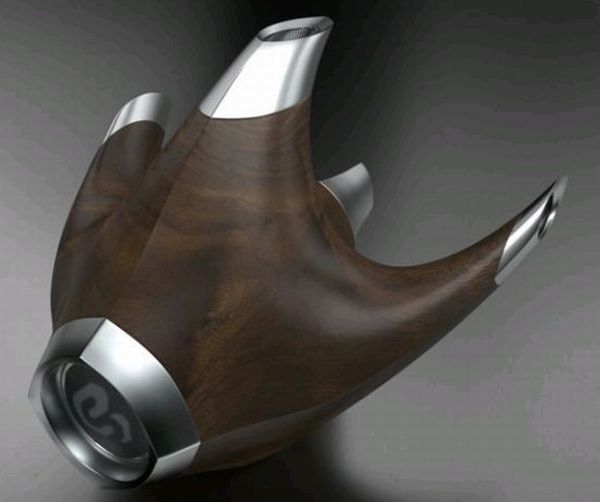 The properties of wood makes it an ideal choice for making the cabinets of speakers.The amplification of sound provided by the internal air chamber of a wooden speaker is certainly much better than that of the fiber body speakers. So, we have compiled a list of 10 wooden speakers which not only provide you high quality music but also add elegance to your decor.
Wooden Gracioso 2.0 Speakers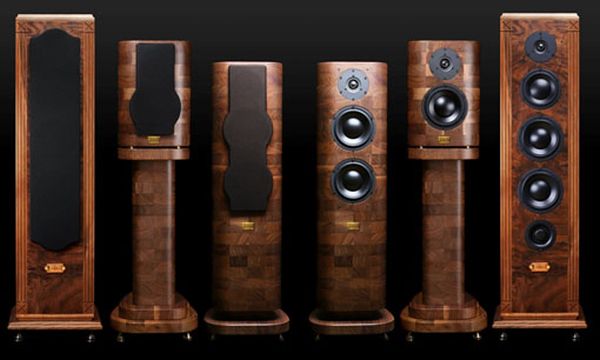 Aside from being aesthetically pleasing and unique, these new acoustic masterpieces are elegant enough to satisfy your design and audio preferences. These Gracioso 2.0 speakers have been launched by the Slovenian company Acoustic Preference. These classy and stylish speakers are completely hand made and are crafted in high quality wood of American and European Walnut. Each of these two speaker features a frequency response of 35 Hz – 20 kHz, 2-way/bass reflex system and a 6.5-inch woofer and a 28-mm silk dome tweeter.
Wooden speaker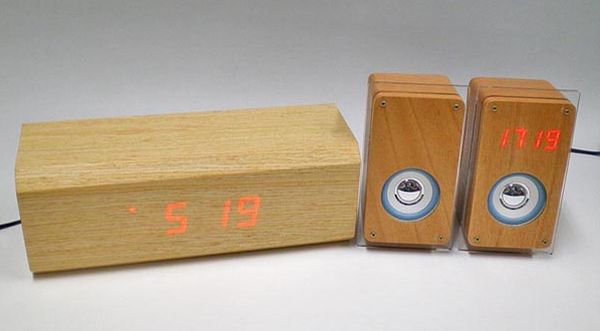 This is perhaps the best combination of modern style and contemporary art that you'll ever see in terms of wooden speakers, and no doubt, such perfectionism can be expected from the Japanese only. The Japanese company Evergreen has launched these wooden speakers which even have a built in clock. Two models are available at present, first one is the double speaker model and the other one is single unit only. However, the real problem is that at present these are available only in Japan.
Genius SP-HF500A Wooden PC Speakers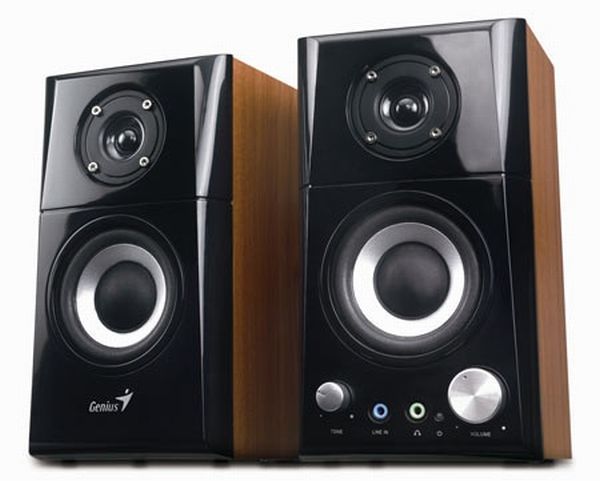 The SP-HF500A Deluxe Hi-Fi Wooden Speakers have been launched by Genius in the US. The speaker is enclosed by wood from two sides. It features a ton button for large volume/power control and timbre adjustment, 14-watt of output power and a three-inch speaker driver. Extra line-in jacks are provided for connecting to MP3player, iPod, PMP or other portable devices. If you prefer private listening, then you can make use of the headphone jack.
Hand-made Wooden Speakers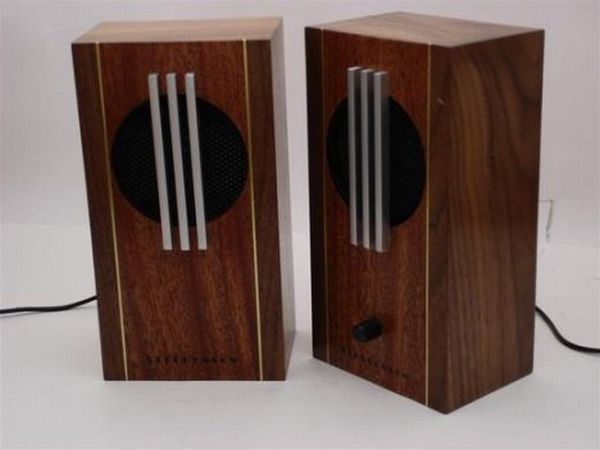 Jeffrey Stephenson is the person who constructed these matching set of speakers. The best thing about them is that these are completely hand made, but this also makes them pretty costly as it takes a lot of time and patience in manufacturing one unit as compared to those factory made items. Birch plywood has been used for making the brass-inlaid boxes and these are veneered in mahogany and walnut.
Wooden speakers PSD & icons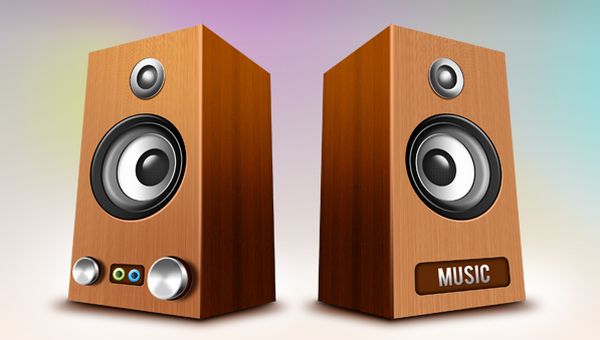 These are a set of realistic wooden speakers and are ideal for music lovers as they do not distort sound waves because of which the sound picture is transmitted without any sort of reverberation or unwanted frequency amplification. These are made from selected and high quality wood pieces.
Sound e-Motion M100-20 BFs spherical speakers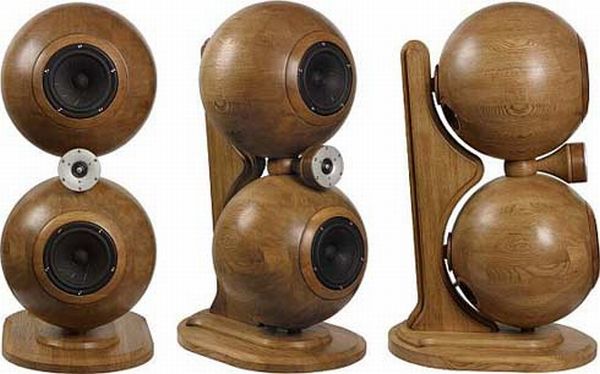 This is one of the funkiest entry on our list. It looks more like a set of eyeball resting on some sort of pillar rather than some ordinary set of speakers. This one is definitely a treat for those who like to stand out of the ordinary. Made from high class natural wood, besides being extraordinarily attractive, these speakers are equipped with small sub woofers which promises high quality sound.
Tree Speakers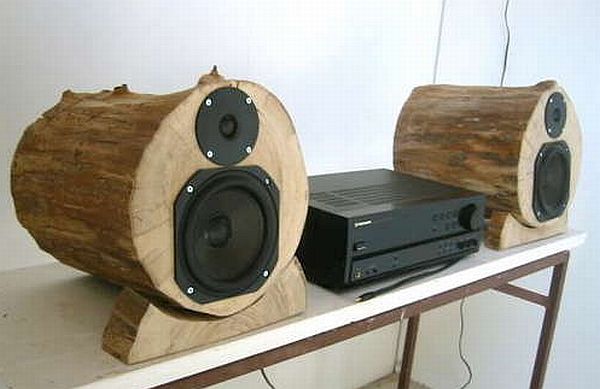 The speaker enclosure of these tree speakers is made from one solid piece of elm. Wood is carved out from the rear of the speaker in order to create an internal volume of air for the speakers. There are several advantages of making speaker enclosures from actual tree rounds; for instance, it acts as an acoustically dead enclosure material and provides a cabinet which is almost seam-free. The internal sides are non parallel because of which the reverberation and unwanted frequency amplification gets reduced significantly.
Rithm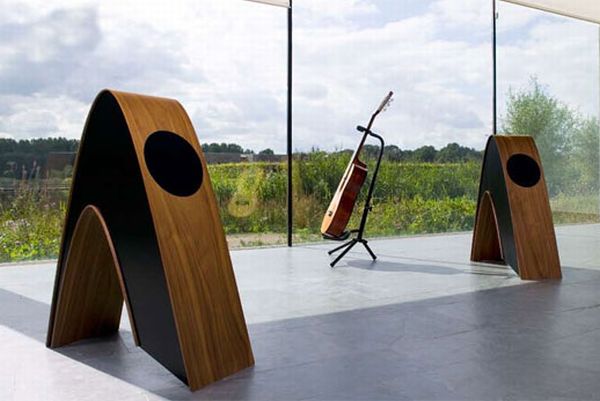 Rithm speakers are the product of the Danish company, Davone. If you are of the opinion that it is another set of sweet sound packed into a curvy wooden shell, then you are certainly mistaken. It is a work of art where ordinary looking wood is transformed into a completely unique piece of hi-fi gadget which definitely holds its promise of raising eyebrows. It comes in a variety of colors from oak and walnut to black stained oak. The prices are not available at the moment, however, it is for sure that these are going to put some burden on your budget.
Wooden speaker by Erick Sakal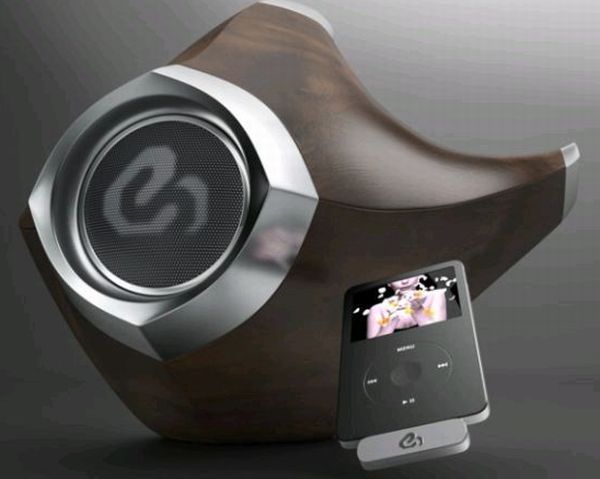 If you are a person who likes to add drama to everything, then you are certainly going to like this one. This smart all-in-one speaker system is probably the funkiest entry in our list. This wonderful looking speaker takes the aesthetics of your living room entirely to a new level. This sea creature like speaker features a subwoofer, a mid speaker on the top and tweeter on the sides of it. It is even equipped with an iPod transmitter and can function wirelessly.
Sell Wooden Speakers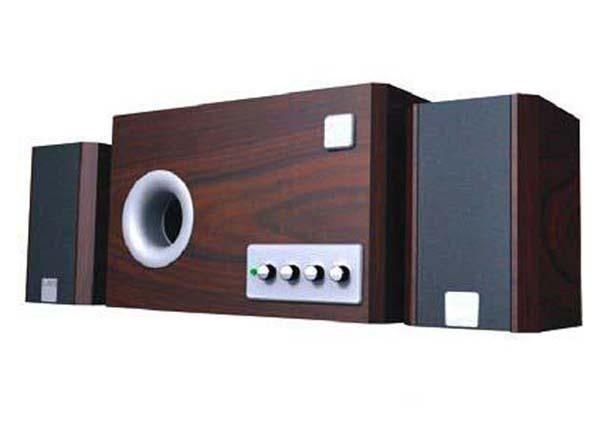 The sell wooden speakers definitely breaks the chain of traditional speakers because of their elegant style and classy look. The sell wooden speakers looks promising enough to send chills down spines. They come equipped with the driver unit and a sub woofer that will never let you bore because of the amazing sound quality.