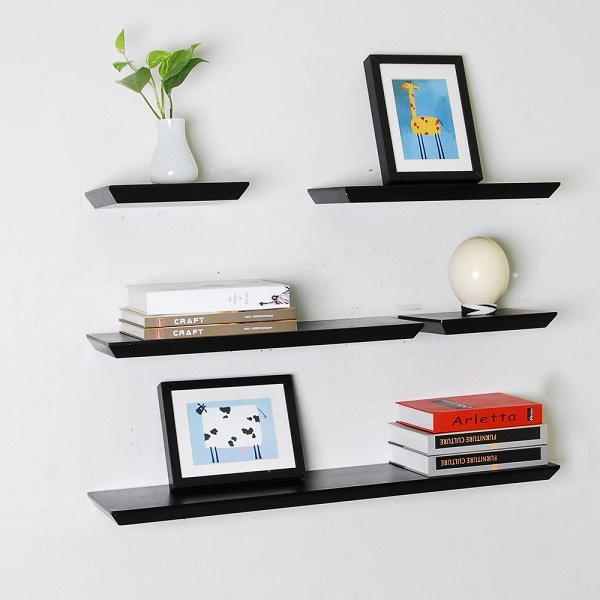 Storage areas should also add to the look of your interiors. Shelves are used in almost every home for storage and open ones are really popular as they can be accessed easily. With minimalistic designs becoming popular, the demand for free floating shelves has soared. These shelves look like they are hanging by themselves on the wall without any support. But, they actually have a support and that too a very sturdy one. Such shelves are designed so that their brackets, mounts and tacks stay out of view. From traditional to new age, here is a collection of such free floating shelves.
Melannco Espresso Nesting "U" Shelf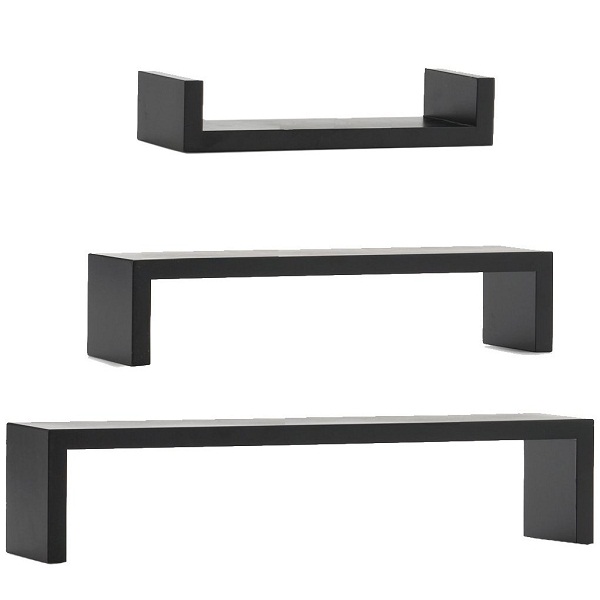 Price
$15.87
Clean lines and angled edges give this shelf a simplistic look that will gel with many abodes. If you move from one rented apartment to another, you will be thrilled with these. They are easy to carry and blend with different types of get ups. They measure about 18 by 4 inches.
What's unique
They come in a set of three and are a good choice for minimalistic set ups. They can also be used in dorm rooms, shops and offices.
Umbra Conceal Floating Book Shelf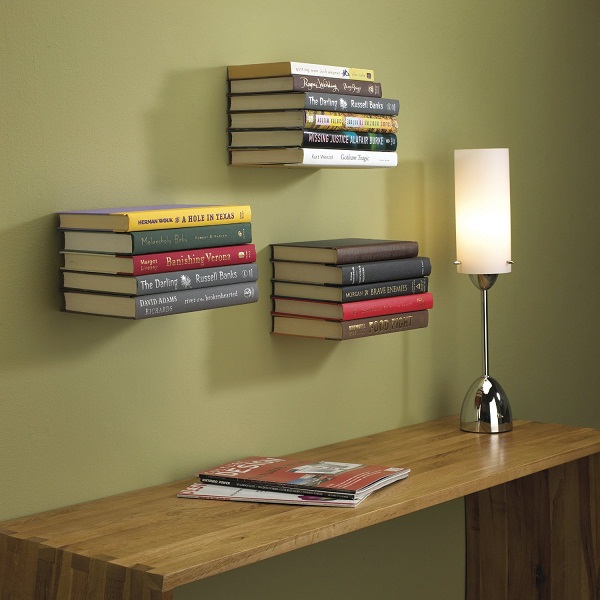 Price
$9
If your space is really compact and you cannot afford the holders on your wall to be conspicuous, then you should go for this piece. It looks as if your belongings are levitating in air. The white hue of the shelf can hardly be seen. The hardware for fixing the shelves comes with the package.
What's unique
They are made from powder coated steel. This is an award winning and patented design from miron lior.
Ennospace 10 Inch x 8 Inch x 1.25 Inch Oliver Wall Shelf Display Floating Shelves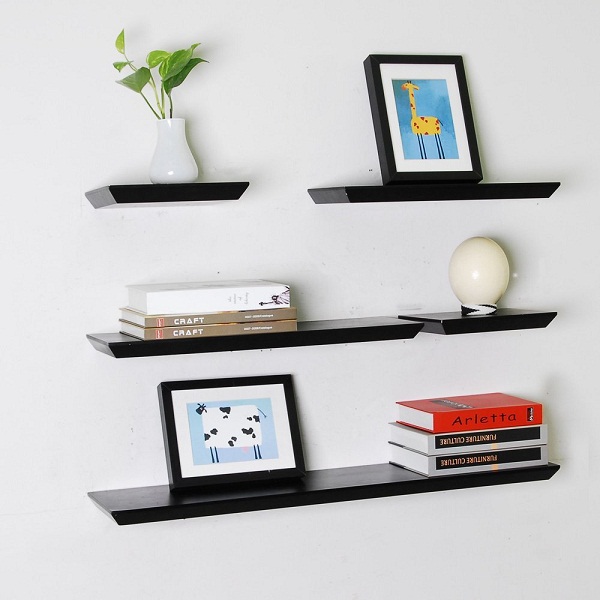 Price
$15
These look really neat and have absolutely no vertical supports. They look like a flat plank mounted on the wall. The barely there design is a good choice for compact spaces. However, the storage space has not shrunk while cutting down on the bulk of the size. They are quite voluminous and also sturdy. Stash thick books and heavyset showpieces without thinking twice.
What's unique
It is very easy to fit these onto your walls. The hardware for the fitting is also available in the package. The brackets for suspending them stay hidden so they do not mar the appearance of your room.
Wood Floating Shelf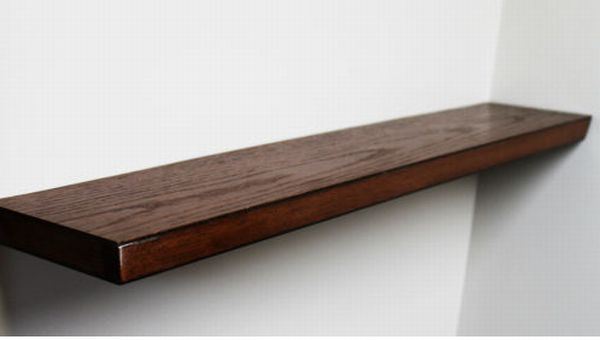 Price
$19.40
A refreshing piece that will go really well with rooms done up in wood. Its grainy texture is quite attractive. It will clash with rooms that have metallic or fiber glass furniture. It is a perfect pick for country cottages and rustic homes.
What's unique
It is constructed by Wooden You Shelving manufactures who claim that despite its lightweight feel, the shelf can bear more load than other designs in the market. A 14 guage steel bracket hidden from view provides the necessary strength.
Reclaimed Hickory Barn Beam Floating Shelf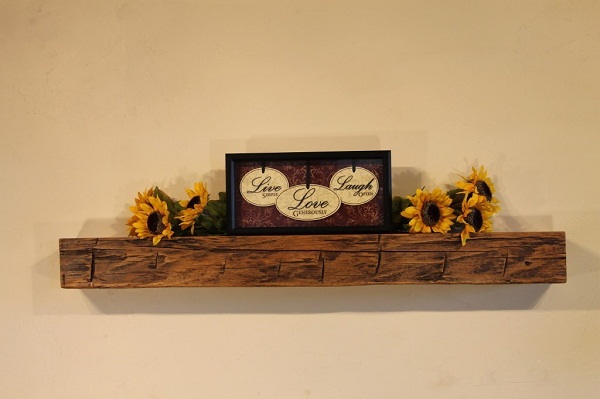 Price
US $47.50
This is a coarse looking shelf is for breezy, sunlit and relaxed interiors. It is bulky and therefore a good choice for spaces that have huge sofas, over sized arm chairs and a crackling fireplace with a broad mantel. The shelf is about 4 inches in height and depth while the width is 2 inches.
What's unique
The splinters and fissure along with spots and discolorations give it a unique and organic appearance. Although sanded and stained, its natural look has been retained. Made from reclaimed wood, the piece will be about 100 years old. Frame it in country homes, eco friendly abodes and shabby chic interiors.
Wildon Home Stella Floating Shelf in Espresso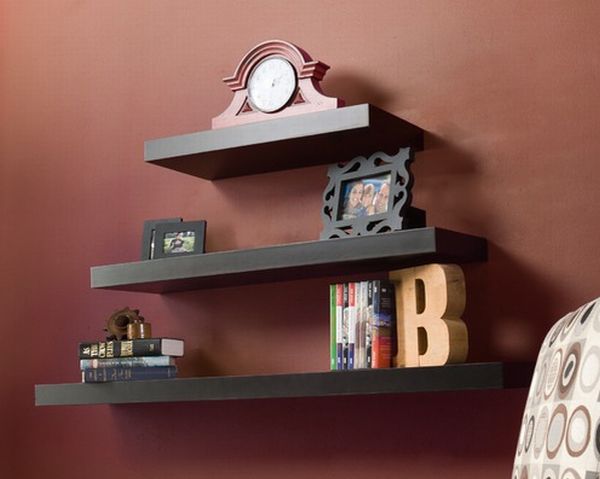 Price
$28.49
This smooth and polished mount will work well in chic get ups. The espresso finish will go with woods in dark tints of browns and reds. The piece is available in various sizes like 10, 24, 36 and 48 inches. You will have to assemble the piece on your own.
What's unique
They easily adapt to any surrounding and will compliment the look of just about any space. It can appear like a functional add on in the kitchen or a showy mantel in the living room.
Spancraft Glass Floating Grey Dove Shelf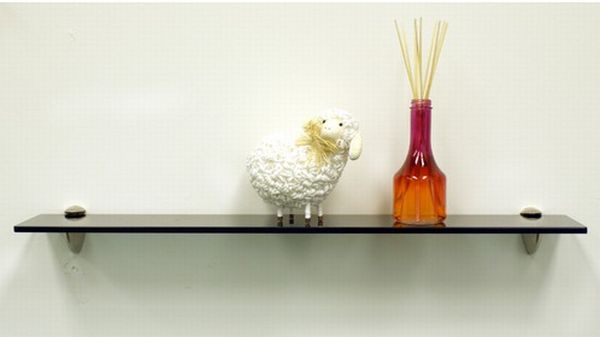 Price
$49
This is a great pick for rooms that have a glass or crystal furnishing. As they are transparent, they will make any room look more spacious and airy. Thus, they are a good pick for crammed spaces. Made from tempered glass, the shelf can bear the load of about 55 pounds. Pick either brass, chrome or brushed steel brackets for it.
What's unique
This shelf will fit right into your bathroom, especially just under the medicine cabinet or a framed mirror. Use it to hoard essentials like soaps, shower gels, toothbrushes, perfumes and other toiletries.
Wildon Home Childers Floating Shelf in Clear Glass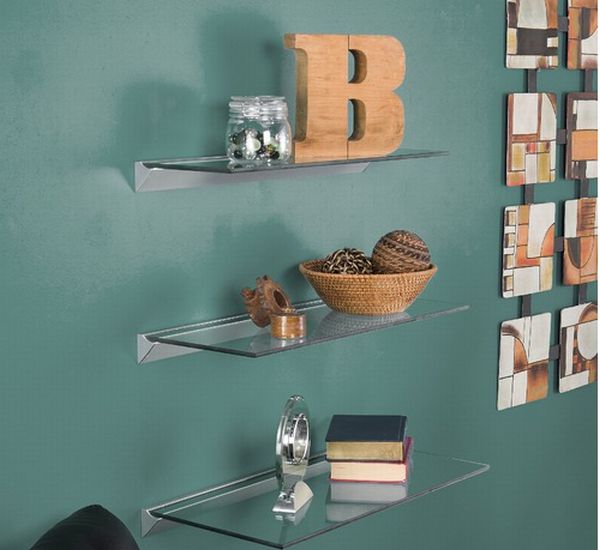 Price
$37.99
The nifty piece will compliment the look of glassy and metallic interiors. It is a good choice for futuristic offices, ritzy living rooms and new age steel kitchens. It is available in many different sizes with lengths of 36 or 24 inches and the breadth can be 8, 10 or 12 inches.
What's unique
This plain but swish display shelf is great for showcasing valuable pieces. Prop up your family photos, trophies, crystal embedded artifacts or metallic collectibles here.
Oak Floating Shelves Top of Form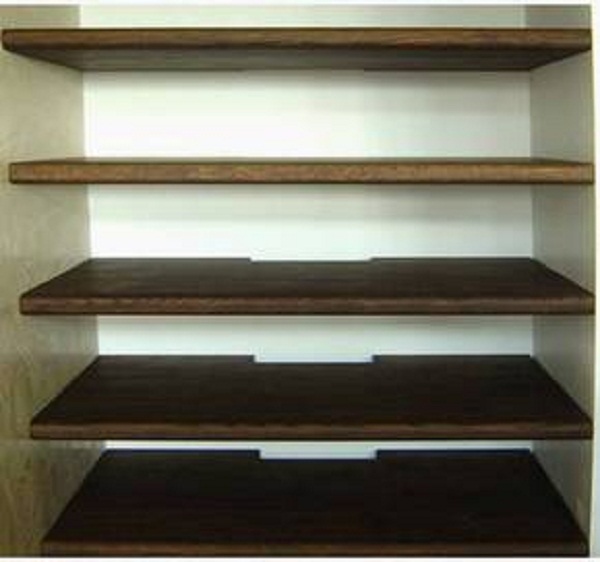 Price
$ 204
These solid ridges are made from Oak. The dark brown hue will go with many colors and can fit into any type of furnishing. They have been finished with linseed oil.
What's unique
This is a practical shelf is a great pick for easygoing homes. It goes well with your wooden furniture pieces.
MAMBA: Desk cum shelf

This is an excellent solution for homes with limited spaces. This mounts works as a shelf and also as a work bench. There is enough space to place a computer and its accessories. It twists about an angle so that the lower rung is the desk while the upper one can be used for storage.
What's unique
The demure looking piece, constructed from crisplant, is quiet lightweight. Lights have been affixed on the upper board to illuminate the desk below. This is an ingenious add on for bachelor pads.