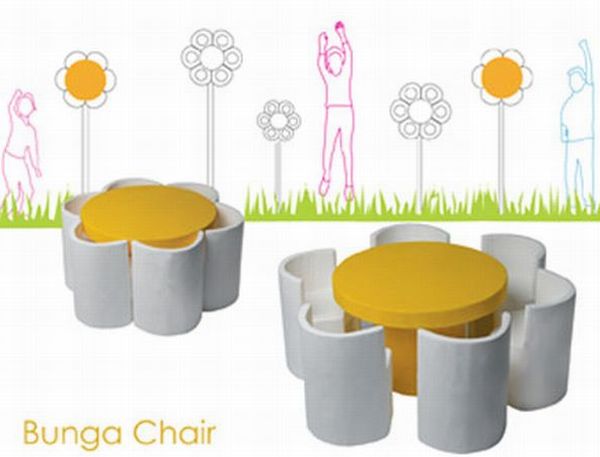 Flowers are the best way to decorate your home. There are numerous types of flowers where some are seasonal while others are found all through the year. Some are very sweet smelling too. The flowers have been a great source of inspiration to many artists, painters, designers, architects, etc. The latest addition of floral inspiration is to the furniture world. There are stunning floral furniture designs that add a touch of class and sophistication to your interiors. If you have a special liking for flowers, here are seven flower-inspired chairs for a more natural decor.
1. Black rose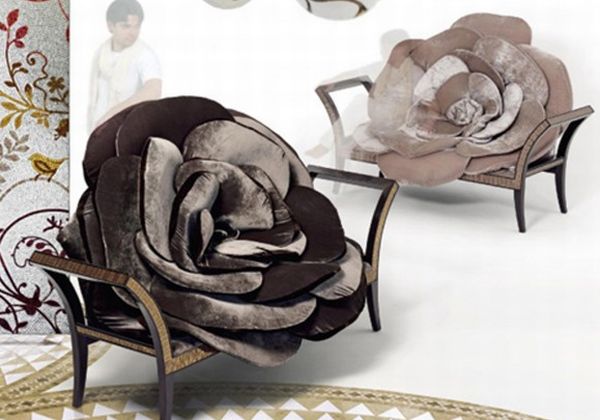 Who does not like roses? They come in so many colors that it can be quite difficult to choose the best. Now you can decorate your home with elegant and stylish black rose chairs. The interesting design is created by Carla Tolomeo, a designer. The chairs are huge and sport large black roses made of velvet in the center. The dark color and the huge shape add a special refinement and temperance to your home. Your living room can be the center of attraction easily. You will be appreciated for your choice of interior decor too.
2. Bouquet chair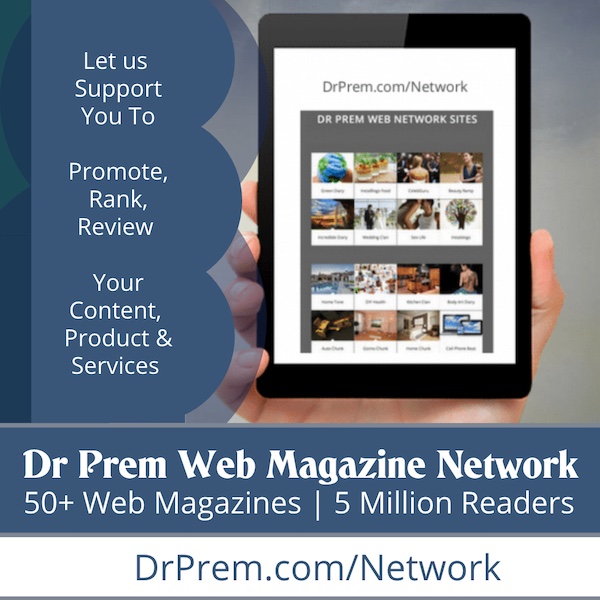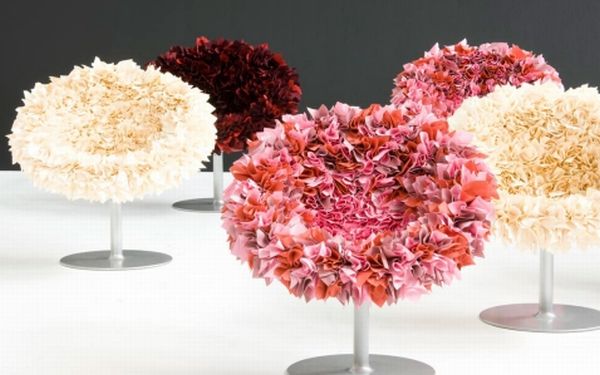 Nothing is more welcoming than a bouquet of flowers. The bouquet may consist of different types of flowers in various shapes, sizes, colors and fragrances. Imagine your living room to have a bouquet of chairs made to look like different flowers. The bouquet chairs are designed by Yoshioka Tokujin. The chairs look as if they are made of beautifully colored flowers with numerous petals. The petals are made of soft material and provide you a comfortable and soft feel when you sit in the chair. The colorful atmosphere created by these chairs can transform the look and feel of your home.
3. Modern interior chair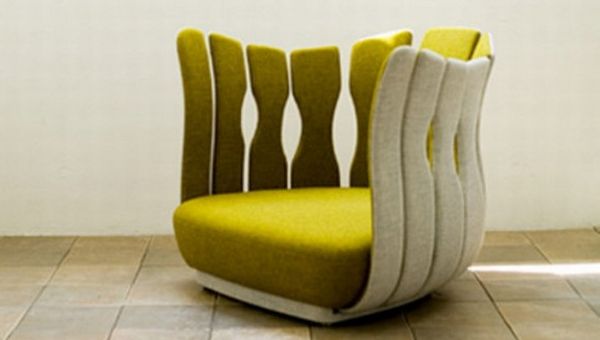 If you are looking for a sophisticated interior decor, perhaps you have to use such chairs in your living room. The modern and unique flower chair has a very special appearance. It is beautifully shaped like a flower. When you sit in it you feel as if you are sitting inside a huge colorful flower. The chair is made of artificial leather. It is quite big and can be placed in any location inside your home. You can use it for relaxation also after a long and tiring day. It has a large cushion seat in the center and the petals surround the seat on three sides.
4. Fabric flower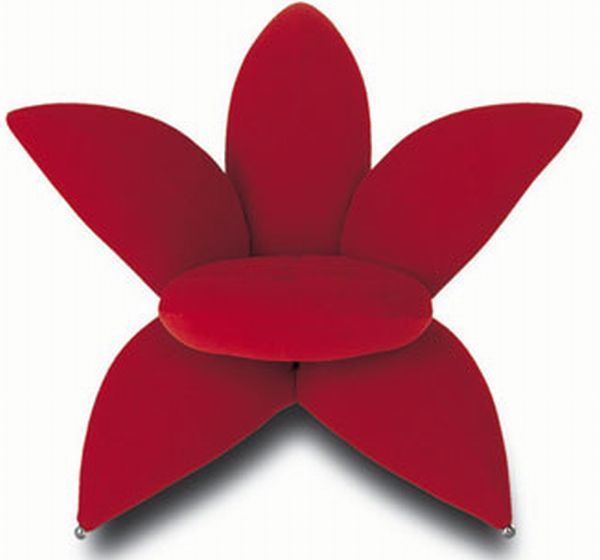 Strength, color and elegance, these are the special attributes of the fabric flower chair. The chair is built very strongly. It is covered with a durable fabric and sits on a strong metallic frame. The chair resembles a huge flower with the petals wide open. There are five petals overall with three on the top and back part and the two on the bottom side. These flower chairs are suitable for any kind of atmosphere. You can use them in cafes, restaurants, night clubs and of course, your homes.
5. Lotus sofa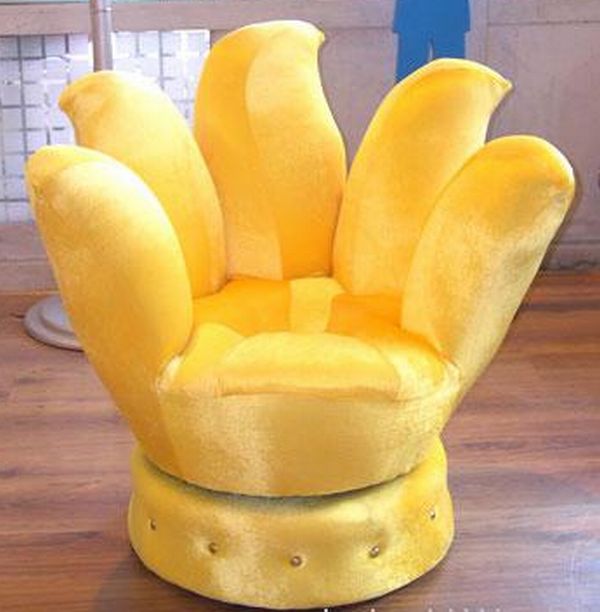 Sofas are one of the most comfortable seating arrangements found in any home. They have a lot of space and allow you to relax in any position you like. Imagine a sofa in the shape of a lotus. You will not only feel very comfortable but also look stunning sitting on a huge and colorful sofa. The soft look and feel of the bright yellow colored lotus sofa can add a lot of drama to your interior decor. If you want any area of your home to be highlighted, use this very special furniture.
6. Rose chair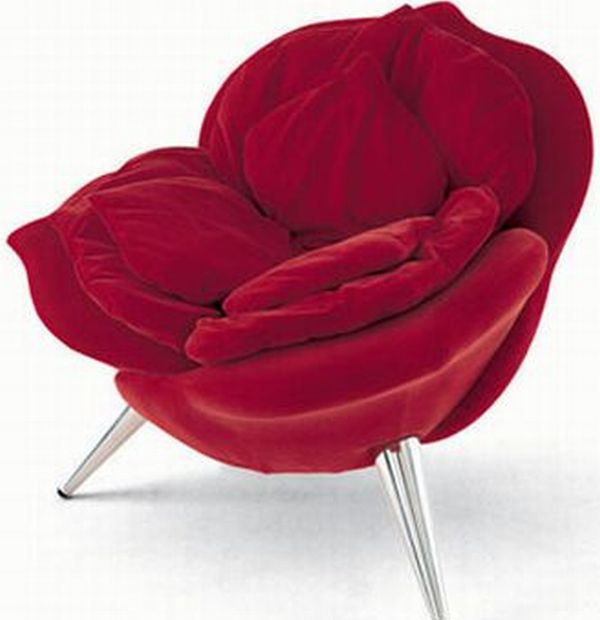 Nothing can beat the look and feel of the red rose. Chairs that are shaped like red roses and lilies are designed by Bonluxat. They are perfect additions for large spaces. They have a special warm and welcoming feel. Apart from that you feel very cozy and comfortable while sitting on these chairs. These chairs are quite huge but easy to move. This is because they come with wheels. The seats of the chairs are shaped like real petals and they display the delicacy and fragility of real flowers. They are perfect additions if you wish to enhance the overall ambiance of any kind of atmosphere.
7. Flower bloom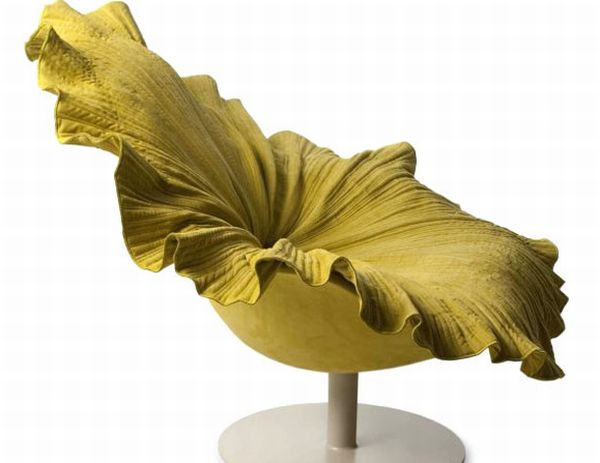 Sitting inside a large flower bloom would make you feel like a king or queen. Flower chairs come in various shapes, sizes and colors. They are made of different materials too. The flower bloom chair helps you to create a unique atmosphere in your home with its flowery shape and structure. It is made of micro fiber attached over resin. It has a strong steel base for support.
Flowers are the best representation of nature. If you like to associate yourself with nature you can bring home some of these beautiful floral creations to decorate your home. Celebrate the color and brightness of spring in your home forever.
Via: Homedit