Thought only origami light fixtures provide flexible and interactive illumination? After looking at this Folding Light by Michael Jantzen your perception will surely change forever. This box-shaped lighting unit consists of small, interactive structures that can be rearranged in multiple configurations to provide sufficient brightness as per your changing mood.
When all fragments are closed, it appears to be an ordinary cube, but a closer will reveal that it's more than just a tiny box. Conceived as a personal retreat, the folding light allows users to change its shape and function as per their convenience.
Structure
Jantzen has bent for architectural designs and this has been clearly reflected in this geometric lighting fixture as well. The structure of this lighting object comprises four hinged corners, which can elegantly fold the structure over itself to form numerous unexpected patterns.
The folded panels tend to reveal its glowing interior that hides energy-efficient light bulb. The light source is surrounded by six horizontal yellow planes that tend to reflect the light with great intensity. This way this unique lamp is able to spread soothing ambiance of light throughout your room.
Playful interaction with light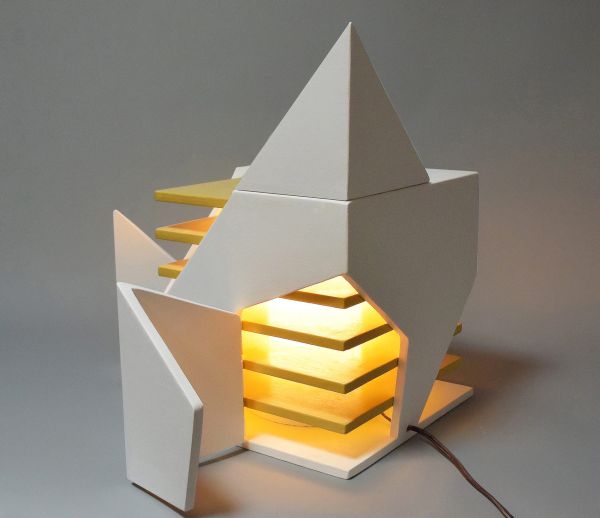 The light bulb fixed inside the folding lamp creates effervescent glow, while allowing the users to play with light beautifully. Various design formations and functions of the light are fulfilled in minimalist architectural way. Interior and movable panels help the light source to whimsically reflect, refract and interact with surroundings to create desired atmosphere. This playful light fixture is more like a game, which takes human interaction with light to next level.
Unexpected designs
This small light object is meant to be explored unlike conventional lighting fixtures available on the market. Its simplicity cleverly binds sleek and geometric fundamental aspects of architecture with light in the most unusual but intriguing way.  Not just a playful light object, but the folding light is actually meant to reinvent your surrounding environment through unexpected interactivity.
While forming a fun, striking and interactive combination, the light is both beautiful and illuminating. The glowing masterpiece is going to take home interior to whole new level of awesomeness while sustaining its simplicity.
When the folding light is turned on, luminescent rays burst out intensely from the cracked portions. It seems like a box of light, which can be arranged into different configurations in unexpected ways.
Source : Blog.Gessato.Com