Growing children need many accessories in their bedroom to work and complete their projects. To organize their space, one needs good quality furniture, so that the child is able to perform his activities while being free from mess. The furniture you chose must be of good quality and fully functional, so that the child feels comfortable while working. Given below are five such amazing products that would make your child's workplace comfortable and organized.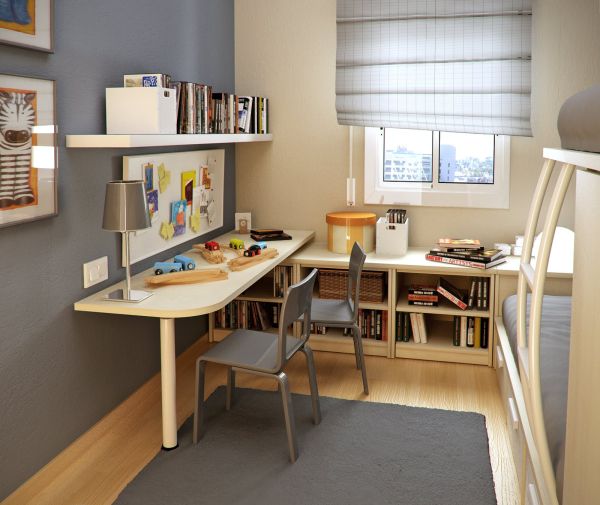 Student Desk:
A student desk holds great importance in keeping a child organized. For children with their own room, the desk can be used to keep all their stationary items like notebooks and other materials at one place, so that they do not have to go crazy finding them when needed. They can use the desk for writing as well as reading. The size of your child's desk should not be too large. Even the bigger items like the PC can be kept on a lightweight and small size desk. However, the desk should be big so much so that your children can do their homework easily. Other additional features, such as shelves and drawers, can add extra beauty and storage space to the desk, making it even more functional. Do not forget to buy a suitable chair for your child, as it will make him feel comfortable while working.
Height Adjustable Chair:
As I mentioned above a comfortable seating is the next important thing your child's workplace should have. Thus you need to have a height adjustable chair, since adjusting the chair according to the height is extremely important not just for children but for adults too. Your child might be using the chair for long, especially during his exams, so you cannot neglect the importance of the chair. Also with the help of a swivel feature, your child can easily reach for different objects kept on or around the table.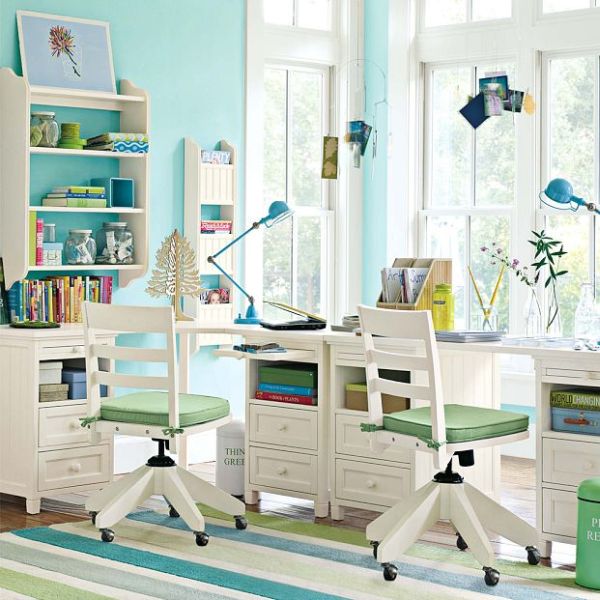 Storage and Bookshelves:
Bookshelves and storage are important for keeping your kids' materials even if they are fond of studying on the floor or bed. There is no need to mention the importance of a good storage in everyone's place of work. Your child's furniture should be comprised of sufficient number of drawers, shelves, containers that they can use effectively to store books, papers and other items. You can mount shelves on any of the room walls according to their liking or decor of the room. Nightstands with good storage capacity are easily available and can easily save your floor area. Apart from the nightstand, you can also use loft beds with incorporated space for keeping various objects. These beds are best for rooms that have limited space. Even headboards can store many things. However, the storage area should be easily accessible to ensure comfort and productivity.
Lighting:
Lighting is a very important feature of the child's room, which requires careful planning. Day light should be allowed to enter the room as much as possible, while table lamps, task lamps and overhead lighting should be used for the nighttime. Such type of lighting is good for the eyes and should only be used to light up the workstation and not the entire room.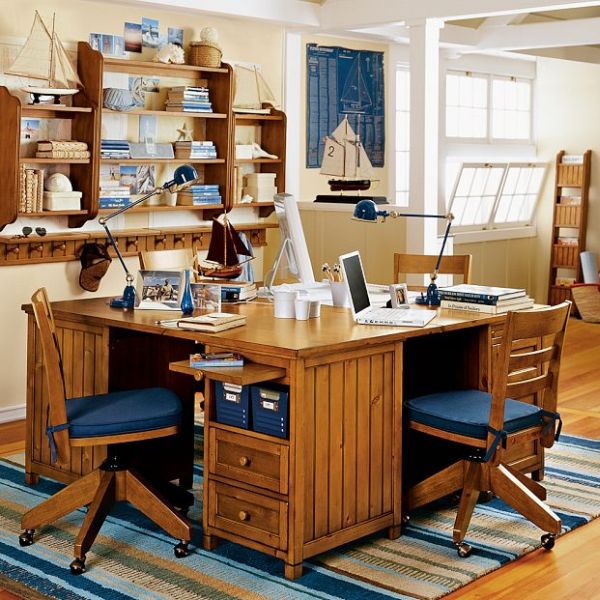 Dry Erase Boards:
If your child tends to forget his project submission dates and you have to remind him/her continuously, dry erase boards can be a useful to the room. If you don't want to install a dry erase board, you can paint a wall of the room in chalkboard paint, making it look even more realistic.
Summary:
Kids' workplace is no less important than those used by an adult. While decorating your child's room you should not underestimate the furnishing, since it is going to be useful in the long run and will make it easy for your child to finish his work in time and be organized.