Storage or shelving units are always a big necessity for enhancing space usage and reducing clutter. The necessity is heavier for students or professionals who are always on the move changing homes/work areas. Self assembling units specially are popular as they can be bought from any part of the globe and shipped around to any desired destination. However, the DIY tricks for such furniture do not work well with all individuals. Keeping this in view, DLF design studio has aimed this shelving solution specially for people who feel challenged in such projects.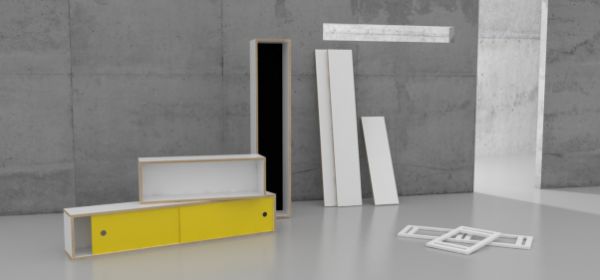 Using geometry for structural framework basis, Stuttgart based Daniele Luciano Ferrazzano designed this shelving unit to fit into each other with an efficient facility that too without any help of tools. This multi-functional storage system can be personalized to specific functionality based on the need of the user.
With deft flexibility and provisional capacity, the shelf comes with several units that offer adaptable usage. More units can be added or lessened as per the need-of-the-hour. The user can use this shelf to function in a commercial as well as personal environment and is suited best to a variety of usability, viz., TV shelf, book shelf, display unit, office file storage seating bench etc.
The whole system is made of powder coated metal brackets and comes in three sizes. Each unit gets staged into the square brackets in a way that makes it look very fashionable yet keeps it handy and easy to unassemble and reassemble in case of change of location or usability. However, additional bench seats and storage boxes are available on request, which can be easily incorporated into the structure as one entire unit or also can be pieced into two or more units to suit the room design or necessity. The entire form is more-or-less free styled and directed towards the user's necessary functionality. It is designed to comfortably adapt to the room and maximize space availability.
Via: DLF