The biggest highlight of using stone in home décor is that it can complement any design or layout. The natural material that it is, each stone is completely unique and different from the rest. This alone makes it possible to achieve innumerable versatile combinations using stones for home décor. Using stone for the interior walls can therefore be a great way to create a focal point in any room in the house. And considering the fact that the living room is where everyone getshis/her first and lasting impression about your home, here are some ways in which you can integrate stone into your living room décor.
Start with choosing the right stone for the right look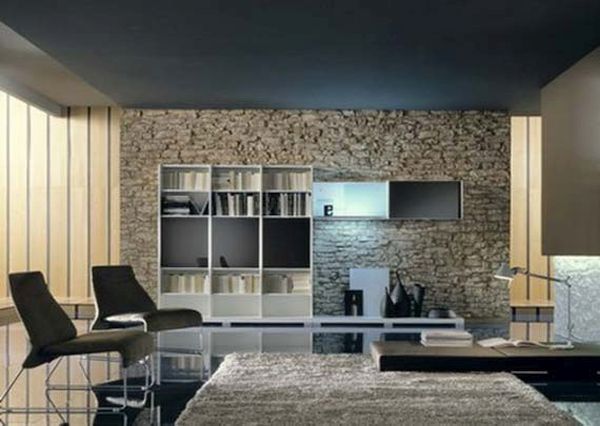 Your first step to using natural stone for the living room wall would be to choose the right stone for the job. Your choice of stone would depend to a large extent, on the kind of look you want the wall to emulate. While smooth stone walls made of marble and granite would offer a modernistic look to the living room, slate walls would offer a versatile look that would complement any décor that you choose. Then again, there are stacked field stones that can offer a traditional look to the living room while stacked river rocks lend a more rustic appeal to the room.
Go through at least a few home décor magazines and websites to see pictures about the different kinds of stones used for living room walls. Check for any rooms that come with looks you would like to choose for your room.
Create a Stone Accent Wall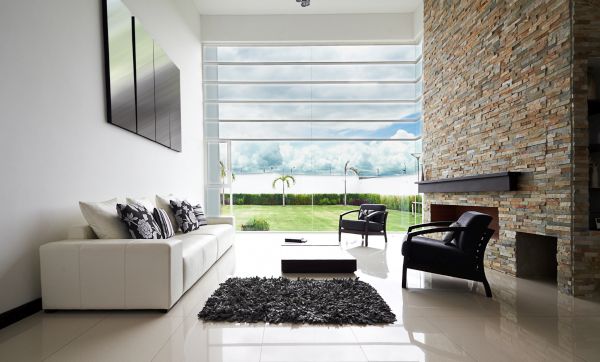 The best way to integrate natural stone in your living room décor is to dedicate an entire wall to it, creating an amazing accent wall in the process. For instance, you can choose to cover an entire wall with granite for a glossy appeal. A wall covered with fieldstone will offer a more rustic look while a dark gray slate wall will make the colors in the room pop.
You can either cover the entire wall with stone or choose to cover only a portion of it while using other materials to cover the other half for a more creative effect. It all depends on how you visualize the room with the stone wall really.
Use Stone to Create Focal Points of Interest within the Living Room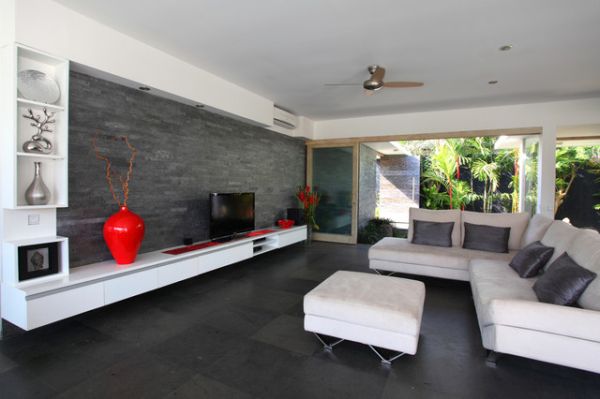 While your first thought would be to simply cover an entire wall with stone, try to see if you can use the stones for accent pieces instead of an entire wall. Let's say you already like the look of the walls and don't prefer adding stone to them. Your next thought would be to look around the room to see where else you can add stone to the living room décor. For instance, if you have columns protruding from the walls at regular intervals, consider covering them in stone. This will let you achieve the look that you want without disturbing the walls much.
Choose Stone for the Fireplace Design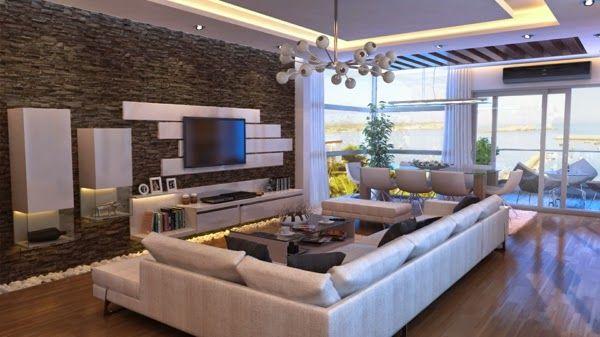 A fireplace is one of those places in the living room that will look absolutely spectacular with stone décor. You can choose to surround the firebox with a floor to ceiling fieldstone wall for a dramatic effect. If you prefer a more polished look, opt for river rock instead. Then again, if you prefer a traditional and yet glossy look, opt for a granite wall instead.Leave out the shelves and mantle as you extend the stone chimney right up to the ceiling for a great focal point.
Don't forget the rest of the décor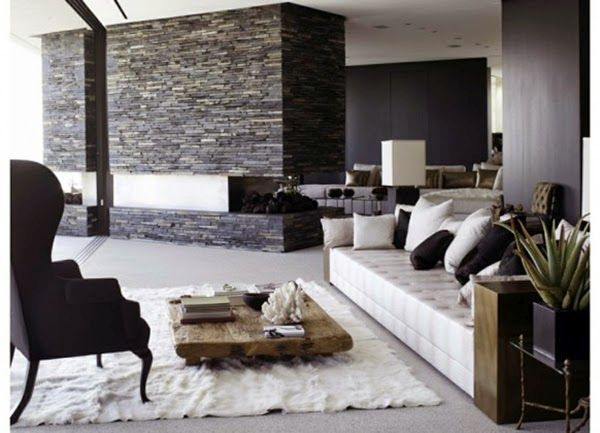 While adding a stone wall would enhance the living room décor, you would need to remember that it would need to complement the rest of the room's décor, including the furniture. Stone can give off a cold look. So complement it with warm and cozy colors and textures, including wooden furniture which works great with stone walls.

Thinking of using stone to accentuate your living room décor? From choosing the right kind of stone for the right look to deciding how and where the stone wall will need to be placed, these tips will help you choose the best option when it comes to using stone for your living room wall.