Lack of good sleep can disturb your whole day, as well as affect your health badly over a period. While there are several factors responsible for a good night's sleep, the major ones include a comfortable bed, dim lighting, right temperature, and your healthy body condition and positive sleeping habits. Now, a smart bed called Balluga considers all these factors and more. Designed by Joe Katan for Balluga Limited, this modern-day bed can be beneficial in many ways. Find out how.
Design and functionality
Ballugais made up of small air balls that are further covered with foam.It has a vibrating mattress. This smart bed is capable of accommodating people of any size and weight. It is designed to have a temperature control system that can do the right heating and cooling at the required places on your bed.
You can also synchronize your bed to a smartphone app via Bluetooth or Wi-Fi and control the temperature yourself. The bed has pressure-sensitive suspension that is computer-controlled.It also has multicolored ambient lighting for nighttime use and remote suspension profile setting/monitoring for medical use. Apart from that, Balluga comes with a smoke and fire detector that ensures your safety.
Benefits of the Balluga bed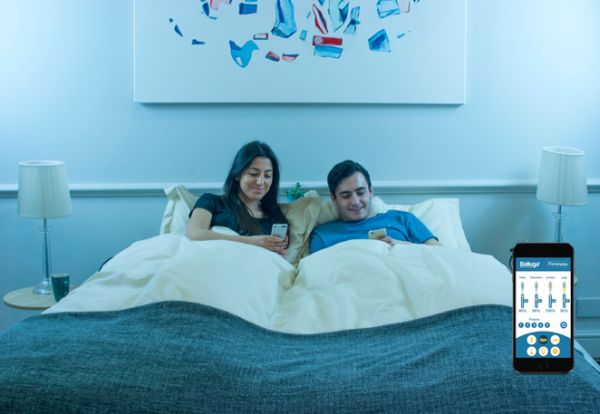 While your regular bed may lose its firmness with time and may give you back pain or weird sensations, Balluga retains its shape well. You can also adjust its firmness by changing the settings on its app. Thus, you always stay comfortable in bed.This bed is also fun at times.
For instance, its can help you feel nice sensations when you play a game lying on your bed.This is due to its ability to connect to your entertainment system. As its app can connect to all media, you can also make use of its built-in projector when you want to watch television.
Further, Balluga can give you a therapeutic massage to feel good and sleep tight. It can control the climate in your room and adjust your head position if it detects you snoring. It makes you relax completely, as it can also monitor your sleep and adjust surrounding conditions to give you peaceful sleep.
Ease of use
It is very simple to install or set up this bed. While the external frame of the bed can be fitted into your regular bed or used standalone, its mattress can also be placed on top,as you would do. You only need to plug the mattress into a power socket and download the Balluga app on your phone. Then, you can use your app to control and change its settings or inflate the mattress for use.
Balluga is a truly smart bed that can control sleep interfering factors like temperature, lighting, and your body conditions, thus making you comfortable and relaxed to have some effective sleep.
Source : Kickstarter.Com