Chic, fashionable and sophisticated, that's how you'd like your living room to look like. The choices you have are many, but if you want your living room to have a bit of character as well, you may go for a retro-modern mix. The Mid-century modern living room theme can do that for you. The sleek style of that period, 1930s to 1960s, had simple lines and organic forms which can fit in well with modern style concepts.
The furniture tended to be low slung, focusing on the grainy textures of wood, with bold colors and graphic designs. Light fixtures, mirrors and clocks in space age shapes, shag and flocati rugs and cocktail bars were part of eye-catching accessories. Shows like "Mad Men" have brought the Mid-century living room theme in vogue again and everyone wants a bit of the roaring sixties style.
How you can achieve Mid-century theme in your Modern living room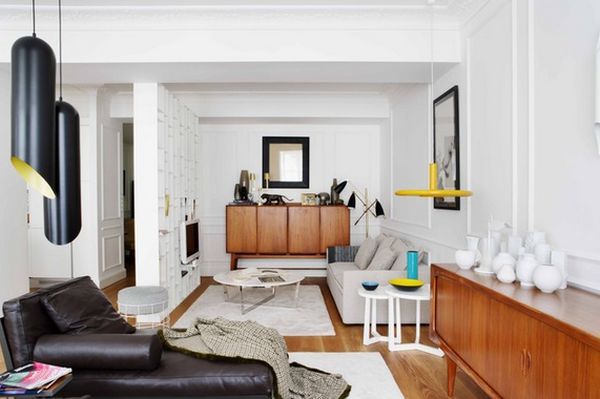 Mass produced modern furniture has a sameness which can be monotonous. You can break this monotony by having a Mid-century modern mix theme for your living room. A few beautiful and elegant pieces from that era can give a unique look to your space. You can do that by incorporating a classic piece along the lines designed by Eero Saarinen, Eames, Isamu Noguchi and Arne Jacobsen.
A superbly crafted wooden chair out of teak, oak, rosewood or walnut can take center stage in your living room. Consider remodeling with the help of an architect to achieve the airy, open floor plan. Or just have a huge floor-to-ceiling stone fireplace.
A stunning light fixture from designers who mimic that style would add Mid-century flair to your living room. Flea markets and vintage shops would definitely stock lights like these. A bar cart is a must to give you that nostalgic James Bond feel. Shaken, not stirred, anyone?
Mid-century themed accessories to add some style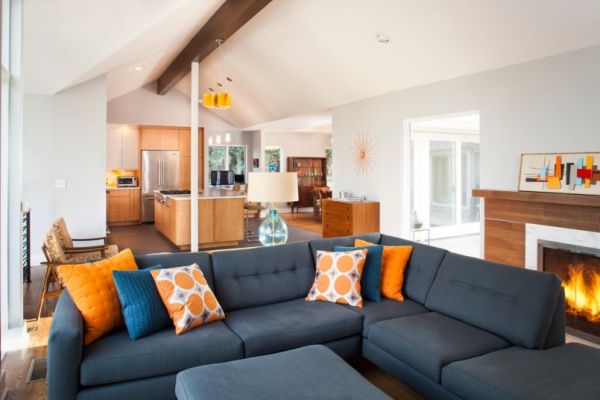 A sun-burst mirror, bold and glitzy wall paper in graphic design, or a silver and gold striped wall can give you the vibes of those subtle yet glamorous days. Walls tended to be white to bring out the mustard, tangerine and avocado. Artichoke lamps or a sputnik chandelier and a shag rug will complement your modern design.
You can get the 60s inspired look by some gorgeous centerpieces, blown glass accents or sculptural vases. You could upgrade the Mid-century look to modern by reupholstering a vintage chair, keeping the elegant lines of the chair intact but the fabric and pattern modern. Or you can keep your furniture modern but have one or two artistic metal wall plaques or a large graphic oil on canvas to make your style statement. Adding just a few elements will ensure that you don't go overboard with this style and feel as if you have gone back in time.
Tone it down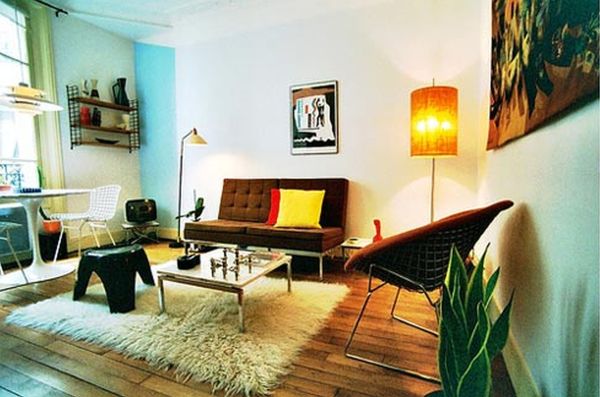 Though this theme doesn't look as if it is going to go out of styleanytime soon,still it would be easier and less expensive to replace a few things, when you feel like it, rather than changing the entire furniture and accessories. In fact, you can keep adding new statement pieces as and when you find them, giving you more time to shop that look. It takes time to find just the right thing that fits your theme. In the meantime, you can keep looking at more Mid-century modern themed interiors until you come up with your own idea.
Things you need to keep in mind to purchasing accessories for your living room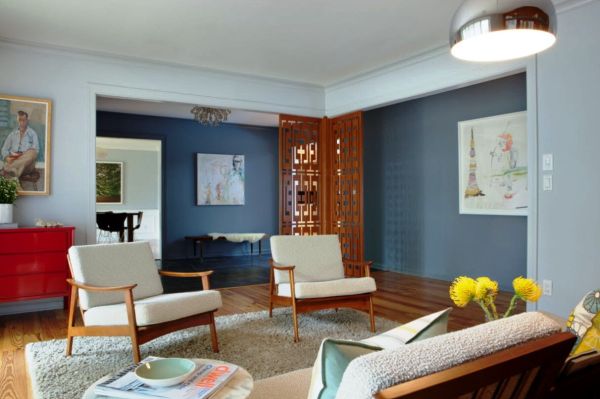 There are some fundamentals you have to keep in mind while shopping for this look. Selecting colors is of utmost importance as it will influence your furniture and accessory selection. The thumb rule that most interior designers follow is the 60-30-10 rule –60% dominant base color, 30% secondary color and 10% accent color. The typical Mid-century patterns are asymmetrical and abstract.
Pure Mid-century does not include rustic elements. Lamp designs were very straight, stark lines or were round and curved, made out of finished metal or wood. Select simple forms, vibrant colors and unusual patterns to design your own exquisite Mid-century modern themed living room.
The mid-century modern living room theme has been a recurring favorite of designers so it's an excellent theme for your living room, one which can last for a long time, and because of its flexibility can be expanded to fulfill all your designer aspirations.