Looking at same pieces of furniture everyday can leave anyone bugged. Once we purchase some furniture item, it stays with us for years to come. This lifelong warranty sounds quite interesting while purchasing furniture, but can get on one's nerves as years pass by and one has look at the same design time and again. If you are bored as well or have some old stuff lying around and want to give it an all new, crisp appearance then Villasana, Plasencia, et al. design firm based in Mexico will help you pump some fresh breaths in your dull and boring home items.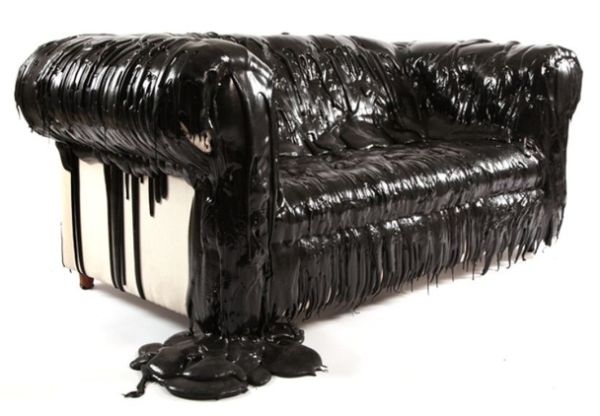 Designers Grisell Villasana and Mario Plasencia have come up with a furniture collection, named Dermis Line that exploits materials normally used to make shoes. The duo has recycled old furniture by smothering it with polyurethane, leather and metal fittings that becomes a new skin for the piece of furniture. When polyurethane is poured over the piece of furniture, it hardens and gives it a slippery appearance. This coating stays in place for a few months to a year, just like an old shoe sole does, after which it degrades. The furniture items, with such a coating are easy to clean as polyurethane is stain resistant so won't leave it patchy.
Dermis Line is a cut above the rest and with an exquisite outer skin will definitely stand out. So if there are a few tears on your sofa, now you know what to do.
Via: The Atlantic Cities