While old houses come with that quintessential charm, there are some side effects that come with them, including squeaky floors, drafty windows and the ever annoying small bathroom space such as having small bathroom countertops. However, there are many ways to curb the feeling of claustrophobia in a small bathroom. Check out a few such tips that can easily make a bathroom look much larger than it actually is.
Use of Surface Patterns
A great way to add depth and height to a small bathroom is to make skillful use of surface patterns. In the case of walls, use paint or wallpaper with vertical stripes. This will add height to a small a bathroom. Alternatively, you can also opt to use horizontal line designs on wall tilework to create the illusion of a space that keeps expanding in every direction. In the case of flooring, increase horizontal space by covering the entire length of the floor space with tiles or hardwood. Ensure that the tilework on the walls are perpendicular to the tilework on the flooring for extra space these tips works well if your bathroom has small bathroom countertops.
Use of Mirrors
The use of mirrors helps expand available space in a small bathroom. A must in every bathroom, you can install a horizontal mirror across an entire wall to create the illusion of a space that reflects light in all directions, thus making the bathroom look bigger than it actually is. In case there is no room for a horizontal mirror, try a vertical one expanding from floor to ceiling. This will also increase the height of the available space.
Use of Transparent Screens
A small bathroom can look smaller with visual demarcations like shower screens and even separate shower areas. In order to enjoy the functionality these areas provide and still make your bathroom look large enough, it is considered wise to use transparent screens for these areas. Using a glass screen to separate the shower area and the toilet will help demarcate these areas and create a visually expanded space.
Use of Large Windows and Skylights
Sometimes, all that a bathroom needs to look bigger is some light. While lighting options can help offer light, the expansion of space if possible only with the help of natural light. A large window letting in natural light into the room will help create the illusion of a larger space. If you don't have the provision to install a window, consider setting up a skylight on the roof which will also let in ample amount of light to make the bathroom look big and spacious.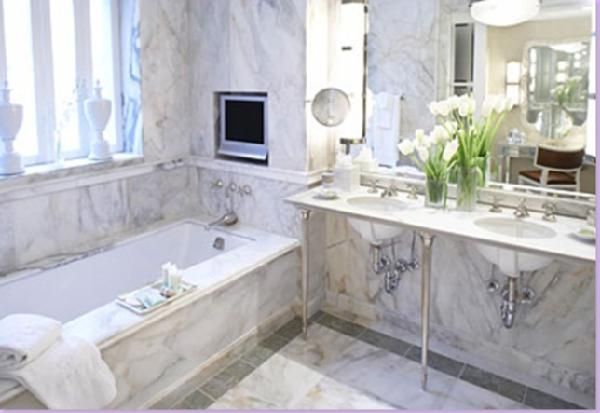 Credit: caesarstone.ca
Use of Light Colors
One of the easiest ways to increase space in a small bathroom is to paint it in light colors. White is the best option for extremely small bathrooms as it helps reflect the light and bring in a fresh feel to the space. Complement the same with white furnishings which also help bounce the light around the room, thus adding more visual space to the room than actually available.
Use of Vertical Storage Options
Instead of going for a regular countertop and vanity, consider using vertical storage options in a small bathroom. Floating shelves, racks and cabinets can help increase floor space while still giving you plenty of space to store toiletries and other essential items. A wall mounted stand to store essentials, a hanging wicket basket for soaps and cloths and a wire rack to hold towels can be great in this case.
Use of Small Countertops
If you still prefer a standard countertop, choose small bathroom countertops  that let you enjoy their functionality without cramping up the available space. For instance, a wall mounted countertop with a floating sink and side shelves can help save floor space while still letting you enjoy a wholesome countertop experience.
Article Submitted By Community writer