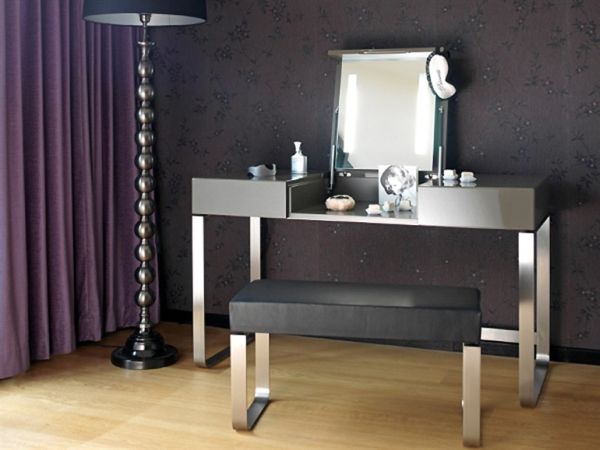 The innovative Hesperide Make-up table is designed by Carsten Gollnick. The main feature that sets this beauty toilette apart from other make-up tables is that it is mobile. The structure of the Hesperide is crafted out of mitre-jointed metal and is lightweight so that it can be physically carried to any room. Furthermore, its design and elegant look will definitely add to the ambience.
The Make-up table is complete with a bureau and a matching stool that is upholstered in leather. The actual table comprises of a big upward opening flap in the center position that contains the mirror and inbuilt lights that regulate the color temperature of daylight. There are two additional drawers that are given on either sides having an option of partitioning as well.
Along with the main toilette comes a matching leather stool with a metallic base. There is also a bureau or a storage container on wheels with a compartment at the top and another compartment that opens with the help of a door along with bottom – having ample storage capacity.
Various other optional fittings are also given with the Hesperide make-up table such as refrigeration in a small shelf for cosmetics. The flaps on the bureau can also be customized to that of sliding lids made out of leather. More compartments can be added in the drawers and storage bureau in the shape of individual wooden boxes.
There is also the provision of an inbuilt electrical socket for the make-up table and the bureau – as per requirement. This elegant Hersperide toilette is not only lightweight with excellent storage utilization and features. Also, its entire look provides a very modern and sleek look!
Via Archiproducts