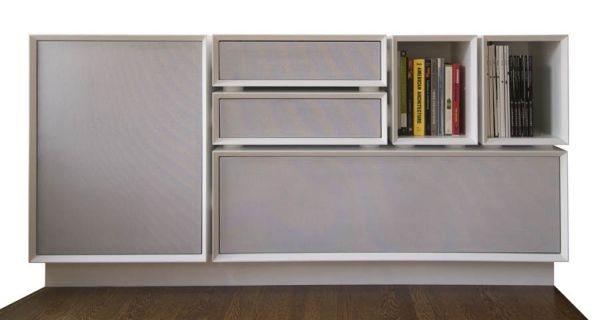 Most homes these days are built with a view to maximizing living space without compromising on the number of gadgets and gizmos that we've all become so accustomed to in our lives. Yet, the main problem with most electronics that we use is that they end up leaving us with a huge mess of unseemly wiring all across our rooms, floors and walls. Add to that the fact that every brand does not usually blend into our interior design with ease, leaving most us constantly struggling to fit our larger color scheme to the electronics' interface rather than it being the other way around. But a neat Hidden Media Console aims at fixing that exact problem.
The brainchild of designer Matthew Lechowick, the console integrates the main entertainment unit into a neat and unusual interface that also doubles up as a storage unit for your CDs, DVDs, games, magazines, books and other decoratives. The console dwells on the idea of smart and integrated design and lets users build up a collection of their favorite electronics brands without having to worry about how they would look stacked up in an exposed entertainment unit and whether they will blend or clash with the color scheme of the room and so on.
The modular design features a series of boxes, each of which contain a specific media outlet and allows the users to custom arrange their media collection and entertainment unit in the order of their own personal preference. This allows users to save money on acquiring additional shelves for storage of their media library and lets them retain a dedicated space for all their entertainment units.
Each console hides the electronics behind neat and comforting white walls while the perforated metal front doors allow easy remote access and allow the gadgets to be used without being exposed to view. LED strips and push release latches allow the design to be easily customized while the clean lines of the structure help it blend seamlessly into modern, traditional and contemporary interior schemes. The metallic and white visage of the console gives the design a chic and tasteful finish, while the slightly rounded edges soften the design overall.
Source: Matthew Lechowick