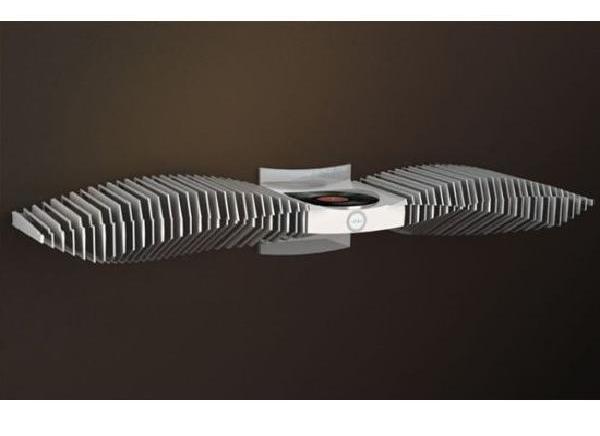 The product
Dala is a contemporary vinyl player with a design of a sculptural masterpiece. The entire product is a brainchild of the designer Bardley Paulet. It has been manufactured with the old vinyl player technology embellished with the concept of flat membrane speakers. The wings like extensions of the player are actually the speakers that have various sized fins to spill out the music with varying frequencies. The fins have been let to reflect on an acrylic reflector plate in order to create a stereo sound effect.

Key features
The major plus point of this audio system is that it has used the flat membrane speaker technology where each of the fins in the wings acts like a speaker creating a stereo effect in the music. The size of each fin is varying and is so designed that it can produce sweet beats of the music with varying frequency. Due to the presence of the acrylic reflector tapered in three directions, the music can flow 180 degrees in the vertical and horizontal axis of the room. Thus it gives you the same kind of music with an uniform stereo effect in any part of the room you are in. The design of the fins gives it a giant bird like look.
What's in for me?
The stereo effect produced by this audio system is as good as other available digital products. It is actually creating a revolution in the vinyl record players category and hence it compels you to have an exquisite piece of this kind in your home. The design of this audio system is so eye-catching that you cannot say no to have one.