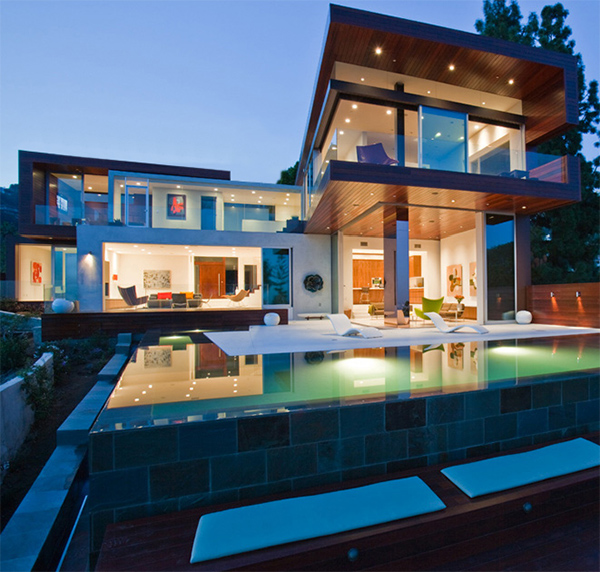 Designers across the globe come up with opulent and path breaking home designs now and then, which fit well in our quest to get better. Rich, have always used the money and power to show off awe striking pieces of architecture which dwell on luxury and are befitting to them. Undoubtedly, these become trendsetters smashing all the boundaries a mediocre mind will ever reach. Here, we have compiled some of the hottest contemporary home designs of the era, just for you.
Contemporary family home in Jozefow, Poland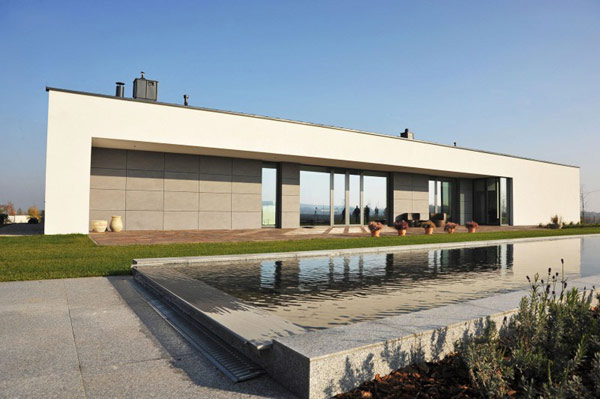 Design studio ZAG Architekci has come up with a design for a two-storey house in Jozefow, Poland. The studio wanted a house nestled close to the Lodz Hills landscape park, with comely views grazing your eyes all the time. The motto is very straightforward – simplicity and functionality. The plan is a protracted rectangle canvassed with a gable roof. The house is divided into zones for better functionality. The day zone includes the dining, living room, and kitchen. The designing utilizes a single space with large French windows styled windows opening towards south, with a spacious terrace and an exemplary view. The night zone includes the bedroom that has a bathroom attached to it, with a dressing room accompanying it to complete the set.
Bruce Wilkin's and Ann Hillyer's contemporary home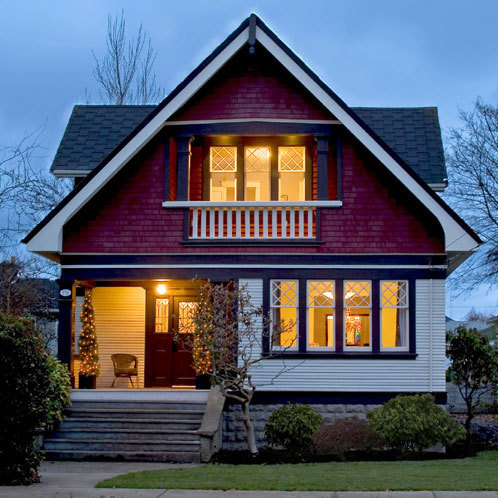 This home reminds us of the proverb, "old is gold". It has a historic setting with an inverted V roof. This home is surely one of the masterpieces of contemporary home. The window designs are exquisite, with criss-cross glass guards. There are four rectangular windows in the front and three upstairs. The front stairs are old fashioned which look classy. A chair on the front porch is a perfect complement to the entry, which is a perfect place to unwind.
Passive solar house in Texas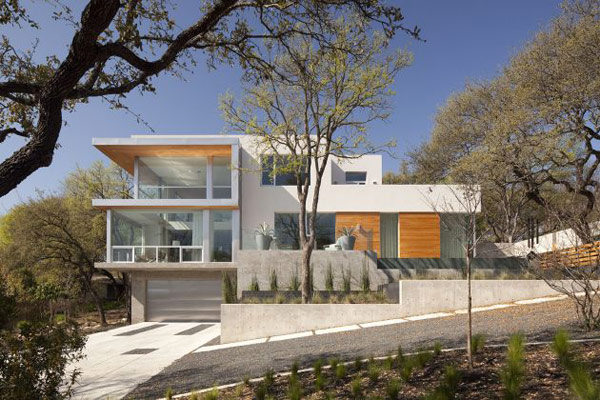 This is a beautiful mesmerizing home designed by Dick Clark architecture. The house is solar design with real minimalist appeal. The house stands apart for its eco-friendly nature, simple structure, barely three glass walls, and minimalist material palette. The house with natural treed and its landscaped surroundings looks more of an urban oasis. The main floor houses the open kitchen, which provides a way into a two storey living quarters and dining area. The entertainment area has sliding walls, which open to a pool with the view of Austin skyline.
Hollywood Hills contemporary home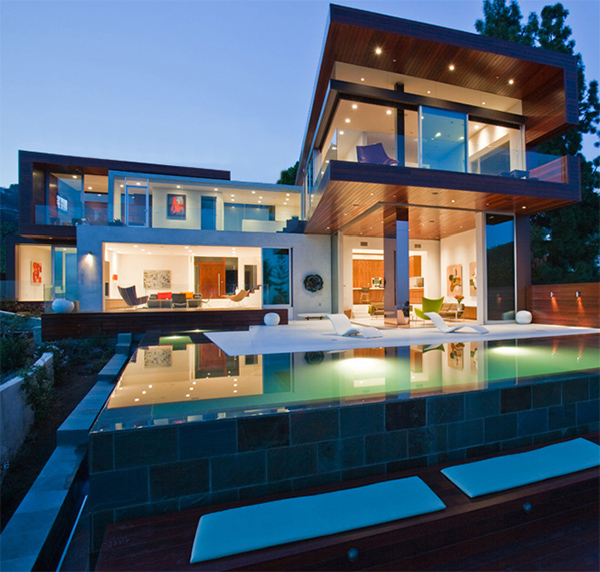 This contemporary home designed by David Thompaon and Kevin Southerland Assembledge studio in LA takes inspiration from the surrounding landscape. This offers the perfect opportunity to view the LA city full 180 degrees. The house is located on a flat parcel of land on a slope site. The house is shaped in simple geometric forms with a low profile, horizontal silhouette. The indoor and outdoor are amalgamated into a perfect union; there is always an outdoor connection with the interior. It is a perfect home for a perfect day.
Contemporary home extensions by Elmo Swart Architects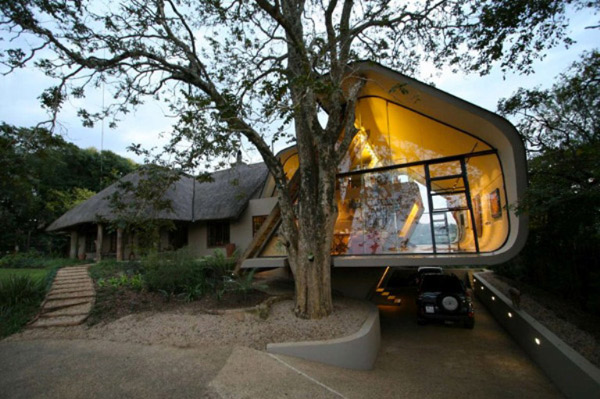 For someone who dreams of living in the nature surrounded by trees, this is a perfect home. Aptly named the Wright house, Elmo Swart Architects have designed a great home. The home features a thatched roof and is located in Durban, South Africa. It has curved roof and walls. The living area is forever bathed in sun, and the glass enclosing makes you ever closer to nature. In addition to the three bedrooms, the home has an art gallery, entertainment area, and two study rooms.
Contemporary home design in Manhattan Beach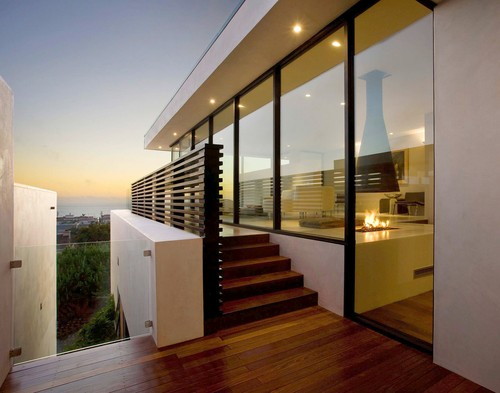 If luxurious living is your thing, then this contemporary home featured in Los Angeles Times is a perfect spoil for you. The three storey home located in Manhattan beach, California is designed by Mike Perryman of MAP development. He has designed this astonishing home with David Darling of Aidlin Darling design. The positioning of the home is such that it maximizes the panoramic views from Palos Verdes to Malibu. A private courtyard encloses both indoors and outdoors. There are numerous skylights, and the floor to ceiling windows offer the perfect setting for you to enjoy the breeze. The prize is $ 5.6 million.
Contemporary El Secreto house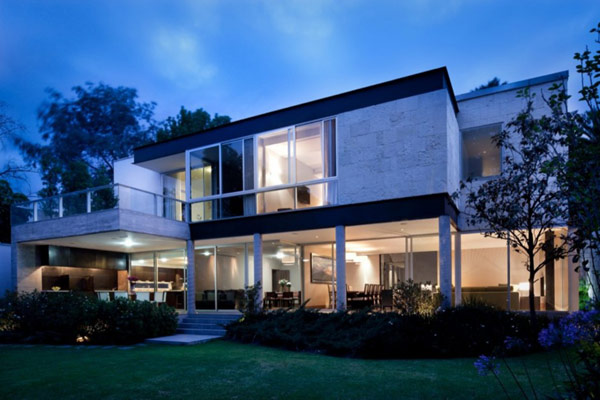 Designed by Pascal Arquitectos, this contemporary home located in Mexico City, Mexico, is high on high living. With open spaces and spatial communication and continuity, this house welcomes standard living with open arms. The house has two levels, ground floor and first floor, with an additional garage, courtyard provided with a reflecting pool and a garden area. The ground floor features a canvassed entrance hall, double height interior plato, living room with a fireplace, a pantry with utility room, and a kitchen.
Modern beach house In East Sussex with glass and timber details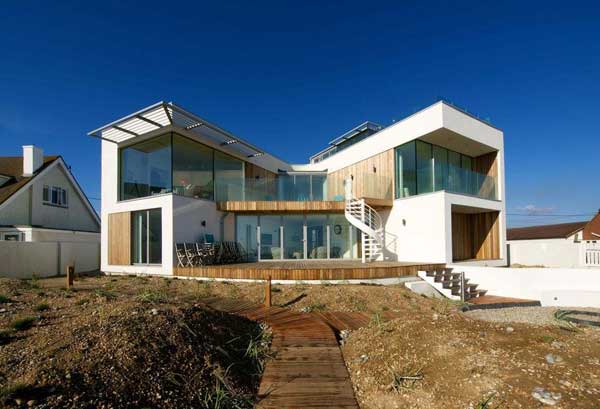 This beach house in East Sussex is a great home for living with dodged surroundings. The designing is such that makes it look a cross between a beach house and a residential home in the suburbs. The glass displays with timber details make it look inviting. The V-shaped floor is featured with a semi-circular terrace on the first floor and a similar design downstairs. Kitchen and dining space are integrated perfectly to make everyone comfortable. Two round staircases connect the floors.
Multi-generation Strauss residence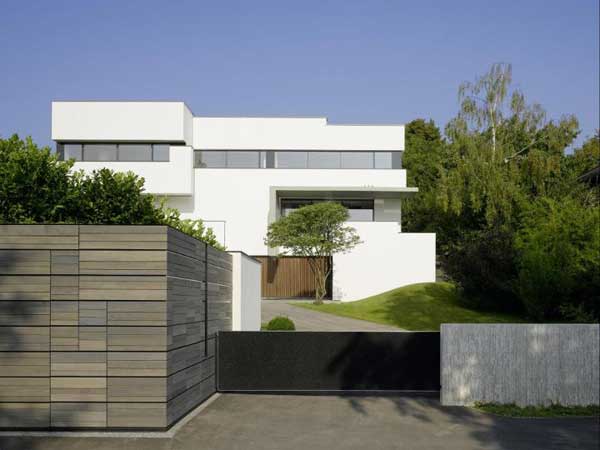 Designed by Architect Alexander Brenner, this house shelters three generations of one family. Divided into east and west sections to ensure privacy of the family members, the grandparents have a small space in the northern section. The next generation and their kids are given space in the opposite side. The house can be approached from the eastern side and this sustainable living has a closed front facade, with garage volume guarding the entry.
M-house by Michael Jantzen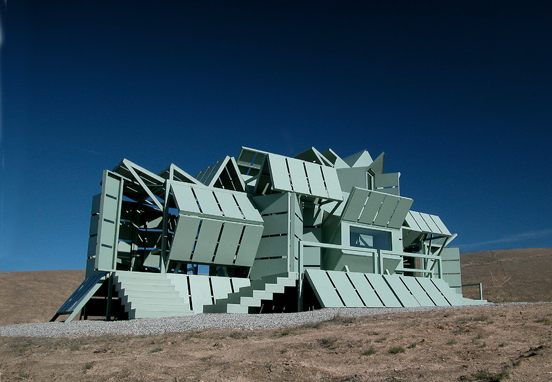 The M-house is made up by attaching rectangular panels with hinges sewed on an open space frame on a grid of seven interlocked cubes. The panels are attached either in a vertical or horizontal configuration. Some panels contain doors and windows. They can enclose spaces that are heated or cooled. Panels can be twisted around for shade from the sun and for deflecting the rain.