Interior designers and home owners are getting more and more inclined these days towards Asian feel in their living area. The most predominant trend among them is the Japanese décor. The increasing stress, anxiety and tension of the modern life are believed to get embalmed and freshened up with the serenity of Japanese décor. The prime fundamental in Japanese décor is Zen inspired living, which is synonymous to the creation of a meditative atmosphere in the living area. Color palette needs special mentioning in this respect. So, we will talk about the specific color palette you must stick upon in order to revamp your living area with a Japanese influence.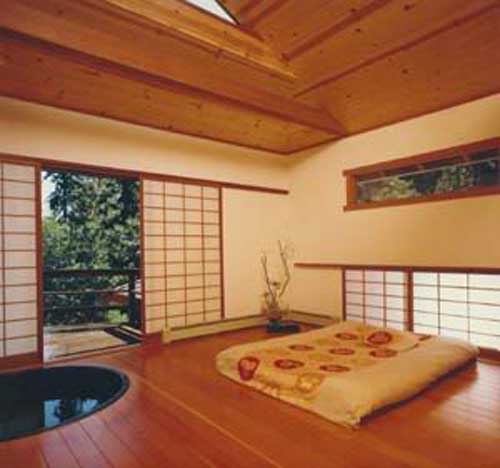 Neutral shades
Colors such as pale beige, coral, off white and ecru might appear too bland if judged from the aspect of modern home décor, but these are the predominant colors you will find in a Japanese condo. The Japanese population believes that these colors symbolize rice; their staple food, geographical reliefs and the mother Earth. So, major part of the Japanese wall reflects neutral tone. It is undeniable that incorporation of these hues cast to a spell of serenity, tranquility and rejuvenation in any home.
Bold colors
Bold colors are also found in the Japanese color palette, but they are all connected to the nature since the color theme of Japanese décor is earthly tones. So, the predominant bold colors in Japanese color palette are different shades of green taken from the natural fauna, frothy blues extracted from natural water resources and gold, rust orange and red from the fallen leaves during the Fall. Bright red is also found among these dark tones and represent the sun. So this hue of red is frequently found in Japanese décor as an emblem of power and positivity.
Monochrome black
The commonly and frequently occurring monochrome shade in Japanese décor is black. However, you must also keep in mind that black does not form a part of the walls, flooring or ceilings. Neither is it found in the furniture. But it forms an active color for the accents in order to create more interest and to enhance lines and highlight edges. Its use is very subtle and minimal so that the mellowed down effect of the overall ambiance is never jeopardized with.
Pure white
White is the color of peace. Japan also gives white the same implication. So, it is reserved for specific use. It is used to create a virtual ambiance of luminance and brightness. It is especially reserved for the meditation rooms and player rooms, where all the walls have a white look. The Japanese believe that all white atmospheres soothe the nerves and increase mental power and concentration. According to Japanese belief, these are essential for driving away negative forces. White is also used for living rooms and bedroom, but in combination with other tones as a calming contrast. Hence, incorporate white as per the user end of you room.
Colors associated with occasions and purposes
While the basic Japanese colors have been discussed, let us understand the occasions and purposes where these colors are applied, so that the right tone can be incorporated in your interiors.
Color palette for fabrics
The Japanese reserve certain colors for the fabrics they use, be it the fabric of upholstery and drapery or clothing. So, you will find major prevalence of shades, such as purple, blue hues and ranges of red for ornamental fabric designs. But the expanse of these shades is restricted within a particular area. Japanese fabrics are marked for their cool shades dominating. However, Japanese textiles are the world favorites for their lively appeal and colorful splendor. So restrict to these shades for your home fabrics.
Color of Japanese Art
Unlike all other things, Japanese art does not have a specific palette. It is more of a reflection of the artist's mind than anything else, just like the art of any other country. So, putting fetters on art in respect of color selection is not found in Japan too. But, the significance of color remains intact in this case though. It will be rather apt if we remark that incorporation of colors in art hold special significance in Japan. So each brush stoke is given with utmost sincerity and each color is applies with seriousness. Thus, you are free to pick up any Japanese art work for your home in any color.
Now that you have got a clearer picture of the Japanese color palette and tones meant for specific purpose, there will be no hurdle at all in painting your home with the accurate Japanese hues.