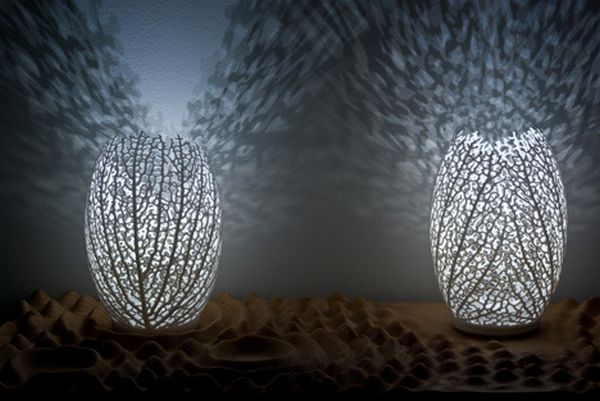 Nature,with all its beauty and bounty is a delight in natural surroundings. All those people who crave of sitting under the shadow of a tree while living in a jungle of high-rises, have hope in the offing. They have to no longer wait impatiently to get away from the hustle bustle of the city to get into the calming environs of the natural landscape.
The Hyphae Lamp, is a creation of Jessica Rosencrantz and Jesse Louis-Rosenberg, who are the owners of "Nervous System", a design studio, which is located in Massachusetts.The products of this design studio are the result of a fabulous mixture of science, art and technology. This lamp is based on the scientific theory behind the growth of the veins in the leaves of a plant.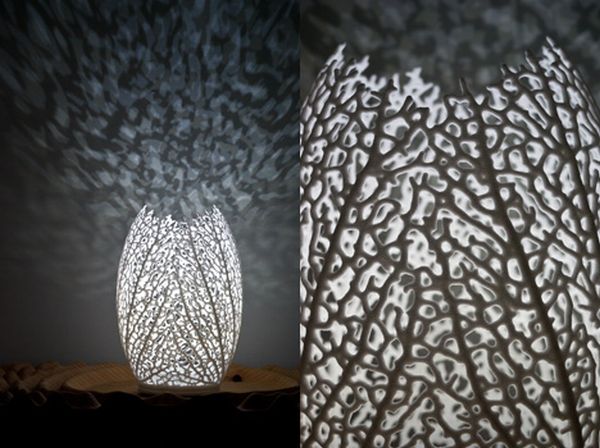 The Hyphae Lamp uses the process of step by step distribution of light,which is emitted by the three dimensional figure of the lamp.The surface of the lamp has a network of veins, which are similar to a leaf. Three LEDs are used to distribute light in these veins and the ultimate effect created by the lamp is extraordinary.
The shadows created by the LEDs through the veins, give such an effect that you feel that you are sitting under a tree. The cozy and soothing feeling is just out of the world. When the lamp is switched on, you will feel that you are carried away into the world of corals or any oval shaped natural object. The shape of the lamp, helps the light to be distributed in a larger area and thus, the "spread out" shadowy effect is created.
The origin of the lamp is based on a scientific fact present in the leaves of a plant. Jessica and Jesse observed the intricate network of the veins in a leaf,and they used "The Auxin Flux Canalization", which takes place in the leaves to enable growth in the leaves.Every leaf is unique and a hormone called auxin initiates growth in the plant. This hormone travels throughout the plant.
This step by step process of growth in the leaves is imitated in this lamp. Thus, when the three LEDs emit light, it spreads out in the network of the structure of the lamp to give a fantastic effect. The most interesting aspect of this Hyphae Lamp is that, just as leaves are unique, so are each of these lamps. Henceforth, if you happen to purchase one, there won't be another one like yours in the market, therefore guaranteeing exclusivity.
Via: Core77