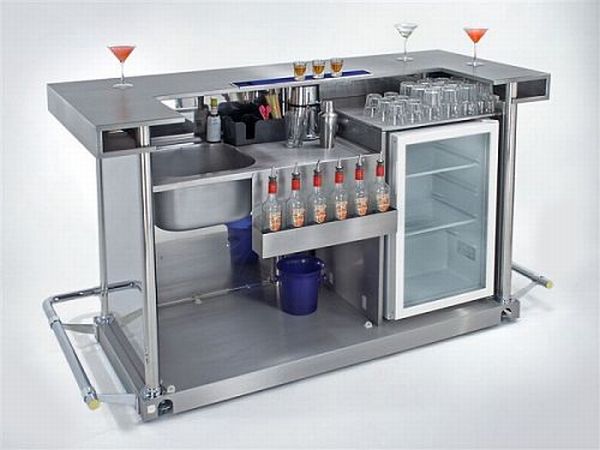 The bar is the place of the house which is one of the most happening and worth visiting. The bars in homes are thus made out of quality and awesome products so that it looks good and add to the beauty of the house. With the development of technologies, there are plenty of gadgets in the market which are related with the bars and their accessories and can be used easily to perform plenty of operations. If you are planning to set up your own bar at home or planning to upgrade your current old bar into a new-generation ultra cool bar, then we have some cool ideas and tricks to perform the transformation operation. With plenty of gadgets available in market, it is hard to choose the best ones out of them. Here we are with a list of seven cool indispensable products for your personal bar to make it a cooler place to drink. Have a look!
1. Gas pump liquor dispenser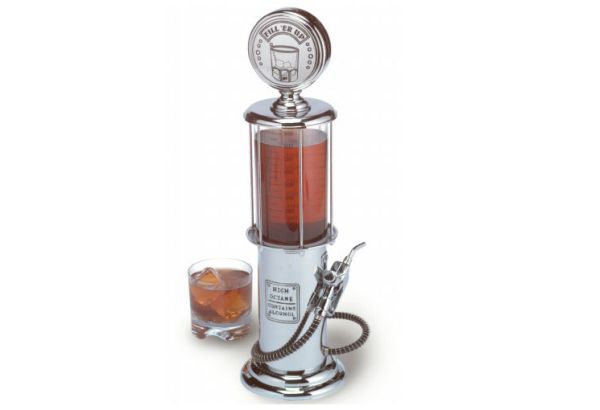 The gas pump liquor dispenser is a cool and ultra-modernized gadget that allows you to get rid of those traditional liquor bottles. This gadget is provided with a capacity tank that can store plenty amount of your favorite beer or any other booze and is provided with a gas pump which when used starts pumping out the beer out of the capacity tank. The best part is that it serves quite perfectly just like a bartender.
2. Gottacha dartboard wine rack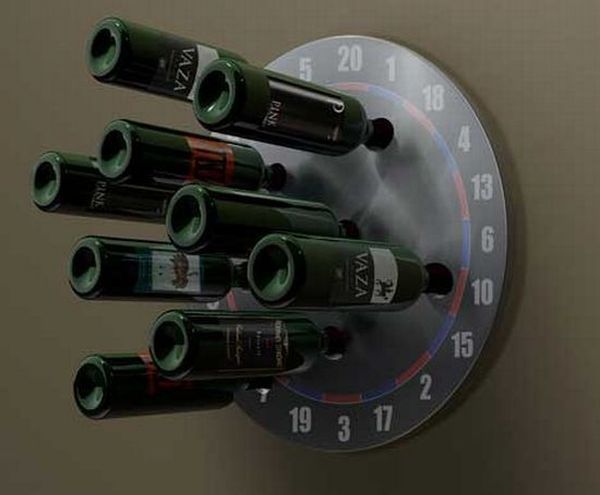 This is something cool and is really worth of trying for all those booze freaks out there. This is actually a wine rack that can hold plenty of your wine bottles at a single time. Also the holder is very durable and offers security with pleasure. In this rack holder the dartboard is provided with a few spaces in between that can easily hold up the wine bottles and makes it easy to serve too.
3. Subway shaker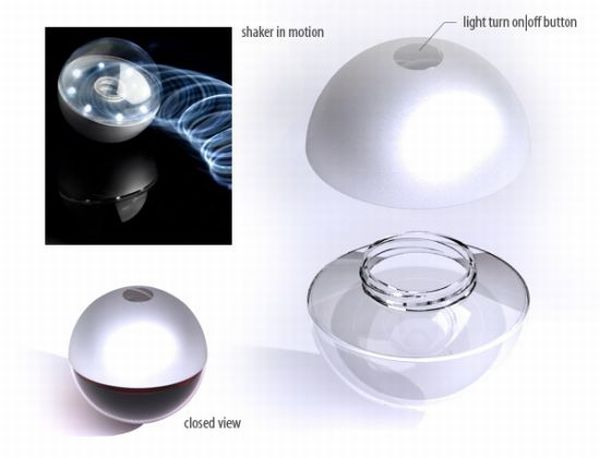 This cool subway shaker is an awesome device which is especially made keeping in mind the quality and the purpose of cocktails that are served at a rapid rate. The job of a bartender is perfectly done by this awesome shaker which is designed by Djordie Cukanovic. So now you don't need any bartender for your house as this shaker works pretty well.
4. LED color changing ice bucket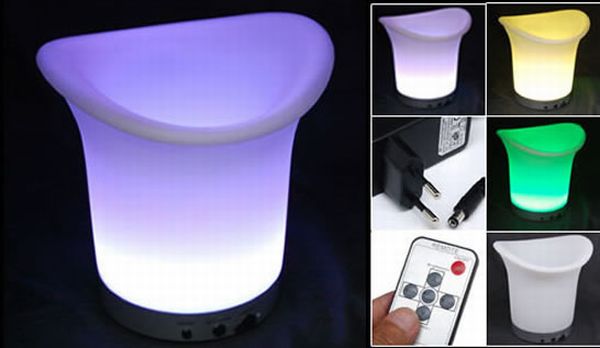 The ice is preferred to be one of the main components when you are serving booze to people. And what could be better than this ultra gorgeous LED color changing ice bucket. This is no traditional bucket, it's something that will completely build up the mood of the people in the house. The cool lights which can be easily changed at the touch of fingertips, adds to the beauty of the night and also of the house.
5. Q03 home bar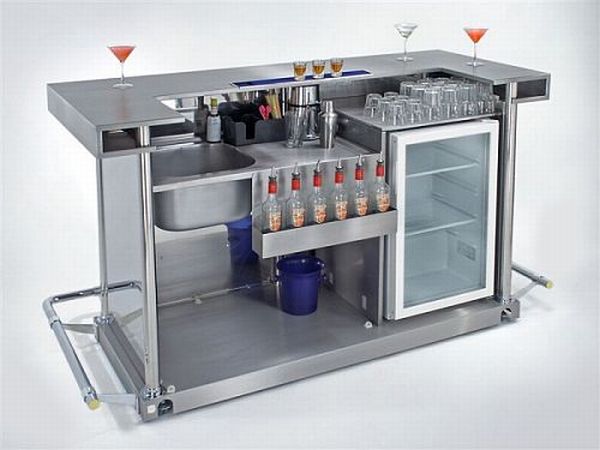 This is a cool gadget for all those who have been waiting for something that can keep and hold their booze bottles for long durations. This is actually a mini home bar which consists of everything that you find in a luxurious bar. It is provided with multiple cabins which can be effectively used for the specific purposes. Like the cooler at the bottom can be made to use as a ice keeper or for making your booze chill. The serve table is quite spacious and big which can add few people quite comfortably. This cool table is priced at just $12,265.
6. Bar stool designs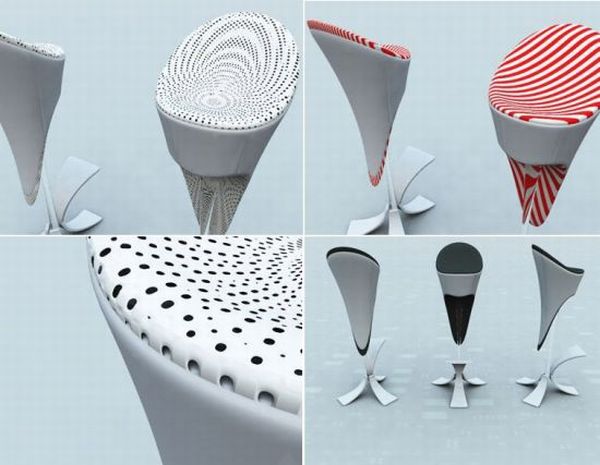 When it comes to a home bar, the stools are one of the major gadgets which are required to set up an ultra cool bar. These stools can be of various designs and colors so that they generate the feeling of liveliness and also looks attractive. Colors have their own impact and they can completely change the mood of a party. So these stools are a must buy for all those who are planning to set up their home bar. And also the comfort level these stools provide is just awesome. So go for these colored and ultra-gorgeous stools which are easily available in market and are fairly priced.
7. Giraffe Beer Tower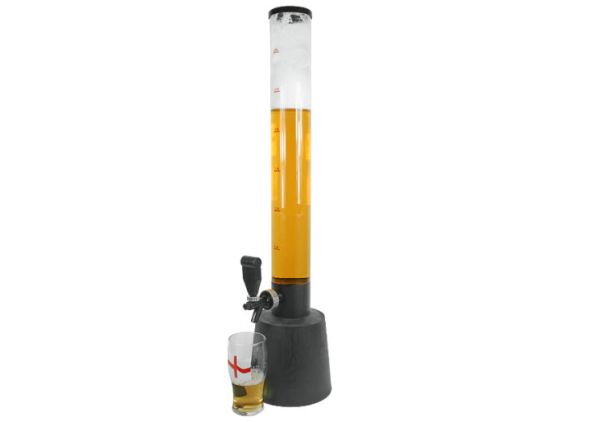 The Giraffe Beer Tower is another cool gadget which is a sure addition to your home bar. This cool dispenser is provided with a large capacity tank which can hold plenty amount of booze in a single go. The easy to operate and easy to refill features makes this dispenser one of the coolest home bar gadgets. It is provided with a cool tap that serves the booze at a normal rate. So, now you can measure the quantity of the booze you are down with using the meter shown on the tank.