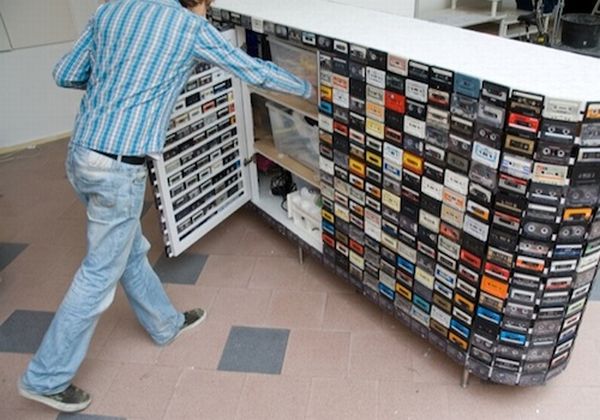 The green is the latest trend. This trend is highly appreciated for its unique and ecofriendly features. This trend has successfully given us a way of transforming something cool out of the garbage and junk items. This way of using the old products to make out something new is considered to be one of the best ways to achieve a green and safer environment.
Some of the highly preferred items are the DIY designs which are highly appreciated in terms of looks and structure. So here we are with a list of seven cool and creative DIY designs for Eco geeks which are creating a buzz in the market. Have a look!
1. Country sofas made from used shipping pallets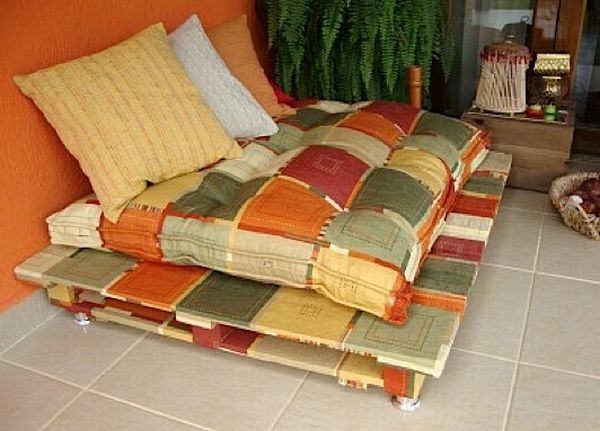 The sofas are one of the major products being made these days out of recycled products to achieve a sustainable and green future. This cool and awesome designed sofa will provide the ultimate comfort and comes along handy when you are into different places. The best part of these sofa set is that it is completely made out of recycled products like the shipping pallets. These shipping pallets can be easily obtained from any nearby warehouse or from any waste yard. All you have to do is collect the valuable pallets and transform them into this cool sofa set and the process is quite simple and effective.
2. Rolled newspaper stool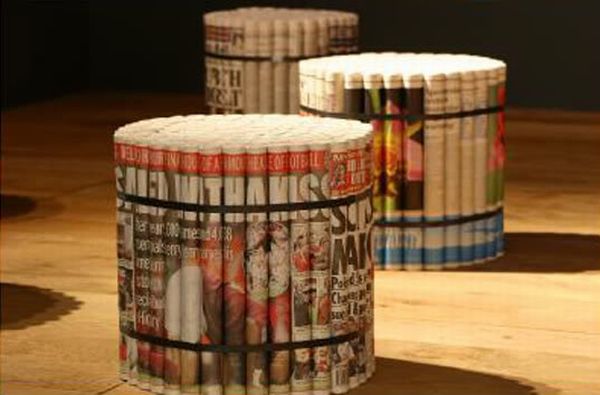 The newspapers are one of the major wastes and people are effectively finding ways to recycle them and to transform them into something useful. One such creative idea is to make a stool out of these newspapers. So if you want to make a stool of your own you will need bunch of newspapers which are folded in a particular manner so that it attains the maximum height. Then these newspapers are attached side by side to form a circular stool like structure. Then tie them up and enjoy using your stool.
3. Closet made from cassette tapes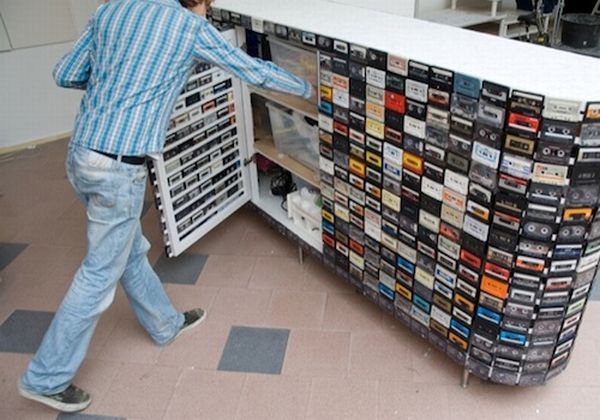 The days are gone when the music meant those big cassettes. This is an era of iPods and other music gears. So these cassettes became a major source of waste and the best option to recycle them is to make a closet out of them. The cassettes can be arranged in a pattern that it forms an attractive closet which can be used for multiple purposes. It also looks cool as the different colored cassettes makes an impression of adoration on the viewers.
4. Romantic light from beer can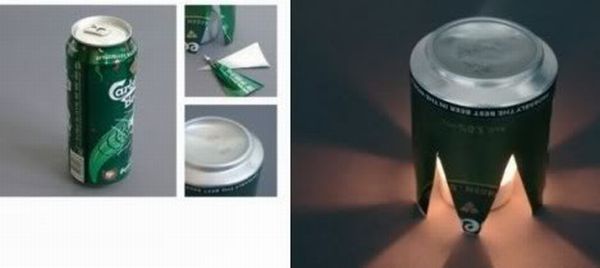 The beer cans as we all know is one of the most widely available item in the list of junk items which can be easily transformed into something that can be easily used and is effective. People out there have created so many things out of these useful beer bottles. Some of the famous items include the temple of monk which was completely made out of beer bottles. Now you don't have to make a temple out of it. Here is an easy way of using these beer bottles; you can use them as a source of providing light during night times. They can be easily transformed into romantic lights which add to the beauty of the house.
5. DIY moss covered chair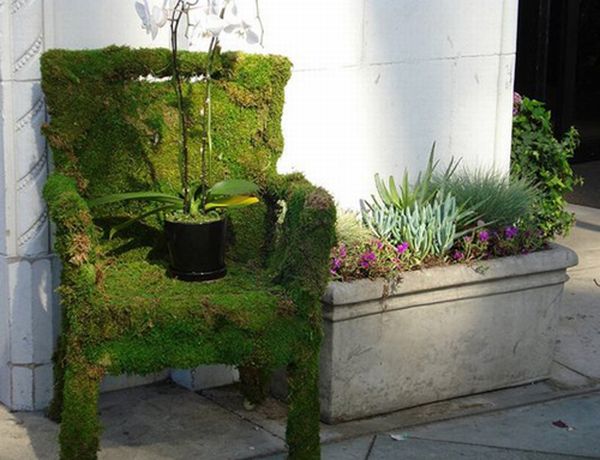 Now here is something you can do with your old and useless wooden chair. Make sure that the seat of the chair is comfortable and transform it completely into the new dimension of chair called the moss covered chair which can be effectively used for all your gardening purposes. Take the moss out of your garden or any other place, stick it around your chair using an adhesive and you are done making a moss chair. It will really look like the moss has grown over the chair and is beautiful by looks.
6. Ecofriendly cardboard speakers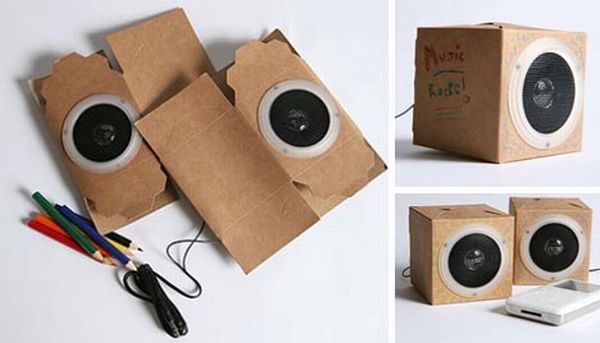 The speakers have become a basic necessity of every human being as they require something that can change their world of stress and boredom. And for that reason there is nothing better than these cardboard speakers. The best part of these speakers is that it is completely made out of recycled product like a cardboard and perfectly matches the quality and style of a normal traditional speaker.
7. Ecofriendly cardboard chair designs
The cardboards are one of the easily recycled products and is widely used to make something creative out of it. One of the coolest products made out of cardboard is a chair. These chairs are not only elegant in looks but are also stylish and comfortable. All you need to do is search for hard cardboard and arrange in the design shown in the photo. This will surely provide you with ultimate comfort at a really cheap price.