Most of us long for our personal kitchen gardens where we can grow fresh vegetables and herbs that are organic and healthy. However, modern homes leave us very little space to be used for planting and apartments leave us with none. Well,  with the help of modern technology and innovative thinking you can now have your very own herb garden. Thanks to certain people have developed amazing techniques of growing produce indoors in a very convenient and aesthetic way.
Rewarding herbs for your kitchen garden
If gardening is your passion and cooking is your hobby, then you are the best person to set up a nice and healthy herb garden in your kitchen. We assure you that your hand cooked meals will taste better with the fresh herbs that you use in order to prepare the platter. The best thing about herb garden is that it does not involve any cumbersome process at all in setting up an herb garden and getting rewarding outcome from the same. You can choose any area of your kitchen, be it your kitchen counter or your window sill. The resultant will be breathtaking natural fauna you will love to own. Now, before you start off with your project know that herbs that are best for your petite kitchen garden.
Basil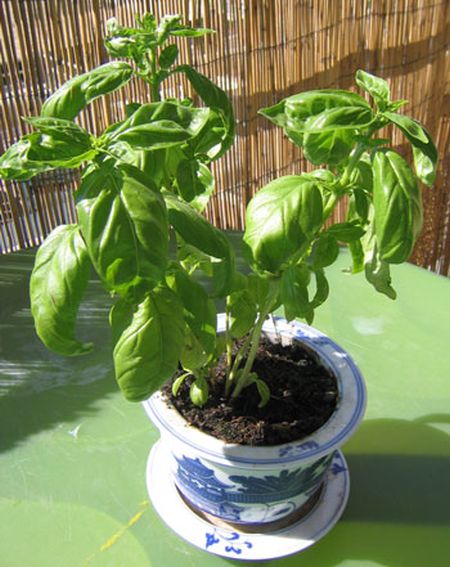 This scented, medicinal wonder tops the list of herbs in its easy to grow and maintenance qualities and benefits. It is one of the most loved condiments in some of the lip smacking Italian and Asian cuisines. The annual nature of this herb will expel you from the worry of re-potting and re-plantation. It means, pot it once, water it regularly, give it the climatic factors it needs and you will be rewarded with lush greenery throughout the year. Subject your matured basil plant to full sun. But if you are located in the tropical region, semi shade is the most preferred climatic condition for the same. A south facing window is the best one for basil. However, if your basil is installed inside your kitchen cabinet, compensate for natural light with fluorescent lamp. The soil must be a bit clayey and encourage good drainage. Root rot is a menace for the plant. When kept indoors, basil shows very slow growth. So, there is hardly any need of fertilizers at all. But pinching back will definitely lead to more branching.
Chives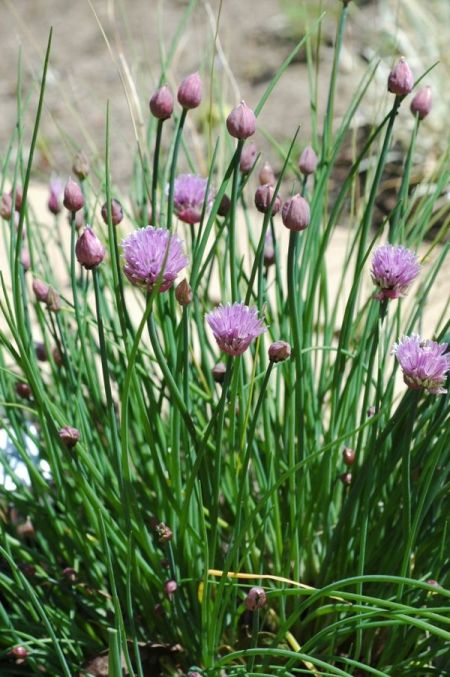 This herb serves as an excellent topping ingredient for cheese spread bakery, egg based dishes, creamy cookies and baked potatoes. The most amusing thing about chives is that you can replace garlic and onions with the same quite effectively. They are popular choices for the gardens due to their lollipop shaped, bright purple blooms, slender stems and fresh green leaves. The buds and flowers of chive are also edible along with the leaves and stems. They flower perennially and profusely, but the peak seasons are earliest spring to late autumn. Chive is adaptive to a wide range of climatic conditions. Therefore, it can be a great plant for your kitchen garden too.
Lavender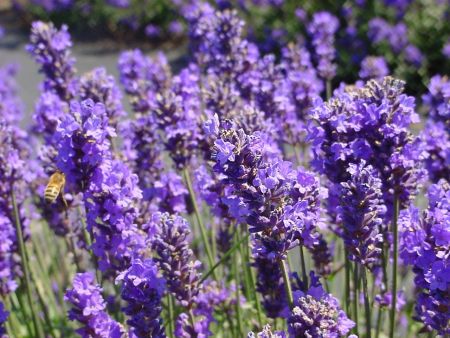 Incorporation this medicinal herb in your kitchen garden will uplift your mood! The typical fragrance imparted by lavender is so effective that a host of ailments, such as insomnia, depression, fatigue, migraine, etc. are cured by the same. This plant cross pollinates very easily. So, if you give it the appropriate climatic conditions, your plant will multiply faster and charm your eyes will a heavenly lavender hue. You can use the fresh branches of lavender or the dried ones for a host of uses. It forms a much loved condiment in some of the mouth watering meat dishes, soups, drinks and baked food. The plant is perennial and the flowers do not remain restricted to lavender only. You can find different arrays of purple, pink and white too.
Mint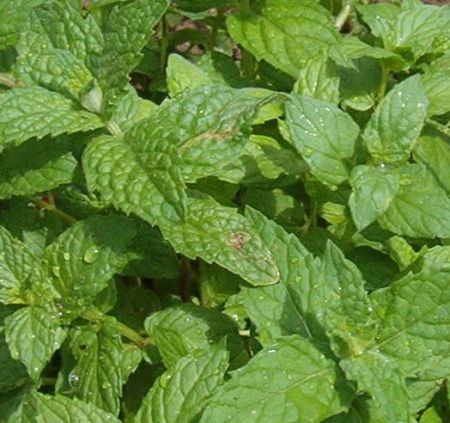 Mint is another herbal plant packed with goodness. You can make refreshing summer drinks with mint, add it as condiments in various dishes or use mint paste for healing inflammation and skin eruptions. The bonus profit on this is that you have to hardly do anything in order to grow healthy mint. But, you can feel a bit bewildered due to the plethora of mint varieties available, such as ginger mint, apple mint, chocolate mint, peppermint, orange mint, pineapple mint, spearmint and a lot more. So, you might confuse which one to chose and which one to reject. A local nursery can be your best guide in this regard and you can get hold of the variety that suits your purpose. Mint gives great results in containers and under direct sunlight with intelligent watering and care.
Oregano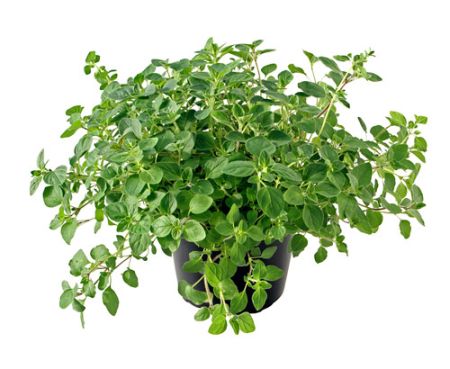 Your home cooked German, Italian and Mexican dishes will get the perfect professional punch if you add a handful of oregano in them. But with a beautiful kitchen garden of yours, you will hardly need to invest much legwork for the project. Plant an oregano sapling in your kitchen garden, give it profuse sunlight and water it regularly. You will be paid off by means of thick oregano foliage. It does not demand much take care or fertilization either. Rather, it is easy growing and adaptive to a wide range of climatic and temperature conditions. So, it is needless to say that oregano will grow with rewarding results in any part of the world.
Parsley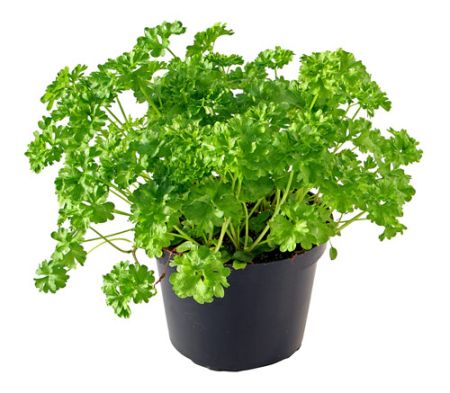 The characteristic lemony kick imparted by parsley in the dishes where it is incorporated, makes it a hot favorite among kitchen garden enthusiasts too. So, if you are mesmerized with the tangy fragrance of parsley and love smelling it in your home cooked salads, soups, meat and fish dished and baked potato, then parsley must be a part of your kitchen garden too. Its roundish leaves create immense visual interest too. So, it can be an ornamental element in your well decorated kitchen too. This herb is easy to grow and maintain. However, it loves cool weather and tropical or coastal regions are not ideal for the same.
Cilantro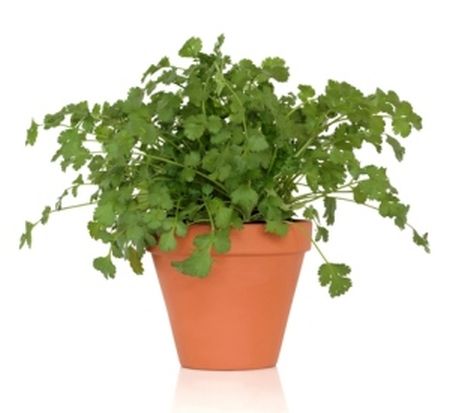 This herb reciprocates back in the rewarding manner as it has a self-sowing nature. So, once it gets matured and bears seeds, it will regrow back. Further rewarding news about cilantro is that its seeds, known as coriander, are one of the primary elements of your kitchen's spice rack. It is well suited to any weather but hates over watering and often dies too. But, beware that the soil does not become boney dry too. Its flowers and seeds are visible when the temperature is the highest.
How to grow a perfect herb garden
Introduction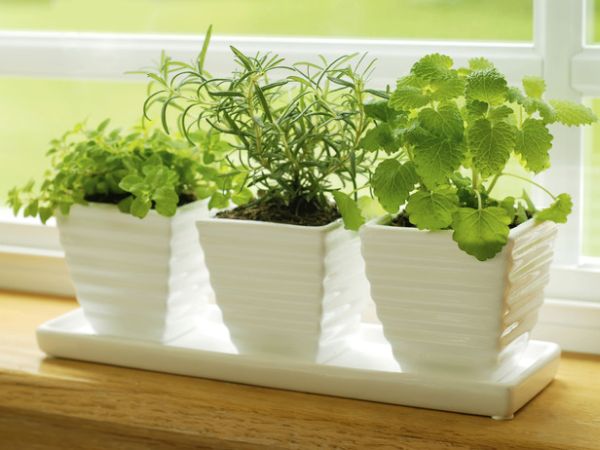 It is surprising to note that other than aromatizing your house and encouraging your gastronomy, herbs can also provide remedies and medicines to many common diseases. Their curative, purifying, and therapeutic properties have inspired many a household to grow a kitchen herb garden. The herb garden can be grown both indoor and outdoor to give a healthier source of organic herbs and also replenish living aesthetics. The outdoor option is varied and diverse, but indoors is specially recommended for the delicate ones that require special nurturing. However, if space is limited, fret not, as a windowsill facing south is quite enough to start delighting in the magic of herb gardening. So, select a few of your favorite herbs that would not only give aromatic cooking options and decorative value around, but also help you in making home remedies.
Difficulty level
Easy
Time required
1hr
What are you going to need?
Containers
Potting soil
Compost
Saplings
Cuttings
Procedure
1. Assess the area available for setting up the garden.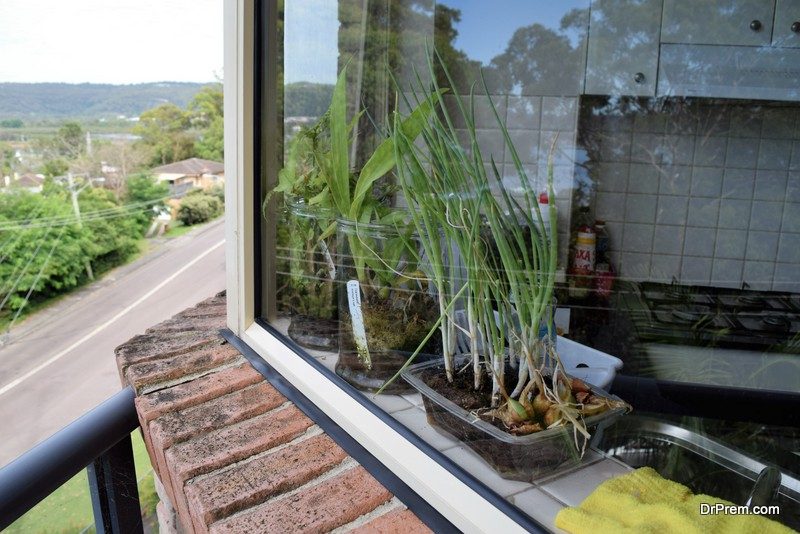 If there is space enough only for windowsill pots, select slender pots and arrange for smaller herbs that you can keep clipped to fit the abridged space.
However, if there is space enough for placing a large container, you can also plan on several herbs in one container or even grow larger herbs like basil, parsley, and cilantro.
2. Choose the right place.
Even if you are staying in a high rise, all you need for a hygienic and flourishing herb garden is a sunny window with south or western exposure with bright sunny light for the plants to thrive well. At least 5- 8 hrs of daylight is essential for your little green friends to grow.
Make sure to keep them away from spots where they might experience extreme temperatures.
Also, do not start your indoor garden right in front of the radiator, or right next to the kitchen stove.
If light is limited, rotate the plants once a week so that all plants get enough light.
3. Choose your herbs.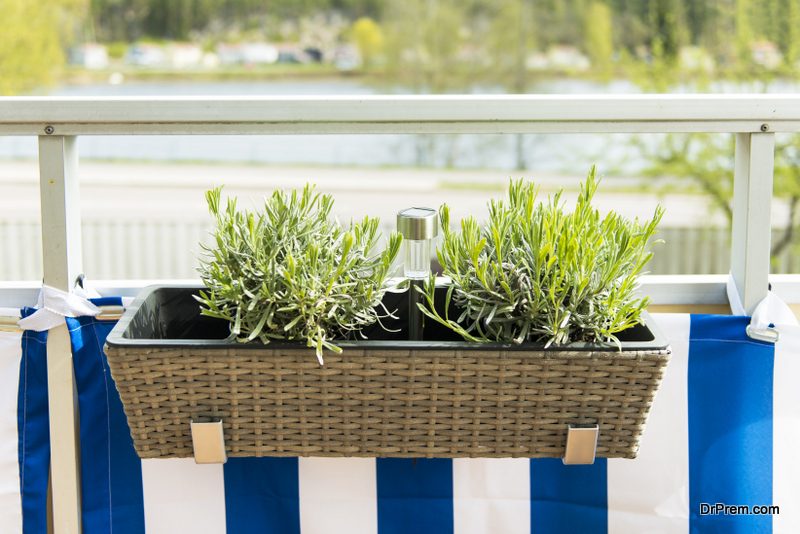 The number of the herbs as also the type of herbs you want to sow depends on the size of your garden. Herbs like thyme, oregano, and dwarf basil make nice potted plants. Parsley, Cilantro, Sage, rosemary, and mint require pots of its own.
Start with some herbs, such as thyme, mint and rosemary, from cuttings or from young plants you buy at a florist or greenhouse.
If you do not want too much of a mess, you can start the garden from seeds. Sow them in pots kept in warm sunny areas. Once seeds are sown, ensure good warm sunlight, specially the morning light, for the potted plants to help a lavish and rapid growth.
4. Sow the seeds.
To set up the seeds, just fill each pot with regular potting soil, which is sold at greenhouses and in florist shops. You can also opt for grow bags; in this case, insert the seeds right into the soil and mix with water. However, a kitchen herb garden doesn't require fertile soil. Excessive fertile soil produces more leaves than flavor.
For best results, opt for a large amount of peat or compost blended per 100 square feet so that the quality of soil develops and the moisture of the soil is retained.
5. Choose the containers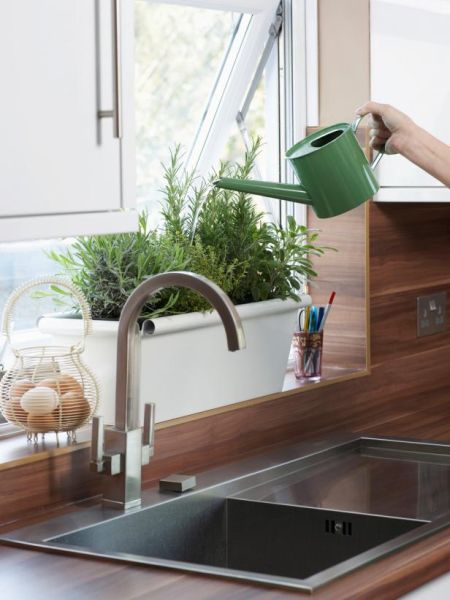 While choosing for plant containers or pots, heavy clay or terra cotta pots are preferred, as they are ecologically sound and allow air and water to circulate; but any pot with good drainage will do.
However, with aesthetics of the surrounding in view, choose pots that match the decoration around the area where they are kept.
Also, ensure that the pots are arranged on a plate or bowl to collect the excess drained water from the soil, to prevent water marks on the windowsill or floor.
6. Water and fertilize.
Herbs, being fragile and delicate, require your utmost attention. Watering is best done with a mist spray to prevent over-watering, which in turn, might cause wilting or major damages to the plant. Watering for the plant definitely must be guarded and ruled by the weather conditions.
While applying fertilizers, remember to dilute in water to avoid fertilizer burns.
For trimming procedure, remember that the plant is very fragile and best to deal with hand by picking out terminal leaves.
Clean off the dried leaves from around its base and look out for insects on the plant.
Frequently asked questions
Q: Are herbs useful?
A: Other than decorating our homes and aromatizing our gastronomy, herbs can also provide remedies and medicines to many of the most common ailments. For example, mint tea helps in coughs and cold, so does basil with honey; And not to forget fresh rosemary to season the chicken, fresh basil for homemade pesto, and parsley for a little garnish.
Q: In winter, what are the necessary precautions?
A: During the winter, when the natural sunlight is less direct, increase the length of plant light exposure. Moreover, cover the plants with clear plastic to hold back moisture. Mulching in winter for herbs growing outside the kitchen is essential to prevent wilting.
Q: How often should the herbs be pruned?
A: Prune them from time to time slightly to encourage new lateral growth, and use the trimmings in a recipe.
Things to remember
To own a herb garden indoors is the best, as they can yield with fresh organic herbal produce throughout the year.
The day light, especially the warm morning soft light, is best for growth and nourishment of the herbs.
Wash the leaves and seeds and drain them thoroughly before drying.
For speedy germination, opt for seed mats.
Quick tips
Do not over water or over fertilize the plant, as herbs will grow bushy with little or no fragrance.
When it grows in plenty, dehydrate or freeze to save for future use.
Eight indoor herb garden ideas to enliven your kitchen
Here are eight such brilliant designs for indoor herb gardens that will add more flavor to your kitchen and the greenery will add a touch of nature to your interiors.
1. Kitchen Nano Garden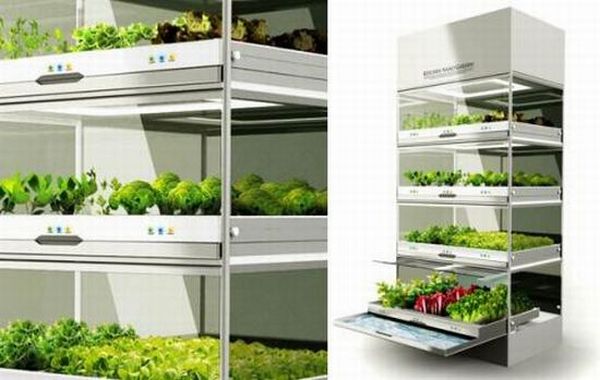 The Kitchen Nano Garden has been designed by Park Jae-Yong,Park Seuk-Ki , Hyun-Jung and Shon Chang-Jin from Korea who have provided a modern-day solution to growing herbs and vegetables indoors. Apart from growing your fresh produce and providing healthy and pesticide free vegetables, this kitchen garden is a great educational tool for kids as they understand the mechanism of growth through this mini hydroponic system. The Nano Kitchen Garden uses LED lighting in place of sunlight and the water that is used in the kitchen is recycled for watering the plants. This kitchen garden is quite compact and occupies less space. This Kitchen Nano Garden by Hyundai looks more like a refrigerator which is transparent and displays your greens flamboyantly.
2. AeroGarden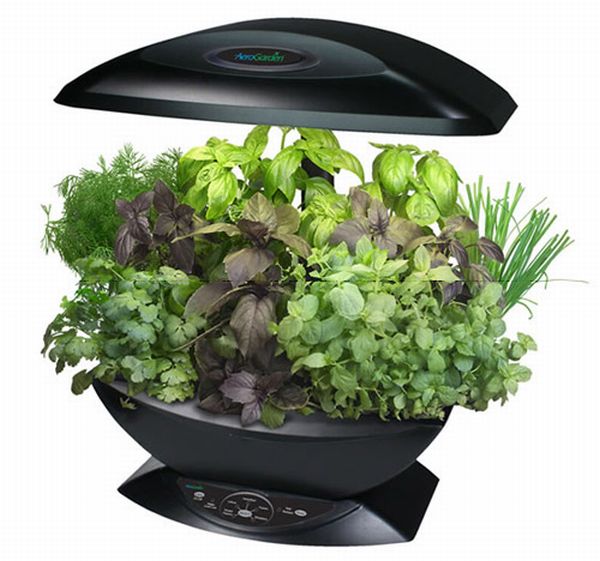 The AeroGarden is a product from Aero Grow and is a state-of-the-art farming device that enables you to grow your plants by using air in place of soil on your kitchen shelf. Now you can get zero pesticide produce and greens within a time span of 28 days with the help of the AeroGarden that uses 95% less water as compared to regular plants. Using the aeroponics technique, which is globally known for its high yield crop production, the AeroGarden uses the same process by sprouting seeds in a completely humid chamber.
3. Rrigerator herb garden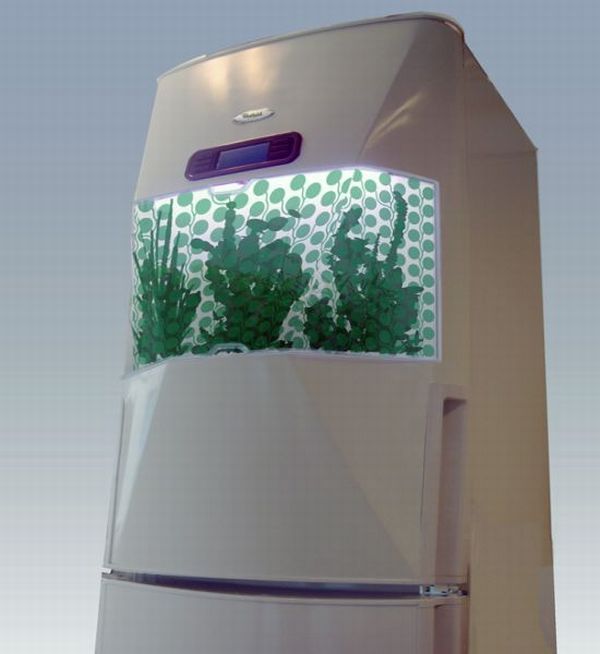 It would sound impossible if someone were to say that a refrigerator can also grow plants – but this is true in the case of the Rrigerator. Designed by Ms Hanna Sandström along with Whirlpool and Green Fortune this refrigerator is actually a kitchen garden in disguise. All you have to do is plant your favorite veggies and greens and you can either continue to grow them or even preerve their freshness. This system does not require regular watering as it automatically provides sufficient light and water to the plants.
4. Hanging Polaroid Flower Vase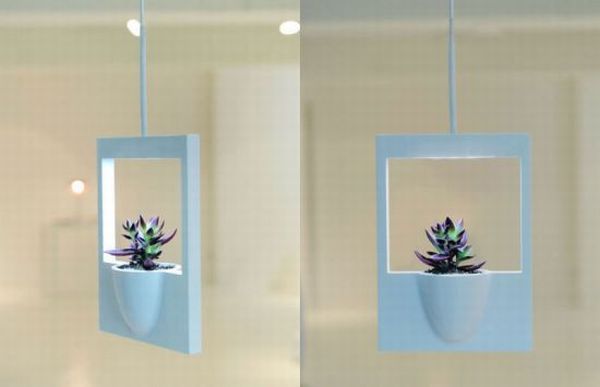 The Polaroid Flower Vase is a creation by Jung Hwa Jin, which is an elegant vase that is suspended from the ceiling. This flower vase also has an embedded lamp that illuminates the vase in which you can grow your favorite herb indoors.
5. Miniature French Herb Garden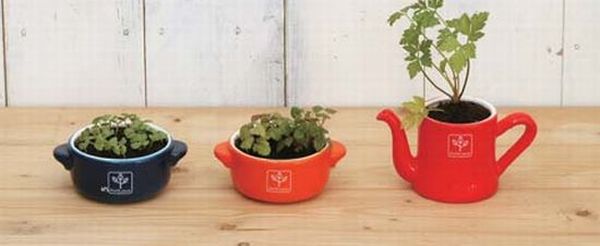 The range of Miniature French Herb Gardens is blessing for all those who miss out on back yards for growing their favorite herbs and plants. The Petit Coco kettle and casserole herb gardens are small enough to sit on your kitchen window sills providing you with your fresh mint leave and basil for your daily cooking. These miniature french herb garden pieces are available in three colors navy, orange and red and would cost $33 only.
6. Lightpot herb garden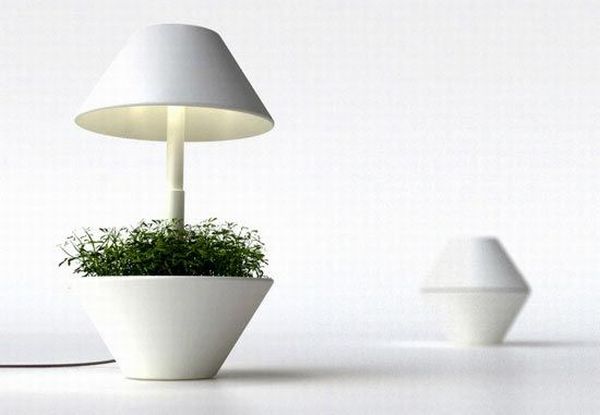 The Lightpot is a creation by Studio Shalub and is an elegant little greenhouse-like pot for the people who would not mind having their kitchen garden on their kitchen counter. This pot has a dual function of a kitchen garden as well as an LED lamp that provides light to the plants and also adds more character to the entire Lightpot.
7. Tasty Frame indoor herb garden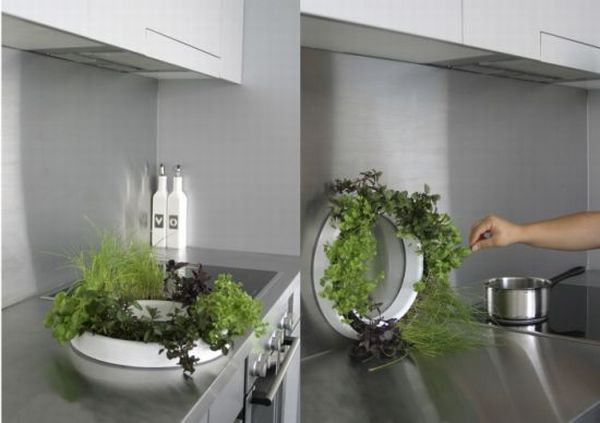 The Tasty Frame is a creation by Nguyen La Chanh, a designer from Switzerland, whose Moss Carpet has won him a lot of appreciation. The Tasty Frame is made out of cool plastic and can be place vertically or horizontally on your kitchen top providing you your mini kitchen garden comprising of your favorite herbs.
8. LED Kitchen Garden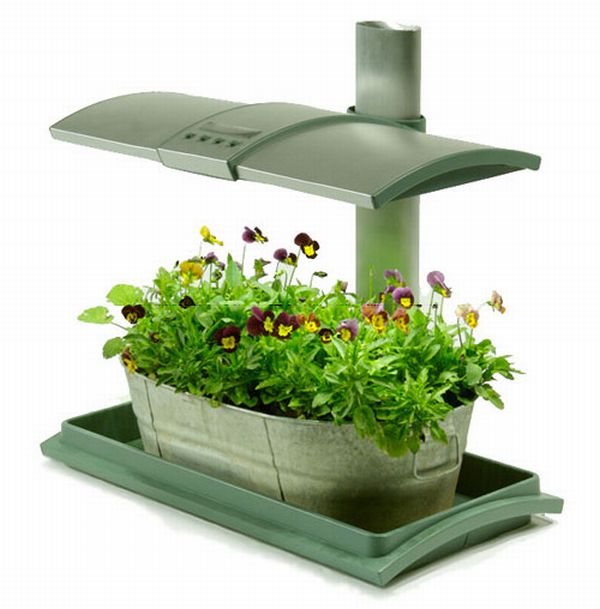 The LED kitchen garden by SonnyLight is a brilliant way to grow herbs, plants and even flowers throughout the year. This kitchen garden comprises of a pot with a tray and an overhead LED roof that makes it possible for the plants to grow in all seasons. Each model of this kitchen garden has the capacity to grow around 72 plants at a time by using 70% lesser energy. The kitchen garden is light in weight and portable. To prevent plant shock, this device has a special  sunset and sunrise feature.  It also has a programmable growing light for setting the correct amount of light exposure for the plants. The sleek design of the LED Kitchen Garden makes it perfect for any home.
Tips to grow a splendid indoor herb garden at home
Herbs have been used since ages by our ancestors for many purposes and this practice is still alive today. They are very crucial as they are used as flavoring agents, insect repellents, perfumes, medicines, etc. Many herbs have quick healing properties and if you are aware of them nothing can be a better medicine. These herbs can be grown at home, especially for immediate availability while in need for medicinal use or kitchen use. Anyone who loves cooking would grow herbs in kitchen to be equipped with the secrets of delicious recipes. Usage of fresh herbs while cooking is considered good for health. It is pretty easy to create a herb garden and it requires low maintenance. It is always better to let these herbs grow in their natural native environment for best outcome.
1. Start with plant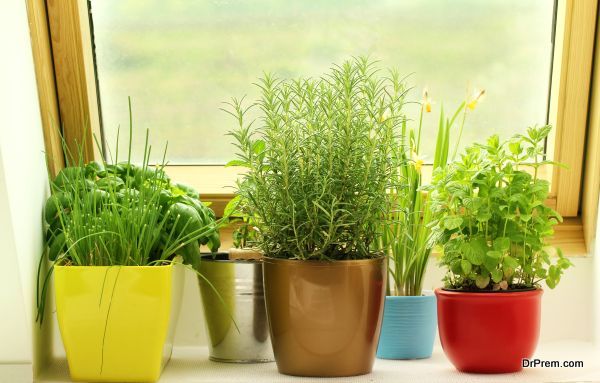 It is better to start your herb garden from plants rather than struggling with seeds. You can get these plants from a nearby nursery or a local farmer and start directly by planting them in a pot or in ground.
2. Planting seed
When you are starting to grow a herb from seed, then you can plant it in any kind of a container or kit available in the market. The kits are kind of a mini greenhouse already provided with soil. To prevent moisture from drying up, these kits have a thin plastic; this is why, you can keep them in sunny areas as well.
3. Indoor planting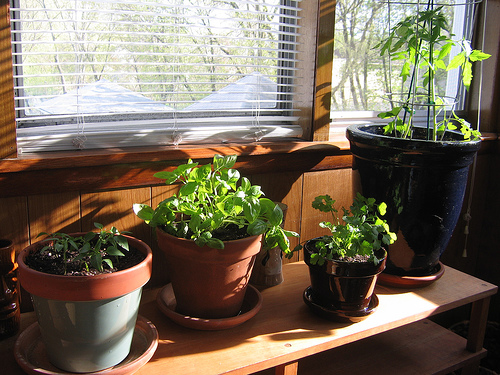 As a substitute for sunlight, you can choose to place artificial lamps. This is a perfect option for those who do not have enough space and want to grown an indoor herb garden.  Itis also a good choice requires sunlight for about eight hours a day. However, the best place to keep your herb pot is on the windowsill.
4. Humidity
While growing the herbs indoors, remember that you should maintain the humidity level necessary for that specific plant along with its light prerequisites.
5. Sunlight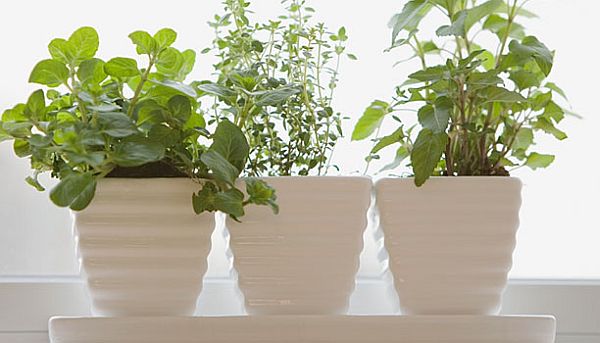 Different herbs require different types of environment to grow healthy. One of the best ways to make sure that your herb garden lasts longer is to ensure that you know what kind of plant you plan to keep. Some of these plants require sunlight while some do not need too much of sun. For example Thyme, Sage, Rosemary, French Tarragon and Oregano need sunlight all the time. On the other hand, Rocket, Sorrel, Mizuna, Mustard, Parsley and Chervil need partial sun.
6. Watering
When you have arrived at completion of planting the seed; do not forget to keep the soil slightly wet all the time. Regular watering is the best way to ensure the presence of moisture in the soil. You should always water them in the morning because when you water them in the evening they can die due to sudden temperature change, especially the herbs which grow in full sun.
7. Transplanting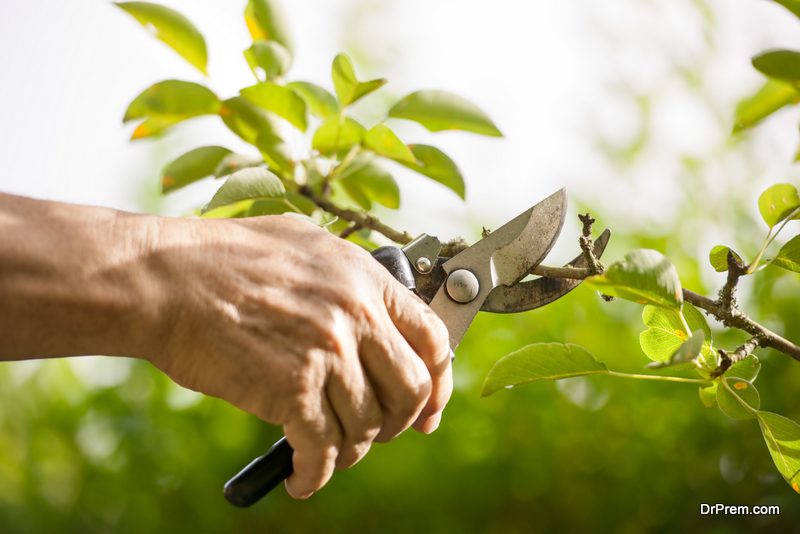 You should be very careful while transplanting the new plants into a large container. If you do not take proper care or transplant them properly, then the plants can die. So while planting the herb in another container be sure that the soil and environment are same as required.
8. Fertilizers
It is necessary to add fertilizers because when you water the plant it drains away the nutrients from the soil. Organic manures are always a better option than the chemical fertilizers.
9. Growing herbs in ground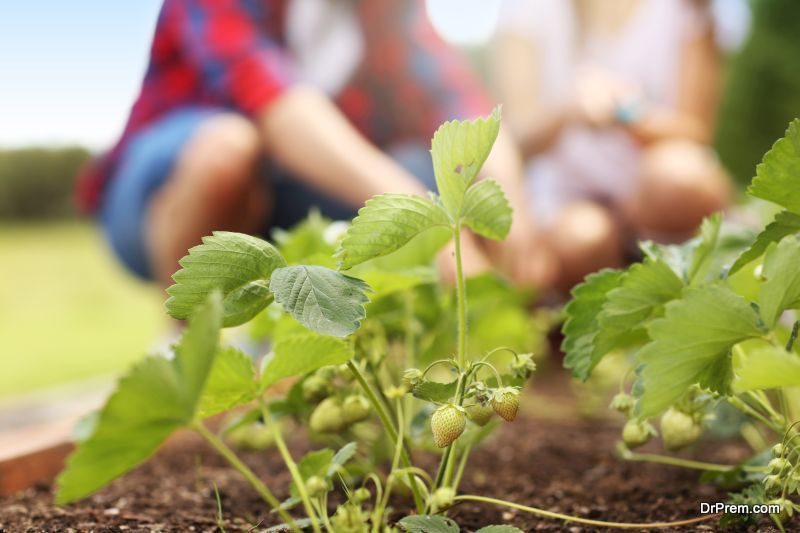 If you do not have enough space inside the kitchen or you do not want to invest in pots,; these herbs can also be grown alongside the other plants in your vegetable garden.
10. Feeding plants
You should feed the plants weekly to ensure that it produces a lot of leaves and remain healthy and green. Plants absorb through their roots, if you feed them they grow healthy.