Valentine's day is here again and what better than snuggling up with your sweetheart in a love-coated bedding that spells romance. See a sweet smile slip on your sugar-pie's face as the two of you feel luxurious and comfortable wrapped inside the bedding, adding a spark to the moment. Choose a luscious romantic bedding that will fetch unending admiration. If you are dying to make your bedroom nothing less than a romantic place, then below are few ideas and tips that will inject the day with unending sweetness.

Exotic materials

Create a feel of romance and relaxation with the right linen. Silk and satin sheets top the charts when it comes to seduction, which help injecting a romantic feel instantly. Pick comforters and duvets from the above materials or if you want an exotic appeal then velvet and brocade will also lend the necessary shine as soft lights fall on them.
Posh bedding

Give your bed that magnetic pull, which forces you to drop on it at first sight. Beddings that are thick and quilted will feel soft when your body rubs against the setup. Draping the mattress topped with a memory foam topper and further caking it with high thread count sheets/linen will give a softer touch. A luxury brand like the John Robshaw collection would give you an amazing look and feel.
Bed hangings

Installing a canopy frame to your bed will give birth to a dream-like bedroom. Create a sensual environment by using see-through fabric or by just hanging fabric from the ceiling and let it fall around your bed. Get stuck in the magic it spells and see romance flow like a pleasant stream.
Arty headboard

A new headboard will do the necessary trick to infuse hot romance in your bedroom. From padded to quilted and wrought iron to carved wood, the options are endless. Get drenched in the aura of curvy lines and see them spell romantic magic.
Lace embellishments

Create a novel feel of being in a hotel by opting for pillows, cushions and sheets that have been delicately created using laces. This will turn your room into a place glitter with a special romantic feel.
Bedding sets with love messages

Send across a direct message with love messages printed on bedding sets. If your partner does not understand hints, then there can be nothing as direct as bedding sets decorated with lovey-dovey messages.
Bright red sheets

Red color is invaluable when you want to make sure the atmosphere is welcoming, hot and cozy at the same time. Combine it with ribbons and veils and see the romantic meter explode as love sprinkles all around.
Sultry pink sheets

It is difficult to resist the alluring charm created by the exciting use of hot pink. Mix it with colors like black and freeze the moment with gentle caress.
Pillows/cushions

Pillows in different sizes help create a great visual effect, which is all you need to pull your partner toward the bed. Invest in decoration pillows like Euro-sham-size pillows, boudoir and neck pillow. Various sizes, shapes and styles will add a seductive charm and make the special day worth remembering. Heart shaped cushions will be a great addition for the V day as well.
Petals

Give the room a dramatic touch by throwing rose petals on the bed. Red rose is a symbol of love and the fragrance spread by its delicate petals will intoxicate your honeybunch's senses like never before.
Some other Romantic bedroom ideas for this Valentine
Valentine's day is special for millions of lovers around, who leave no stone unturned to make it special. Chocolates, red roses, cards, seductive lingerie, candlelit meals and wine are few things that are always on the list to make sure the day spills sensuous romance. How about creating an ideal atmosphere right inside the comfort of your room and spice up the moment at hand? Create a magical aura in your bedroom by decorating it in a way, which will force you to beg that the moment freezes forever. Below are a few ideas that will help you prepare your room for special day/night.
Lighting

Get the perfect aroma and create the right environment by opting for soft lighting. Dim lights help unfurl romantic feelings naturally and will make the moment just perfect for lovers. So, keep it dim and feel the budding romance.
Flowers

Get drenched in the beauty and romance of fresh flowers as you spill them all over the room. The freshness and fragrance will intoxicate senses, giving your love story an all new high.
Candles

Fill the place with love and tenderness with scented candles like musk, jasmine and sandalwood. Opt for red, pink or white candles as these are the colors of love, creating a warm ambiance that will evoke all the necessary feelings and fill the space with unending romance.
Heart shaped decorations

If you want to prove how much you are in love, then ornament the room with different heart-shaped pieces. Get lollipops, candies, garlands, wreaths and paper creations, all shaped like little hearts. Hang them everywhere in the room, especially near the bed, to add the necessary thrill.
Bed

Bedding is the heart of every room and should be done up well for the special day. Set the room for some fiery romance by splashing the bed with silk and satin sheets, which will further heighten the romantic level. They will lend the V-day a sexier feel as you wrap inside the bedding, slipping into a state of trance.
Pillows

Throw some soft and snug pillows on the bed and you are definitely good to go. Make the space cozy as you fall back on these pillows with your loved one. Place small heart shaped cushions on the couch and enhance the seductive appeal of the room.
Draperies/curtains

Dress up the windows with light colored curtains to spice up the romance. Swap simple curtains into a valentine theme, making sure they have a perfect fall and gel well with the overall decor.
Artwork

Reboot the walls of your room by adding new art pieces. Place black and white pictures of the times you have spent together with your sugarpie and make the room all the more sexy and happening.
Canopy bed

Installing a canopy bed may sound sumptuous and out of reach, but will definitely add romance to your bedroom. Simply, make some fabric drop down till the edges of your bed and see love flow as they move with the slightest touch, adding a zing to the moment.
Music

Recreate the place with love and tenderness as you play love coated tunes and get infected by the aura they create. Dance to romantic tunes as you slip in your sweetheart's arms and ignite that spark yet again.
A few easy bedroom decorating tips to Make Your Valentine's Day Special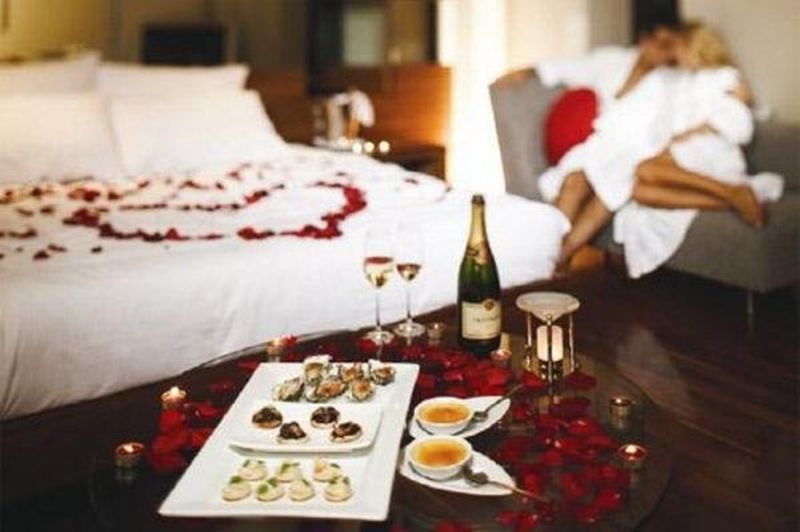 Valentine's Day is an informal celebration that lets the couples revel in the glory of their love. The 14th of February celebrates love and remembers the saint Valentine who chose to be a martyr. You should celebrate love every day and no specific day is required for it but people seldom get time for romance. They are always busy with work and have to perform numerous household chores when they get off from work. The busy couples who cannot give each other time or show their love for each other need a special day designated for romance.
On the next Valentine's Day, you too can enjoy some special moments with your partner. For this, you must redecorate the bedroom and create a romantic ambience. The different decorative elements like bed sheets, bed covers, rugs, lights, and pillows can transform the mood of your bedroom easily. In the following, you will find some great tips for creating a romantic environment inside your bedroom for Valentine's Day.
Focus on the bed: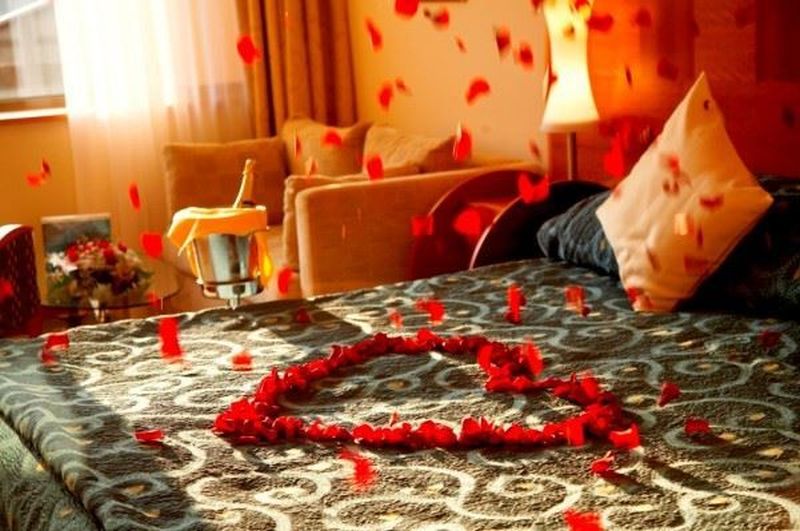 Even the novice homeowner can easily transform the bed into a couple's cozy nest. On Valentine's Day, the focus ought to be on the bed. Create a canopy over the bed with the help of sheer fabric in white, pink or lilac. Use the headboard of the bed for draping the sheer fabric beautifully from the ceiling. Plump and fluffy pillows, satin or silk bed sheet and covers are perfect for creating a creamy and dreamy setting for your romance to bloom. Use petals of red or pink roses and spread them on the bed to make it more attractive.
Soft lights are attractive: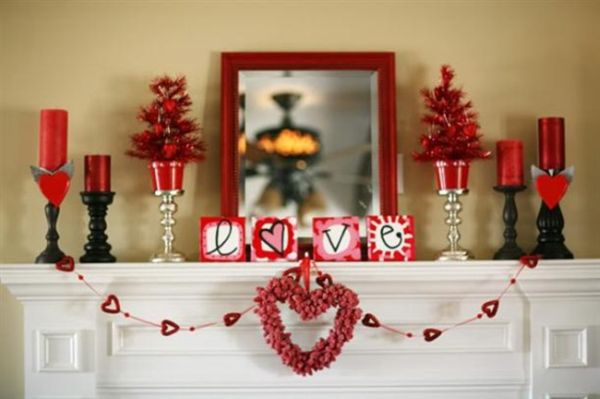 High voltage lights do not evoke romance. They make your eyes hurt when all you want is romance and cuddling. Use the dimmers and soften the light inside your bedroom. Accent lighting and soft spot lighting can give sufficient illumination for romance and cozying up with your partner. You can also use candles for creating the perfect romantic atmosphere inside your bedroom. Aroma candles offer a lovely ambience and fill the room with a sexy and sweet aroma.
Use your together photos:
The theme of your bedroom is romance and nothing can be more romantic than your own memorable moments. Make a collage of your photos and buy cute frames for the photos. Decorate the mantelpiece and side tables with these photos. This is an inexpensive way of decorating your room.
Accentuate the décor with pink roses: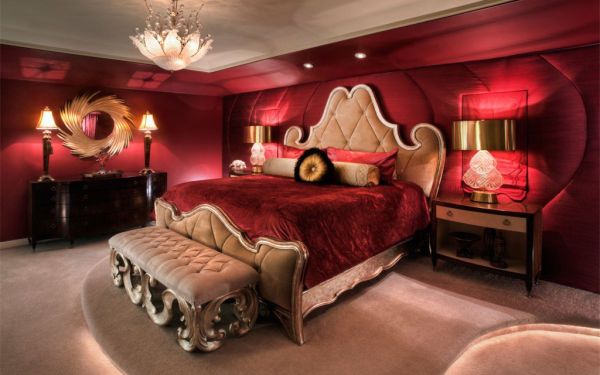 Pink roses complement the love best. You can buy bunches of roses and keep them nicely arranged around the room. You may also use bouquets on the corners of the headboard of the bed. To create more variety you can use red and white roses instead of pink. If your partner is fond of any other flower like tulip or lotus, you can use them for decorating the bedroom as well.
The appropriate use of colors:
Colors and fragrance are integral in creating romantic ambience. If used correctly colors can change the mood of your partner. Some colors that you should avoid in decorating the bed are pink, grey and yellow. Bronze, golden and pearl are good colors for a romantic bed. You may also use red, white and rich blue in creating a romantic set up. Also, remember that comfort is necessary for romance, so the bedding material has to be smooth and soft. To add texture to the bedding use Egyptian cotton, velvet or faux fur.
DIY bed canopy for Valentine 's Day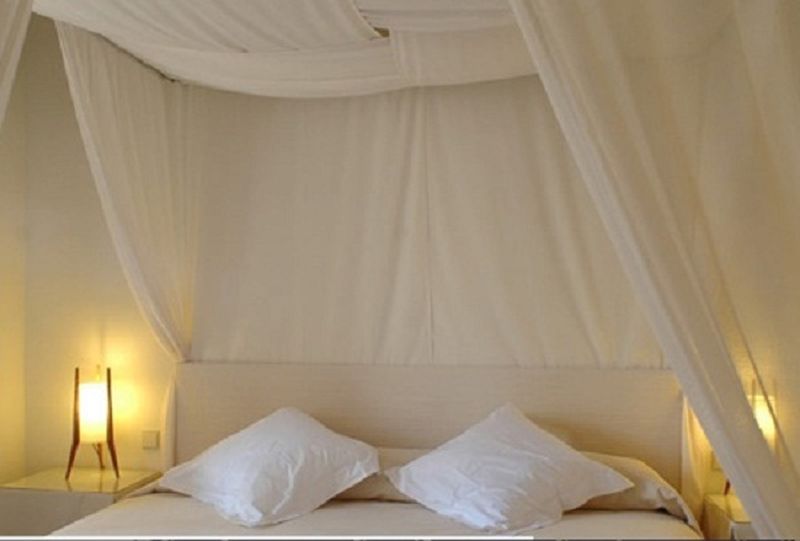 Valentine's day calls for a romantic affair and you can do something for your sweetheart right in the comfort of your home. A good idea is to make a bed canopy that will take your companion into a fantasy filled trance. A simple guide to make the canopy on your own is given below. This small addition will go to show that you are head over heels in love with your darling.
Difficulty level: Easy
Time required: 1 to 3 hours
Resources required
Fabric
Sewing machine
Dowel rods
Metal rings
Hooks
Drill
Screws
Instructions
Measure the height from which you want to hook the canopy. Cut out the fabric in the required dimensions.
Hem about two inches of the fabric along the border. You can attach a lace, frill or ribbon along the edges.
Stitch pockets at points that will be clipped to the dowel. Fasten metal rings on the cloth that will be inserted into the dowel.
Fix hooks on the wall at the point from where you want to sling the canopy. You can also attach a circular or rectangular frame on top of the bed to suspend the canopy. You will need a drill and screw to affix the frame in place.
Now, just attach the canopy at the points required and let the loose ends drape the edges of your bed.
Quick tips
Pick a dreamy fabric that will leave your partner floored. Satin and silk are quite passionate while flimsy pieces help to create a starry-eyed feel. A see through net or diaphanous muslin will also do the trick.
Velvet is for a lush look and to bring out the grandeur, suspend it from an ornate and gilded frame.
To show how madly in love you are, pick a textile in the pretty Valentine's day colors of pink or red. A demure white will create a dreamy touch.
Summary:
Valentine's Day is an informal celebration that lets the couples revel in the glory of their love. The 14th of February celebrates love and remembers the saint Valentine who chose to be a martyr. You should celebrate love every day and no specific day is required for it but people seldom get time for romance. They are always busy with work and have to perform numerous household chores when they get off from work. The busy couples who cannot give each other time or show their love for each other need a special day designated for romance.For decorating a bedroom in a romantic theme, you must make use of soft fabrics, passionate colors and dim lighting. Focus on decorating the bed and evoke a romantic ambience.