With Christmas around the corner, it is natural that you would want to set the mood in the office. The joy of this season is all about spreading happiness. Bring in this same happiness to your workspace by decorating it with different themes of the season. Here are some beautiful ways to set the mood.
Christmas ornament hangings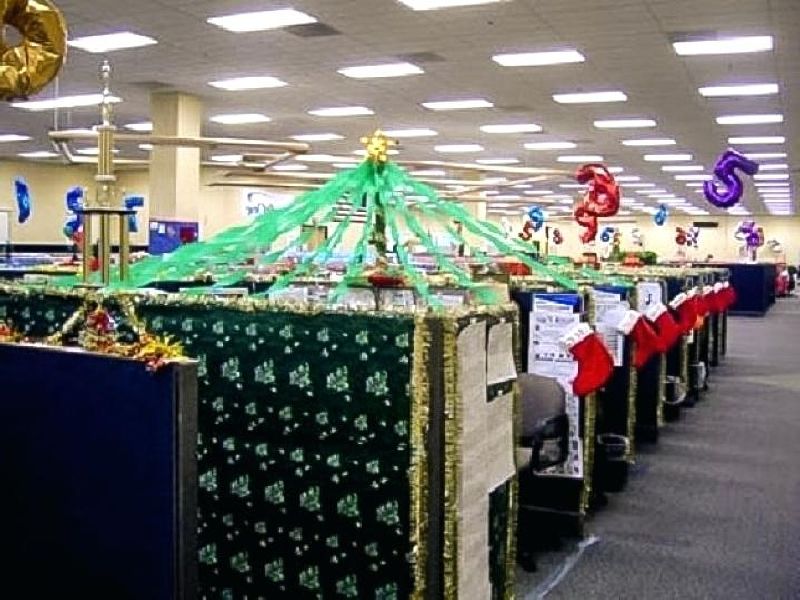 You can make/get large sized Christmas ornaments and hang them across the entire office space. This will fill up the entire ceiling of the area and will bring in the mood perfectly. Choose between the regular red and white concept and the green, red and white theme and decorate the office in the most elegant manner.

Go for the all silver look with snowflakes
Make the resemblance of snowfall in your office by going for different shades of white and silver combination. Hanging snow inspired wall hangings or ceiling hangings will bring in the mood. You can also choose to have cotton placed all over the cabins or workstations to make it look more real.
Santa heads made from paper
For the workspace, reception bay and desks place Santa heads. This is one of the easiest ways to set the mood of Christmas. If you want, you can also choose to have small full body Santa figurines placed all across. Just use any old paper that you no longer have a use for, and a little paint along with cotton and small accessories that resemble Santa Clause.
The mixed basket of Christmas ornaments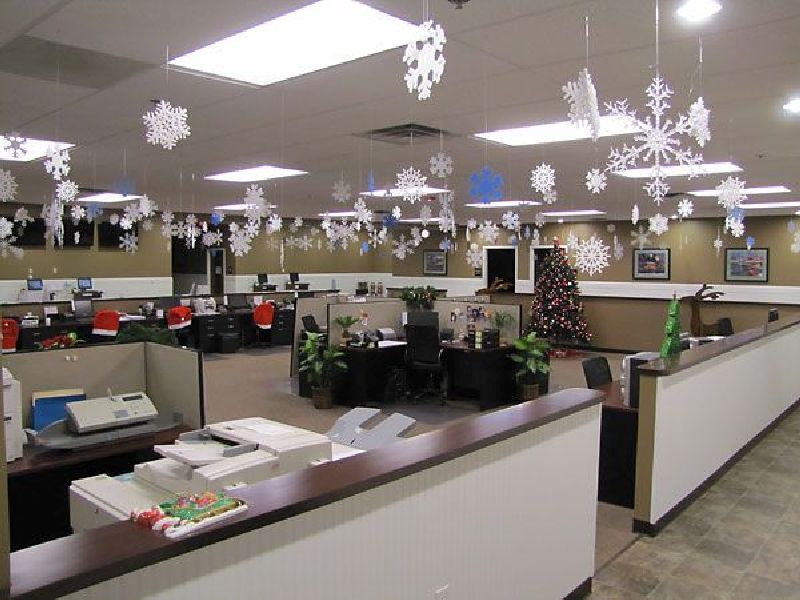 One another interesting way to set the mood of Christmas in your office is by having a mixed basket of ornaments. In this idea, you can decorate the basket with different ornaments and place it in every workstation. Personalize each basket with decorative pieces like a small Christmas tree, the Santa's sledge, the crib etc. individually in each basket. This will bring in a variety to the office decorations.
The big sized Christmas tree
Decorate the entrance or one side of the floor with a big sized Christmas tree. No decoration is complete without this addition. Another idea is to allow your office staff to put gifts to their friend or favorite colleague under the tree. Have a special day before closing for the holidays. On that day, distribute the gifts.
The Snowman's hut
Just close to the Christmas tree, you can also consider placing a nice, big sized snowman. The snowman's hut inspirational idea can be made in many ways.  One is by using cardboards, Thermacol or you can even take white colored balls of different sizes. Round pots stacked one on top of the other will equally do the trick of making a snowman.
How can we forget streamers?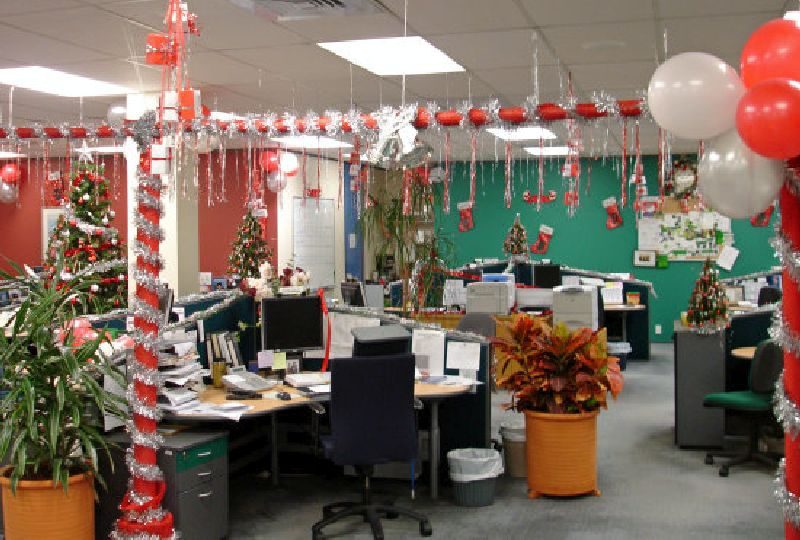 Christmas streamers running across the entire space are necessary to have. You can have different colors, designs, and shapes of streamers. Mix them with a little-glittered lace material, metallic colors etc and you will find your office looking different.
Spray paints on glass surfaces
Do not miss this idea because it is worth considering. For office spaces where you have long glass panes, this is a nice way to bring the mood of Christmas. Get different themes that resemble the festive season painted on the glasses. Where there is a long length of Glass panes like a divider or entrance, consider having one big theme painted across the entire set of panes.
Pots of mistletoes
Christmas decorations are never complete without the mistletoes. Have pots placed all over the office and workstation to set for the festive season. Even consider wall hangings of this simple but important part of the Christmas theme.
The Christmas inspired theme made from lace and ornaments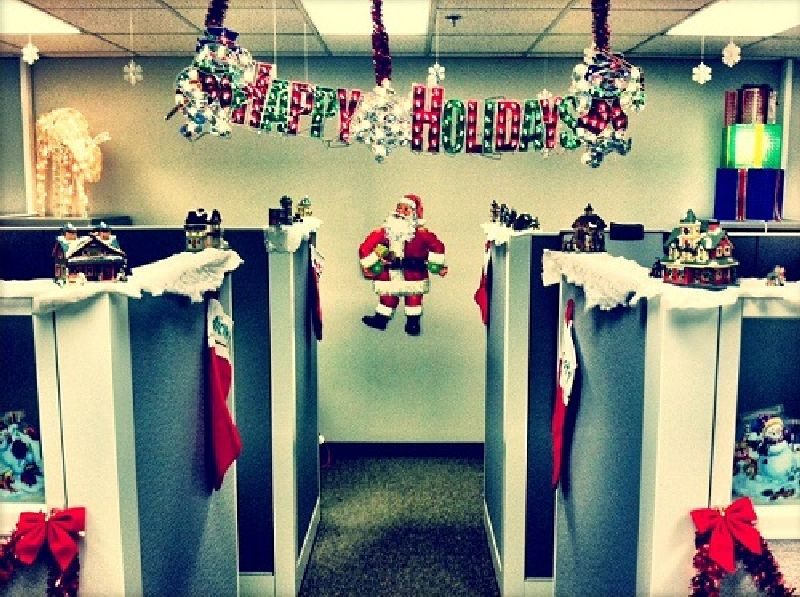 The good thing about this idea is that you can always re-use it for something else. Decorate the entire office space with different concepts of the season using lace, ornaments and stream lights. This way, you can reuse the material for other purposes apart from making them a decorative piece.
The cardboard gingerbread house
Christmas is incomplete without the gingerbread house. Well, using cardboard, you can bring in the mood of the beautiful season by making the workstations look like a gingerbread house. Decorate the space or entrance of the workstation/cubicles with this beautiful idea by using different cardboard paper. Also, consider having a few leaves (natural or plastic) along with nice large sized bells as a part of the theme.