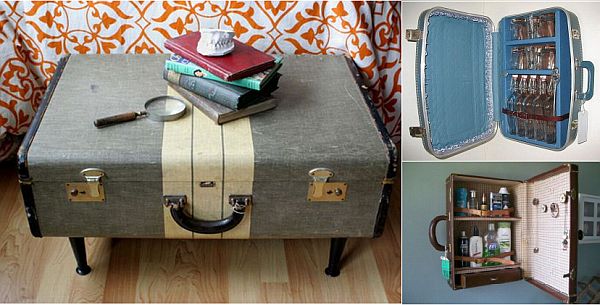 Recycling your old product and making some good product out of it is surely a great thing you can do. This can add a décor to your home and even is safe for the environment. One of the great example is recycling suitcases. If you are bored of using it or it is damaged in some way then you can surely put to a use by recycling it. Here are some examples of how you can recycle your old suitcases.
1. Funky recycled suitcase seating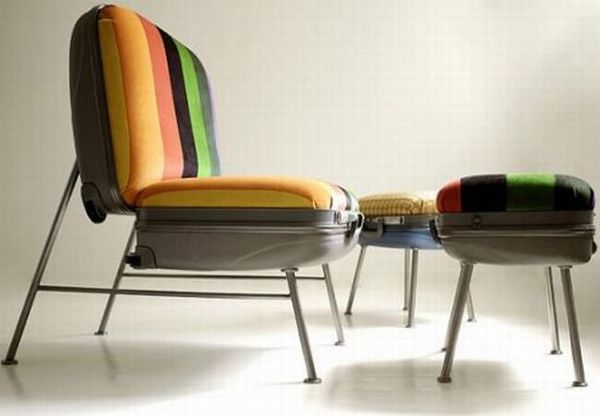 This suitcase is really great idea which has been made. In this suitcase seating arrangement is made of old recycled suitcases. This is the best thing you can do with your worn out suitcases or some luggage carriers. All you need to do is some coloring and collecting some funky furniture's with a less compromise on furnishing of luxurious aspects. However, such kind of compromise is not so important if you are considering environment as primary aspect. However, keep in mind that recycling such things you can bring great change in the environment.
2. Flashy solar stereo system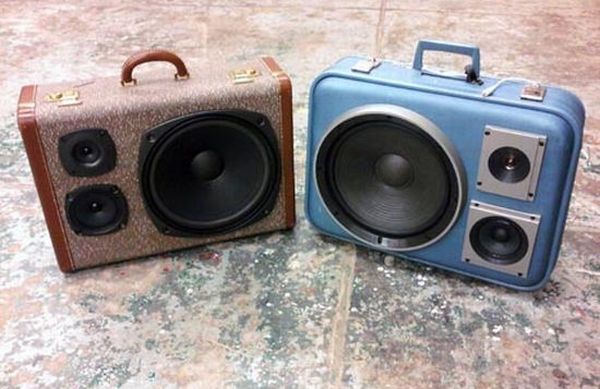 This portable stereo system is powered by solar energy. It is made from the suitcase that makes this design more unique. You can surely enjoy great music with your vintage suitcase. One creative designer has come up with this recycling idea of suitcase and has converted it into thundering stereo system. It is designed by Mr. SiMo. The suitcase offers 7+ hours of nonstop music in just a single charge. You simply have to connect it to your iPod or iphone or the device which comes with headphone jack and enjoy the music of your choice. The best part of this music system is that you can carry it anywhere and wherever you want without carrying anything extra. This classy product comes with solar power charger that stores the solar energy which you can use it fr future use. Due to rainy or inter season if sun is not out, you can plug it into the socket. You get the option of listening the music with iphone or iPod, custom paint, wireless audio playback and extra batteries.
3. Recycled Luggage Medicine Cabinet or Bathroom Vanity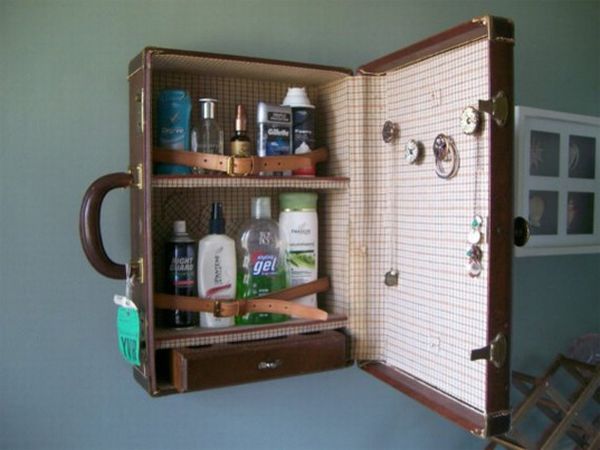 Recycling suitcase is surely an easy thing which you can do to save your earth and environment. Luggage is one of those items which are worth recycling. You can recycle old suitcase and can make it as medicine box or cupboards at home.
Now you can give your bathroom great look of well traveled fair with such recycled suitcase. In this great idea, suitcase is made like a small cupboard where you can keep all your stuff related to washroom and enjoy your bath. Such suitcases are of proper size and shape that can hold all kind of toiletries. The lining is made with patterned fabric from inside. You also get a salvaged jewelry case on the cabinet's bottom so that you can use it as a catchall for accessories. The recycles suitcase can give your home a stylish look. This will surely catch eyes if your guests attention by making an elegant ambiance.
4. Ancient Chair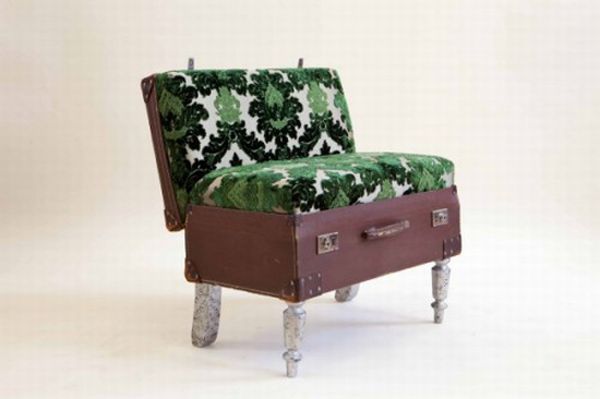 Another great example of recycled suitcase is ancient chair. The design is created by Katie Thompson. You will find many options of making cool chair out of the recycled suitcases which can add a great factor to the interior. Such chairs will have a vintage look with contemporary upholstery which can match the modern interior. Such type of chair is extremely safe and offers great comfort. It is a great example of recycling your suitcase and saving the environment.
5. Cat Beds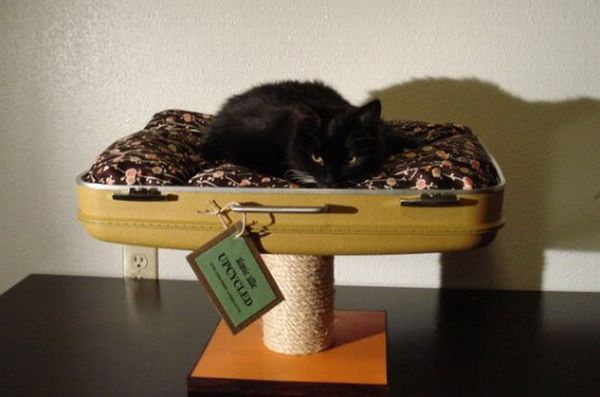 Cats love to sleep and rest a lot. They like it more if they are given a bed to rest. Hence, to save money and make your pet happy, cats bed from old suitcase is great thing. Not only cats, even other pets like dog can rest on such bed. This unique design is surely a great example of recycling suitcase.
Now you don't have to waste your money to buy a bed for your cat. You can simply recycle your old suitcase by converting it to a cat's bed. Your cat will surely love to sleep on such bed. Cats bed made form vintage suitcases is surely a good example of recycling. Such suitcase cum bed comes with washable, removable and fluffy cushion where your pet can enjoy its time to relax.
6. Liquor cabinet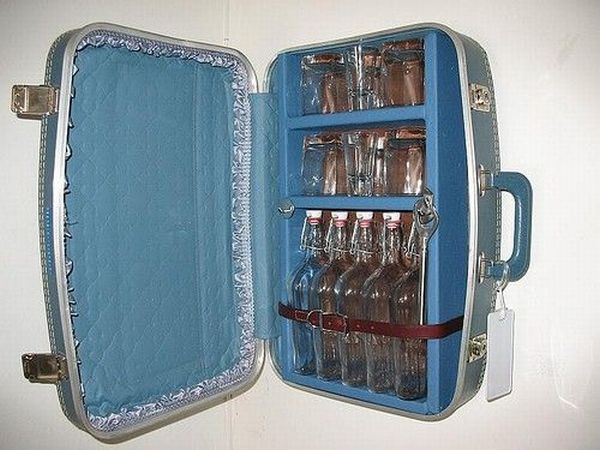 This is a great gift for the alcohol lovers which is made of recycled suitcases. It is made by a self-taught solderer who is already popular because of his other unique designs like cherry oak shelves. This product is surely the best one to save your environment. Its unique design includes olive green suitcase exterior where you can easily place the spirit away. This cabinet can hold four glasses shot glasses, 17oz glass flasks and a bottle opener. You can carry it with you wherever you want and can even hang on a wall with a 45lb hanging wire
7. Suitcase Planter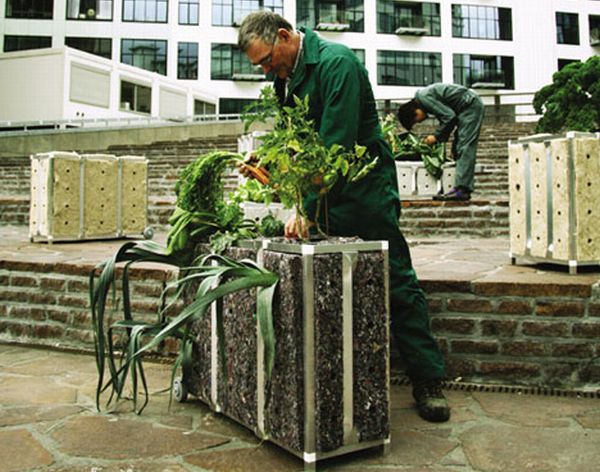 This is another great example of recycling suitcase. It is a best place to keep your plant without worrying for window garden. This movable planter is a great way to store your pants and grow them. This is called urban buds which is a mobile garden . In this product the suitcase is filled with soil. It is helps to thirty-six different types of edible plants. This simple idea is a great example of recycle. This recycling concept is a sign of cultural identity. The design involves metaphor of suitcases as sign of cultural background. This suitcase is filled up with oil which you can move from one place to another. You can grow vegetable and fruits in both the side of bags without affecting other plants growth.
8. Suitcase Coffee Table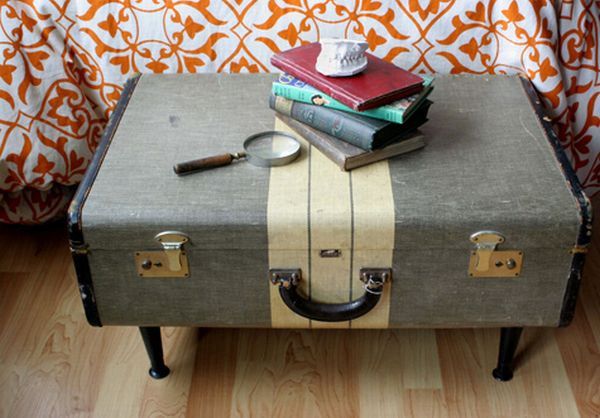 This is another great home décor project which is made of recycled suitcase. It is one of the coolest things I have ever come across. You can make it on your own as well. You need 4 Top Plate Hardware pieces, 4″ tapered table legs, an old suitcase and a drill. You can start by turning the suitcase and placing top plate on its corner. You can measure them for confirmation and drill them in. You can also color them if you want or spray paint the table legs.