Normally, bottle openers come smothered in a very dull look that has no attention grabbing traits. If you are bored of opening bottles with the same old opener and need some excitement to enter your system when your favorite beverage makes that fizz sound, then why not let a zombie do the needful for you? Zombie Bottle Opener, stashed with a price tag of $12.95, will come quite handy and become your perfect bottle cap eating mate.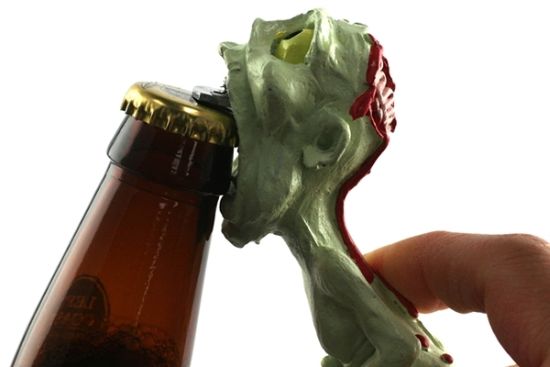 The bottle opener has a different approach, but works in the same way like other products in this category. The handcrafted opener has been made to look like a zombie, which has been hand painted to give it a vague appeal. The sculpted flesh eating creature will make you moan incoherently. Don't worry! It won't guzzle down your drink even though it looks as if it has dropped from a rotting corpse of the undead. Popping the cap off a bottled beverage using our teeth is what most of us might have done, knowing that we can end up at a dentist in case of a slight slip. But, leave this risky job for the zombie bottle opener and see it tear the cap with its teeth that are sticking out of its rotting head.
This opener has been crafted by hand using tough urethane resin and comes complete with a steel opener wedged on the top jaw of the design. Its bulging eyes, tinted green skin and skull pushing out of the skin give the opener a zombified look, which is definitely gross and can make anyone scream with delight. Zombies are anyways used to cracking brains and sinking their teeth into them, so why not let them bite bottle caps as you enjoy your favorite beverage with a zombie doing the odd job for you.
Via: Neatoshop