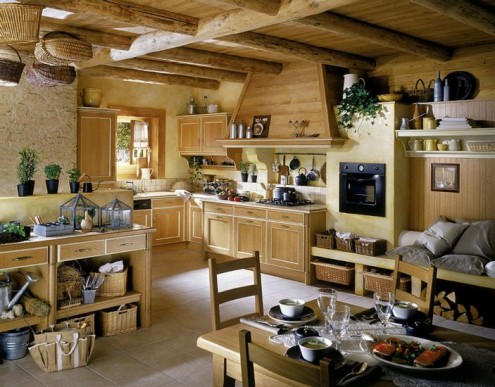 Kitchen, in modern times, is no more just a place for cooking. It is now considered a room where the family can have a little chat while cooking and enjoy the flavor and aroma of the food. Modern women strive to make their kitchen not only convenient but also attractive. Planning a kitchen with useful utilities is every woman's dream. Though it may sound next to impossible to renovate your kitchen and bring the charm and mood to cook, it is not a difficult task. A little creativity and a jest to redecorate your kitchen is all what is needed. Here are a few tips to make your kitchen the best part of your home decor.
Color of the kitchen
Kitchen walls should be preferably painted in light colors to give an inviting feel. Neutral colors also make the interiors look more spacious. The cabinets can be of natural wood and glass panels. However, color is a personal choice and you can go ahead with dark colors, if you are comfortable with it. In practice, food colors (such as green, blue, red and yellow) are said to induce hunger. However, lighter the color selection, better the dealing with space and light.
Kitchen sink
Kitchen sink should allow easy drainage. Go for stainless steel sinks that are popular and easily available in the market.
Electric equipments
A few gadgets in the market like the sandwich maker, mixer, tea maker, coffee maker, and microwave are some of the gadgets which can make your life easier. They also add up to the kitchen decor. These equipments are not only useful, but also keep the kitchen clean and well organized.
Cookery set, plates and mugs
A cookery set is of value in every kitchen. Opt for a cookery set that can be evenly heated. The bottom should be anodized using copper to save energy and for better cooking. Buy a steel rack to nicely place plates and mugs. Plates and mugs for every day use may be of steel and of earthen ware. If you are a non-vegetarian, a few white plates won't be a bad idea. Always save a few ceramic or high quality steel plates for your guests. Mugs of steel are good for your daily needs. Fine glass gives your kitchen an upscale grade, if you could buy a few of those, you can make occasions special. You may also decorate your kitchen cabinet using plates and mugs, arranged in different colors.
A few essentials
A spice rack can give your kitchen a sizzle. Not only is a spice rack exotic, it can help you organize your spices and keep them at the right place to avoid all the hassles. Canisters for sugar, salt, pepper, etc are available in the market, which are a decorative item in itself. For example, a colander can sometimes serve the purpose of a fruit bowl. It's not too crazy an idea but exceptional, so your kitchen can have some of your taste. Cook books can also add versatility to your kitchen, at the same time add the value as a decorative item. A small shelf can hold your cookbooks. An apron is a must in your kitchen which signifies your role. A few towels, fire extinguisher are essentials in your kitchen.
You can plan to grow some herbs like mint, cilantro, etc. near your kitchen window sill. You can use that for garnishing. The greens also add up to enhance the look of the kitchen. Last but not the least, ensure the safety in your kitchen, be it placing knives at a secured place, or handling the electrical gadgets.