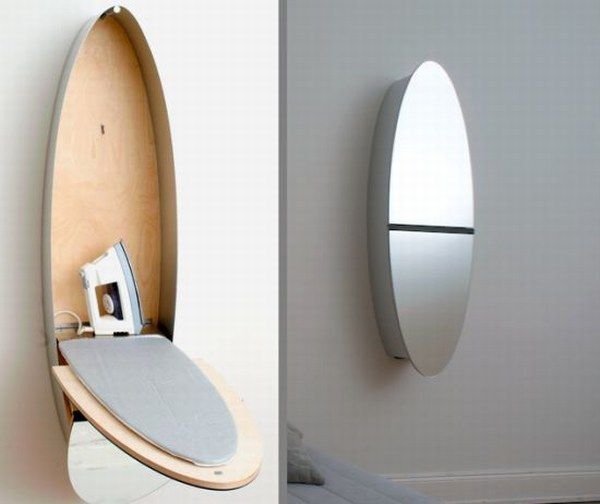 The need for compact devices, which have flexibility of use, is on the rise nowadays. And the 'moving space' in homes is also decreasing. Therefore, people want a compact structure, which can suit their needs. And for some others, it's just another lifestyle option. The wall mounted ironing board is one such product, which combines convenience, space efficiency, inconspicuous style and affordability in one simply amazing package. Therefore, to make your home trendier and life easier, choose your style from the list of wall mounted ironing boards given below.
Wall mounted ironing board cabinet

This ironing cabinet doesn't require any opening in the wall and conveniently opens up anytime you need to iron. The cabinet is sleek and comes fully assembled, and can be installed easily. The setup includes a flip-down ironing board, which is 42 inches long. It comes with a with a silicon treated cover on it and thick cotton pads. The cabinets are available in unfinished white oak (paneled door) and unfinished birch veneer (flat door). You can easily paint this ironong board  match the color of your bedroom, bathroom or laundry room.
Premium ironing center with unfinished birch door

This ironing unit is the top of the line and comes with a special design; that allows you to install recessed (in a hollow) into your wall with the cabinet. You will like the premium features in this unit and appreciate it's ravish design, which gives utmost ease while ironing. The height adjustment system helps you adjust to a comfortable working position. A solid state timer turns on power to the built-in work light and electrical space. The electrical cord cover helps you in avoiding potential snags in the electrical wiring. You can keep the iron switched on at all times.
When you switch the board back to the upright position; the internal safety switch disconnects the power supply. The standard model comes with in-built cabinets for the purposes of storage and resting the iron on a shelf. The unit also includes an indicator light and all standard accessories. All models come in a birch door and all wood cabinet. To blend this ironing board with the theme of your house; you can easily paint or give it the stain touch accordingly.
Wall mounted ironing board holder

This ironing setup includes two sturdy metal legs and a board, which can be attached or hung on any door. You can also attach the board to the wall with this step.  It fits over all standard doors of 13"/8" dimensions. The standard setup hangs overhead and provides easy access to the ironing board. This unit does not include any cabinets and is mostly useful in a less crammed up space. Dimensions of the board is 11″ x 15.5" x 4.5".
Wall mounted fold up ironing board

As the name suggests; this foldable setup allows you to attach the ironing board to the wall. The design is small and sleek, which needs very less operating space. This ironing board is perfect for the laundry room. The unit is made up of steel and white epoxy coating for durability; it also comes with hard cotton that covers the board and can swivel to 90 degrees left and right.
Non electric surface mounted wood ironing board

This ironing unit is completely made out of wood and includes a cabinet. The best part is that this is a full sized ironing board. The design is simple and does not include additional cabinets. If you want; you can change the outer color and panels as per the color you like.
Twin hamper ironing board

This ironing unit comprises an ironing table with two cotton laundry sorters. These sorters are unique, in a way that you can separate the clothes whether it is dark or light colored or his/her. The sorters are concealed by the ironing table covering the top. The ironing table includes a padded cover for ironing and a metal rack for holding the iron. The unit also includes a hanging rod for the purposes of hanging a newly pressed garment. The whole unit has wheels attached on the corners and is movable. You can wash the hampers since it is made up of chrome plated steel.
Wall mounted ironing board full size

This unit is especially unique owing to its extremely compact design. You can install this board anywhere in your house including the laundry room. When you start operating it, it automatically opens up and the ironing board protrudes out from its prior folded position. The ironing board can be swiveled to the left and right directions. The most eye catching feature of this product is that it can be installed on one of the walls of a very narrow passageway. Now, the ironing board can be positioned parallel to the wall. This board effectively saves space and makes it very convenient. Moreover, this ironing unit is portable and can be removed and installed in a new place.
Wall mounted mirrors ironing closet

If you want an ironing board, which merges aesthetic design and productivity, this ironing unit is the one for you. Designed by Nils Wodzak and manufactured by Konzept Designs from Germany, this ironing unit will surely woo you into buying it. This basically is an ironing closet with a mirror attached on the outer surface. It has been designed, keeping in mind the various tastes of people nowadays. At first glance, it looks like a mirror; but when you open this 'mirror', an ironing board pops out with a lit light; creating the perfect environment for ironing.
Vertical size wall mounted ironing center

The unit features a wall mounted, vertical, 180 degrees swiveling ironing board. The ironing board features a sturdy, cotton padded steel mesh ironing board. It can be mounted on a single wall and has to be fixed into place. Additional features include an iron rest, heavy duty fabric wall cover, fixing hardware, mounting and operating instructions. When you are not using the board, you can easily fold it.
The unit can be conveniently folded when not in use.
Handi press surface/wall mount ironing board

The design is traditional in nature and does not include varying degrees of creativity. You can easily fix this unit into the wall without drilling holes. To give the user a comfortable using experience; a thick cotton pads the ironing board. The compact size makes this ironing unit portable and space friendly.