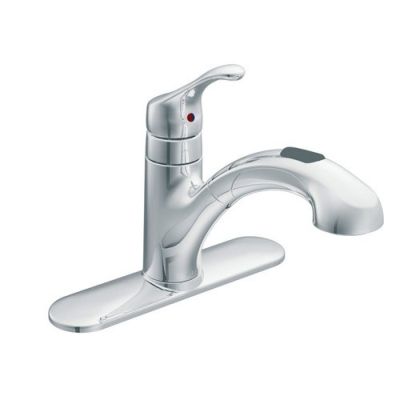 Faucets play a supreme role in defining the decor of your kitchen or bathroom. So, while choosing these you must keep in mind and be sure of the style, design and the configuration of your sink. This task can be a tricky one and any mistake in the selection of these may ruin the look of the place. High quality is an important factor that is to be kept in mind to make sure you choose durable and the best quality faucets. To help you find the faucet of your choice and requirement, here are some high quality kitchen faucets which provide elegance and style and can complement with most of the interiors.

1. Moen Renzo Single Handle Chrome Pull-Out Kitchen Faucet
BRAND : Moen
PRICE : USD 115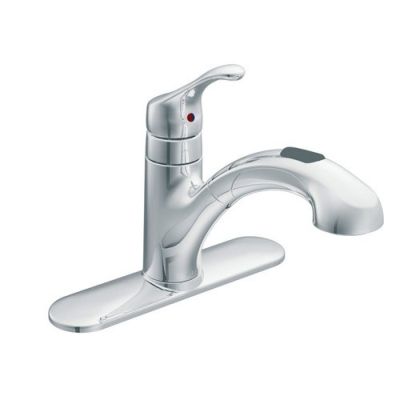 The Renzo pullout faucet features a great seamless design with perfect finishing. The piece is perfect for any kitchen decor. It supports a chrome finish which gives a highly reflective, grey metallic look. The faucet has a one handle lever design which gives an easy accessibility. Low arc spout featured in the faucet gives it a conventional styling and grace. It provides a powerful rinse with aerated stream. This elegant faucet is equipped with hydrolock quick connect system which helps in easy and quick installation. The product is a great option for your kitchen.
USP
The faucet has a low arc design which not only looks stylish but also provides an easy accessibility.
PROS
It provides a powerful rinse.
2. Delta 467-DST Single Handle Kitchen Faucet with Pull-Out Spray and Diamond Seal Technology from the
BRAND : Delta
PRICE : USD 128.22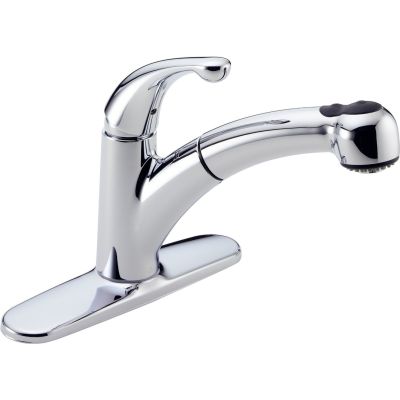 The faucet looks extremely stylish and is yet a very simple design. It complements all kitchen types and enhances the look further. To make it more efficient and add on to its functionality the faucet features a palo pull out. This not only adds to the efficiency of the faucet but also gives a stylish and modern look. The pull out spray wand featured in the faucet provides 38″inches reach that helps in maximizing the work space. It features a snug fit connection to hold the wand tightly and firmly. The diamond seal technology makes it more durable.
USP
The faucet features a diamond seal technology to make it a more durable product.
PROS
The product is highly efficient and durable.
3. Pfister F5297TMS Hanover High-Arc Pull-Down Kitchen Faucet, Stainless Steel
PRICE : USD 147.99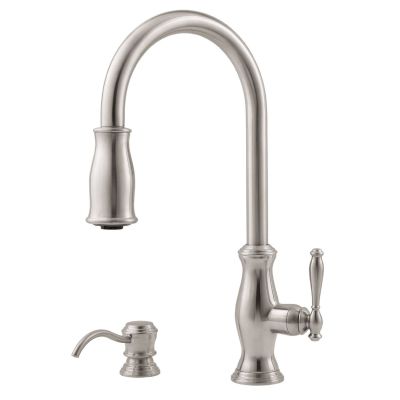 The faucet features stainless steel built and is a great addition to your kitchen. The piece looks very elegant and stylish and is capable to complement any kitchen interior. It features a 4 hole mounting with a lotion dispenser and an anti splash spray head to control the water pressure. It has a metal handle which can be operated conveniently. Ceramic disc valving is also featured in the faucet which prevents leakage and any kind of noisy drips. The curved spout provides an easy accessibility and reach.
USP
It features an anti splash spray head to control the pressure of water.
PROS
The faucet features a ceramic disc valve which helps in preventing leakage.
4. Delta 9178-SS-DST Leland Single Handle Pull-Down Kitchen Faucet, Stainless
PRICE : USD 182.03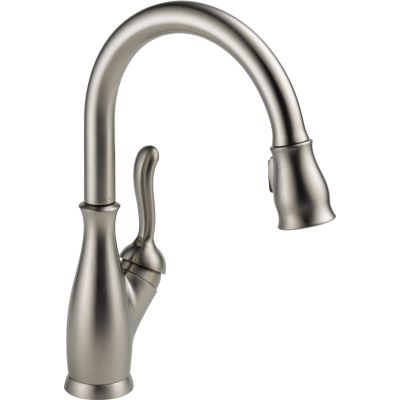 This faucet is from the teapot inspired series and looks amazing in the kitchen. It enhances the kitchen set up and works amazingly. The design features a high arc spout which swivels 360 degree to provide a complete sink access with convenience. The pull down spray wand feature provides easy reach. The faucet has a single hand control which helps in easy operation just with a hand.
USP
The faucet features a high arc spout which can swivel up to 360 degrees and provides a complete sink accessibility.
PROS
The single handle provides an easy usage and quick operation.
5. Kohler K-596-VS Simplice Single Hole Pulldown Kitchen Faucet – Vibrant Stainless Steel
PRICE : USD 209.99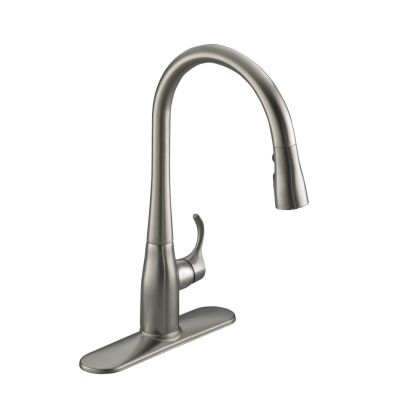 The faucet exhibits a sleek and smart design with fluid lines that simplify maintenance and makes cleaning easy. The faucet is convenient to use and provides an ease of operation. The single control feature makes it more easily operate. It has a three function sprayhead with spray pause and aerated flow so that you can adjust the water pressure. Other features include masterclean sprayface which resists any kind of mineral buildup and makes it easy to clean. The faucet includes a metal construction to ensure its durability.
USP
The faucet features a temperature memory which helps it turn on or off according to the temperature set.
PROS
The metal frame makes it more durable.
6. Vigo VG02008STK2 Pull-Out Spray Kitchen Faucet with Soap Dispenser, Stainless Steel
PRICE : USD 215.4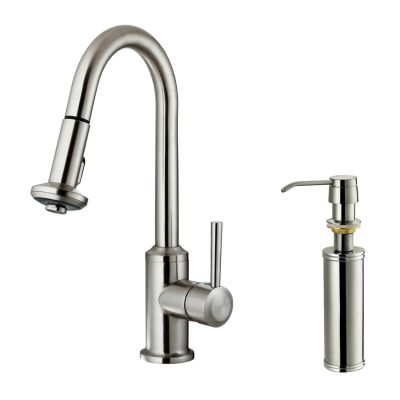 The faucet is elegantly designed to improve and enhance the look of your kitchen. It proves to be highly durable, easy to operate and beautifully designed. The construction has been made of solid brass and it features a stainless steel finish. It includes a spray face to resist any kind of mineral build up and the vigo finish ensures the resistance to corrosion or tarnishing. The spout featured in the faucet can expand up to 30″inches and can swivel to 360 degree, providing complete accessibility to the sink.
USP
The high quality ceramic disc cartridge ensures an easy maintenance.
PROS
The cartridge disc ensures simple and easy maintenance.
7. Kingston Brass KS124.PLBS Double Handle 8″ Center Wall Mounted Kitchen Faucet
BRAND : Kingston Brass
PRICE : USD 227.47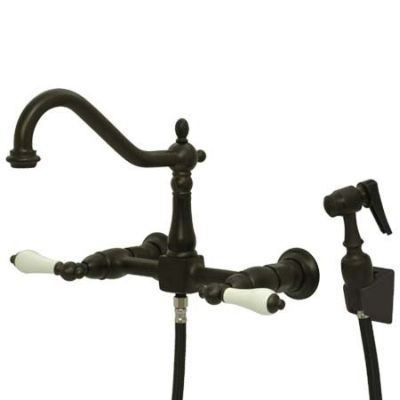 The faucet is a high quality well designed product which matches perfectly with the classic or traditional theme. The ceramic disc and solid brass metal built ensures durability.The faucet features an incredible design that will enhance the interior of your kitchen.
USP
The faucet is beautifully designed to complement traditional and classic interiors.
PROS
The faucet is highly durable.
8. Kraus KPF-1602-KSD-30 Single Handle Pre-Rinse Style Kitchen Faucet with Side Pot Filler and KSD-30 S
PRICE : USD 279.95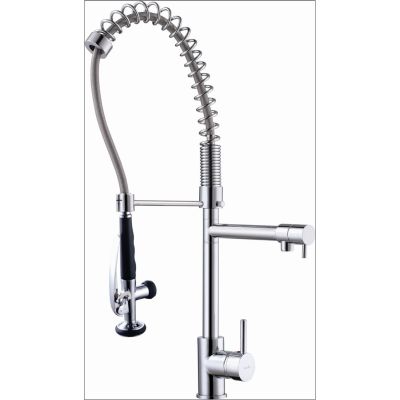 The faucet updates the look of your kitchen with its style and design. The multi functional Kraus pull out faucet is the perfect blend of durability and quality along with style and elegance. It has been constructed with solid brass and features a stunning triple plated chrome finish.The faucet has a sedal drip free ceramic cartridge and a spring aerated powerful spray with a water hammer arrestor. The single lever side mixer and retractable hose adds to its features. The spout can swivel up to 180 degrees.
USP
It features a spring aerated flow, powerful spray with a water hammer arrestor.
PROS
The retractable hose adds to the convenience and makes the work easy.
9. KOHLER K-6227-C11-CP Karbon Articulating Deck-Mount Kitchen Faucet, Polished Chrome
PRICE : USD 648.41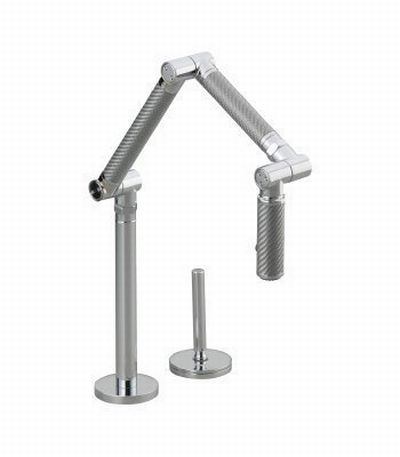 Innovative engineering allows the Kohler Karbon Faucet to move into virtually any position inside or outside of your sink. The faucet is very convenient and compact. It can be folded into any position, when not in use. It looks amazing and adds a great value to your contemporary kitchen. A sleek joystick featured in this stunning faucet looks great and works very conveniently.The KOHLER Karbon Faucet also features a connected spray head which offers both spray and aerated water flow functions. The construction includes traditional brass and innovative carbon fiber composite tubing. This faucet is the ultimate next generation faucet.
USP
The faucet features amazing construction which lets it move into virtually any position inside or outside of your sink.
PROS
The faucet is designed to provide complete convenience.
It features an integral spray head that offers both spray and aerated water flow functions.
10. American Standard 4332.350.002 Pekoe Semi-Professional Single Control Kitchen Faucet, Polished Chrom
PRICE : USD 685.56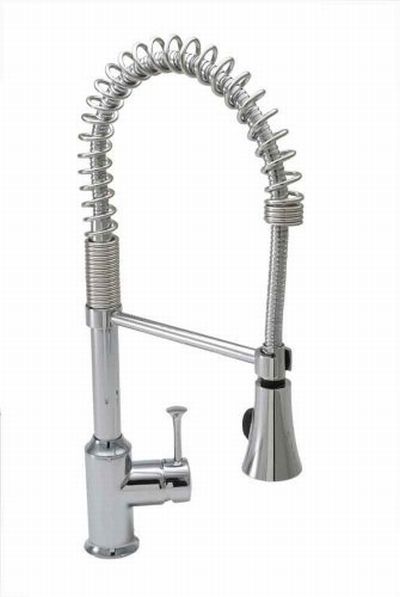 This kitchen faucet is engineered to look beautiful and function flawlessly. It features drip free built and is convenient and adds to its durability. The brass construction makes it durable and ceramic disc valve provides smooth handle operation. To simplify kitchen tasks it features a pull down spray. It works very efficiently and to further add to the durability it features brass construction. The faucet has a corrosion resistant, tarnish resistant and scratch resistant finish.
USP
The faucet features a scratch, corrosion and tarnish resistant finish which makes it a long lasting product.
PROS
The faucet is flexible and easy to use.
It makes working convenient.