Xinyi Wang is an industrial designer who has designed the Knowing Trash Can. Not a common trash can, but a design that is adept at bringing a change in recycling and how people perceive it.
Changing people's attitude towards recycling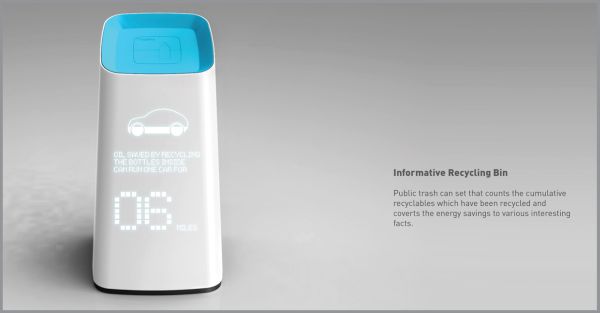 Recycling has got a fair deal of attention and recognition in recent years but still there is something that is not letting people adopt it completely. This is why some nations even today have low recycling rates.
The main reasons responsible for this are ignorance, some people blame time constrains for this, which is just a lame excuse. Many people find recycling irrelevant because they do not know what value and what importance it has for our surroundings and us.
There was a need that could make recycling easy, interesting and a sought after affair, and without any doubt the Knowing Trash Can has done this. It has such a unique concept and design that is changing people's attitude towards recycling, as in making it more positive. It encourages people to be serious about it and contribute their best to make recycling a common affair.
Informative recycling bin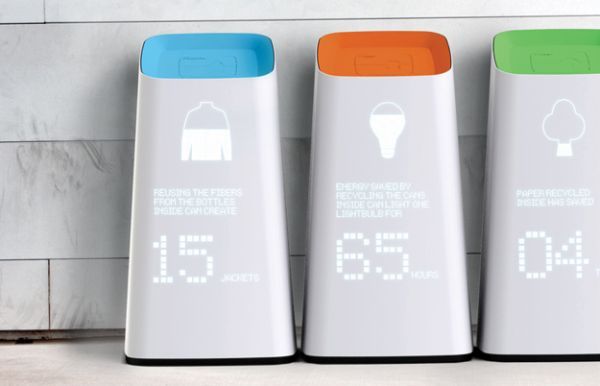 You put a recyclable item in the Knowing Trash Can and the lid closes. Instantly you can read on the bin's front display the energy savings feedback. It lets you know immediately what contribution you have made and how recycling is going to benefit.
The information works as a motivation that forces an individual to contribute a lot to the noble cause of recycling. After displaying the current information, the display resets and as such keeps a track of the number of items and the amount of energy savings.
There are three different trashcans for recyclables such as plastic, metal and paper. The lids work as color codes, as the orange lid is for metal waste, green for paper, and the blue lid is for plastic waste. This color-coding eliminates all confusion, so people can contribute their best to recycling by putting correct waste in the right can. The display panel keeps displaying information that helps people crossing by know the positive impact of recycling.

There was a dire need to make recycling a common affair by making it easy and attractive and the Knowing Trash Can seems to do it very well. Its color-coded lids enable people to put trash in its right place and the informative message displays encourage people to do their best towards recycling.
Source : Behance.Net