An extremely warm, rustic, old-world and welcoming style of interior decorating, with immense charm, elegance and grace is the French Country decorating. Distressed furniture, patterned fabrics, natural materials and glistening chandeliers are some essentials of this particular style of interior décor. You can adorn your home interiors with this style, as it is quite easy. There are no hard and fast rules that you are supposed to follow while incorporating this superb interior decoration style into your home. There are some tips and information for you, which will make you understand the ins and outs of the French Country style.
Distressed furniture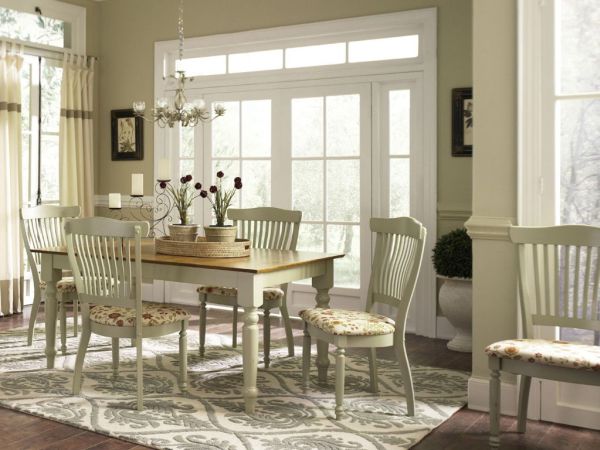 Furniture pieces that have worn and weathered look are the distressed furniture pieces that are French Country style essentials. You can rub the edges of a painted desk with sandpaper to create similar look. If you have old furniture that has actually worn out with time, it will serve your purpose right.
Graceful lighting
Graceful lighting is must, chandeliers being the top choice when it comes to adding a French Country style of interior decoration. One of the major reasons that lighting plays such an integral role in this interior décor style is that it balances the otherwise dreary look of distressed furniture and wooden beams. You must try unique chandelier pieces ranging from crystal to wrought iron. It goes for the sconces as well. For lampshades, go for checkered lampshades, as they go perfectly well with this style.
Curves and Frills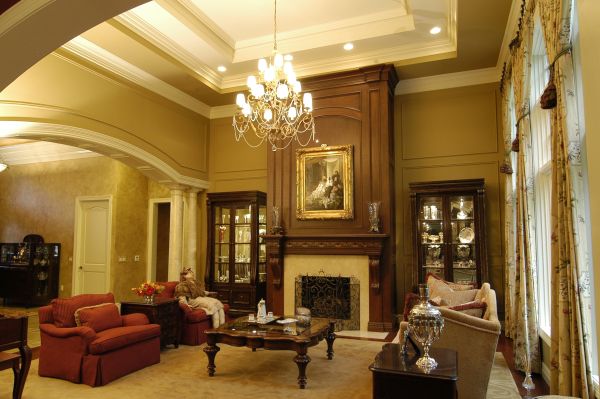 Curves and frills are other essential features of a French Country style interior decoration. Curves and frills incorporated in the décor in such a way that it does not appear cluttered at all. Arched windows, chairs with rounded backs, doorways with curves, and chandeliers with lots of curves in them look soft and elegant. The reason behind is the presence of some other décor essentials that manage to balance out such features, preventing them from appearing chaotic.
Fabrics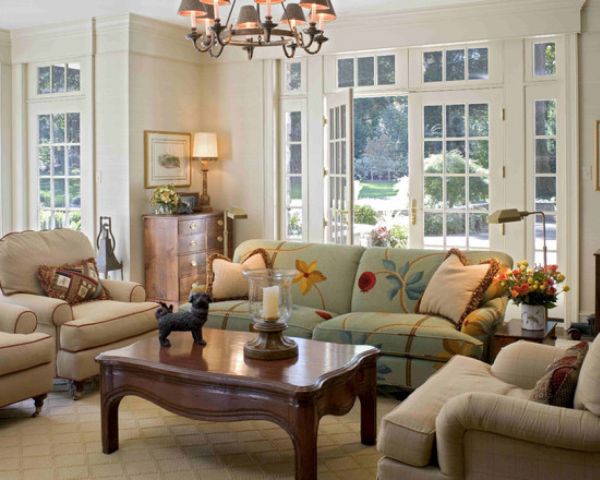 Toile is the most popular of the French Country fabrics and it has vibrant colors. It looks very beautiful when used in combination with either stripe or check fabric. Overall, the fabrics belonging to color red, blue, yellow, white, green and black belong to French Country fabric collection. It is not mandatory that you have to put all these colors in every room. You can keep a delicate look for your master bedroom, which will be loaded with white or cream fabric. For the rest of the rooms, you can play crazy with all the colors mentioned.
Curtains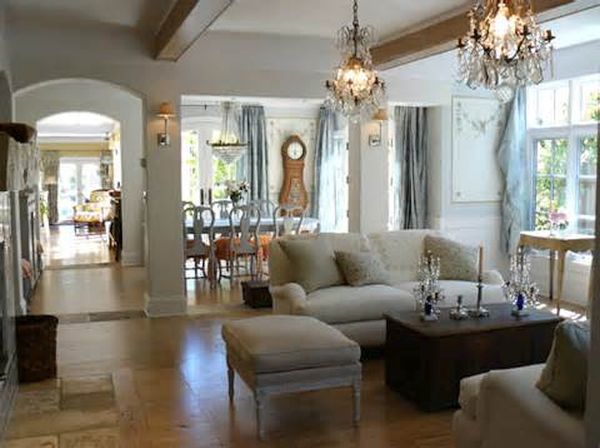 Curtains are a major part of a French Country interior decoration style. The types of curtains used to create a French look are a combination of style, elegance, comfort and ease. As we mentioned at the very start, that adding French look to an interior décor is quite easy and fun because you need not follow any hard and fast rules. You just have to combine different styles and features that belong to this very style of interior decoration, and you are done with it. For instance, when you are about to decide on the curtains, you need not waste lot of time deciding, which ones to pick, where to pick from and all. You have freedom to pick curtain made of any one of the French Country fabrics, or ones that have a one or the other pattern such as lace or ticking on them.
Accessories
Last but certainly not the least; accessories are also an integral part of this interior decoration style. Ranging from carved wood pieces, wire baskets, colorful ceramic tiles, pottery, to old and dark paintings put up on the wall, it looks lovely.
Summary:
For people on a lookout for an interior decoration style that is rustic, stylish, warm and welcoming, the French Country style of interior decoration seems to be an ideal option.