Here to jazz up your interiors with its mystic aura is L.E.D Floor Lamp that has been designed by Adam Davies. The outline of this eye-catching lamp has been stirred from nature and comes injected with features that will blend perfectly with a modern day setup. The basic outline as well as shape has fetched heavy inspiration from Marram grass, which can be easily located at beaches. This kind of grass decorated the top of sand dunes and has a shape worth noticing.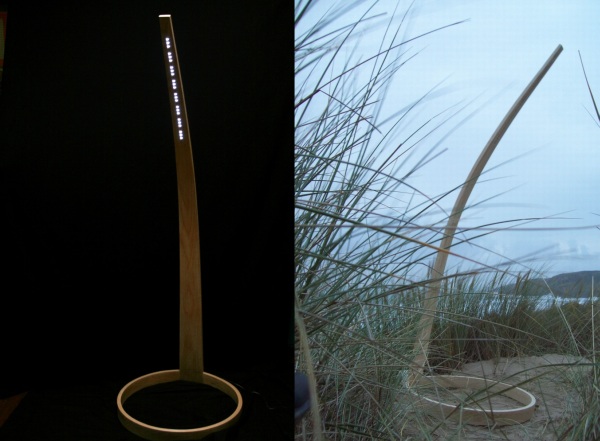 L.E.D Floor Lamp tapers at the top just like Marram grass would when wind touches its facade. A track is left around the grass in the form of a circle or a semi circle when the wind blows. The same circular shape has been incorporated in the design that makes it look all the more exquisite. The L.E.D Lamp has been crafted using ash wood, which vows to decorate the floors of your dwelling and grab attention. LED lights have been fitted on the bent design that is an Eco-friendly option as it won't consume a lot of energy. The stem has been attached to the base ring and arch, which has been brought to life by laminating layers.
All the electronics of the design are well concealed as the LED light is placed inside the wood. The wires are positioned between the wood and laminates that gives it a neat look sans the sight of any ugly wires. High tech processes were used to make this lamp. Further new age components like LED strip lighting and 3D printing were also exploited to make sure the lamp manages to fetch unending compliments. The overall design of the L.E.D Floor Lamp is very impressive and will bring nature inside your home. The light produced will lend unending warmth and will give birth to a serene atmosphere at home.
Via: Coroflot