Though most of us are busy doing decorations and renovations for the main house, the out-house or the outdoor room, still remains an area not looked into with much interest. Hence, we thought of bringing top 10 idea for you, to spice up that area of your property, where you could spend quality time alone, or with your group of friends and folks:
1) 1960's Patio style:
The 1960's though more commonly known as the 'swinging 60s', was actually a period of a lot of sophistication as well. Modern and decorative, this set-up does not come out as being loud, but suits the mood in the ideally during the summers. The winters too can be a time to enjoy this dash of colors, where everything else remains white under snow.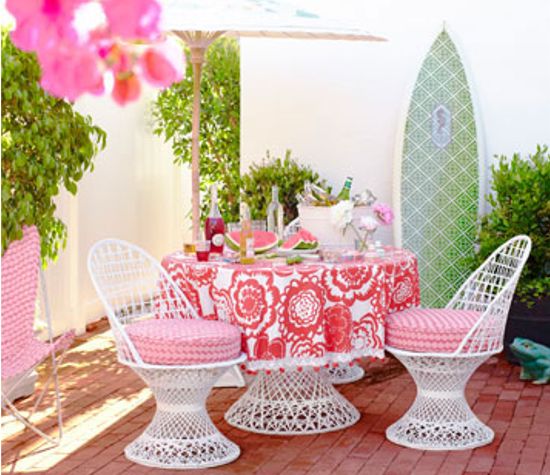 2) Eclectic and eco-friendly room:
The outdoor rooms are generally meant to be something close to nature. That is the reason having eco-friendly furnishings, with whole lots of greenery and natural plantation around. Such a setting is ideally suited for after-food drinks, and evening gatherings.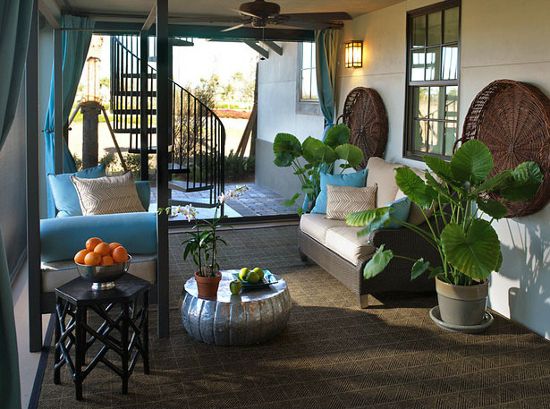 3) Mediterranean style room with bed:
This particular style set up is by Daniel Hale, but the core essence of this style of room remains Mediterranean, ideally looking over a wild exposure of the natural views. Ideally suited where there is dense foliage, or opportunity of exposure to a scenic beauty of hill side, ocean, or varied flora and fauna, one can set up this style of room as an additional guest house or even an outdoor summer room.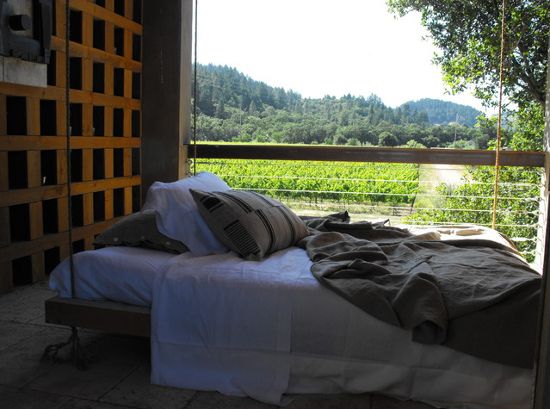 4) Poolside room cum personal spa:
Ever thought of .having a poolside room, which could also double up as a personal water spa? Well, this design perfectly fits that bill. It might strike on immediate view, because of contrasting rocky surroundings, but it is one enviable oasis to have within the compound of an outdoor room. In this case, the outline of the pool is surrounded by copper faux agave plants which blends with the rocky surrounds. They are placed on copper water jets, which dispense the water back into the pool after a recycle. One can create various shapes of the pool, but this one is in the shape of a shell.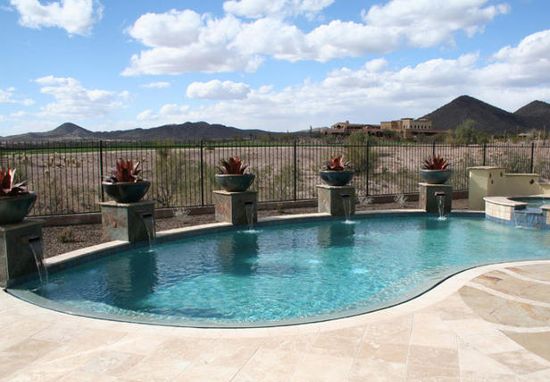 5) The Outdoor fireplace and resting room:
Though the outdoor room can be bought in various style, having an outdoor fireplace to such a room changes the beauty, and the utility of the place, especially during the colder evenings. This design transformation comes from Tobi Tobin, who used the backyard of her Hollywood Hills home, to construct this intimate and nature locked fireplace with her outdoor room. The bricks have been brought in from the former patio in the house, and the furniture is partly recycled too. The wooden dining table has been derived from gun barrels from the World market. The candle-lit chandelier is moved via a pulley attached to the tree nearby, for the complete settings and ambience.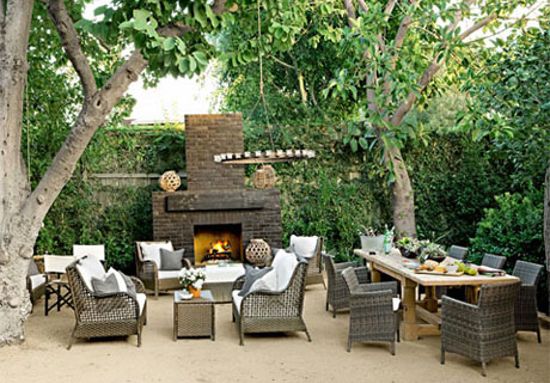 6) The outdoor Ramada room:
In what reminds faintly of an European touch to the architecture, this outdoor space creates a room in entirety with it's aesthetic principles. The room comes totally loaded with the television sets and other electronic gadgetry, but the space gets marginalised with the curtains. They block out light partially, just to give the space it's own privacy, but does not cut out the beauty of nature from it. This ramada also comes with the softer rounded edges, especially near it's roofs which helps in typing shade trellis, and gives it a feel of being tied to nature.
7) European style patio room:
The charm of Europe has a very special place in architecture, and there is no reason why the outdoor room could not be done up on those design cues. This particular room features painted terra-cota tables, and the floor tiles bought in from France. They have been coupled with antique chairs and Fenioche chandeliers, which add a very sophisticated yet bright touch to the room.
8) African style patio room:
Though the designing ideas could be applied to furniture and fixture within the outdoor rooms, the hillside patio theme has a truly unique style factor to itself. It is based on African style of decoration with the colorfully painted embellishments, coupled with space for trees of various styles. In all, it creates mini-forest or African Safari theme, which could be an unique choice, taking a break from the norm.
9) Modern American Style patio:
Some of us simply can't help it, that our residence happens to be in a building, where garden and door space isn't in generous stretches. However, this innovative design by Jen Chappell and Ken Berry is suited for those staying at multi-storeyed apartments, but have a bit of terrace space to play around with. Nothing too abstract, but subtle natural colors and patterns feature prominently in the theme. Since this is a covered space, it can be enjoyed during the rainy season too, or the hot summers without direct exposure to the sun. During winters, one could place a makeshift fire pit to warm up the surroundings.
10) The Outdoor grille delight:
Though the outdoor rooms serve more purpose than just grilling alone, but the room can be based on the theme, carried forward outside. The retro furnishing featuring bright warm colors, along with the interplay of stainless and and wooden surfaces set apart the ambience of the place. However, one would need to invest in a generous set of equipment like the adequate grilling station or even a bar, as this room would certainly be a place for entertaining a small gathering in the least.