Who said that luxury was just meant for royals? Times have changed and getting a streak of opulence are bedrooms, which are being decorated in a stunning way to give the place a vivid intensity. Luxurious bedroom designs always come dipped in a warm and beautiful look, with elegant colors and a feel of luxury. A stylish luxurious homes and bedroom will become an interface of your house, so choose a charming style that will fetch attention because of its sheer grandeur. Need some inspiration? Have a look at some master bedroom design ideas.
Luxurious bedroom designs with modern furniture by Pm4

Make your bedroom a haven, which will help you relax and unwind. The tasteful decoration by Italian company Pm4 is worth falling in love with. The fashionable decor bleeds of magnificence and will bow down to your whims of grandiosity and subtlety.
Luxury bedrooms by Cattelan Italia

Nothing is more serene and timeless like the color white. If you intend to create a masterpiece, then the luxury bedroom designs by Cattelan Italia is what you need to set your eyes on. Everything from the oversized four poster bed, floor lamps, wall mirrors, sofas, upholstery and drapes are a true call of luxury and come smothered with richness. The space will set romance flowing and will inject it with sensuousness.
Luxury master bedroom design ideas by Steven G

Steven G is a well known name when it comes to luxury coated bedrooms. The master creator and his designs are simply magic and will force you to spend more time in your room. The use of soft colors rules the interiors and lends a calm appeal. Pile the wooden bed with pillows and cushions of various sizes and see the entire scene blaze up in extravagance.
Luxury bedroom design with drop-in bathtub and built-in fireplace

A bedroom is a place where you can dare to be different. So, why not place a fireplace and bathtub in the comfort of your room? There is no need to run till the living room to savor the warmth of a fireplace or sprint toward the bathroom to slip into a state of ecstasy as you soak yourself in the bathtub. Though the idea may leave you wheezing and in state of surprise, but is sure plausible. The drop-in bathtub will soothe and paper you like never before with the luxury of aromatherapy, air therapy, heat therapy, hydrotherapy and chromatherapy right in the dimensions of your dream-like bedroom. Further creating a warm as well as ambient feel will be the fireplace, which sure will make many go bonkers.
Opulent luxury bedroom with classic design

Luxurious, beautiful and stylish is the best way to define this classy bedroom. The design seems to have popped right out of a fairy tale book where everything is just grand. The room spills romance and its unending warmth will intoxicate senses. The opulent bed and other furniture items will ooze mysteriousness as well as daintiness. The lavish use of gold and intricately carved pieces of furniture is something, which will make jaws drop. So, it's time you spruce up your room with golden opulence and savor the way royals live.
Luxury bedroom design by Altamoda

Give a royal touch to your bedroom with the luxury bedroom design by Altamoda. Rich color combinations and a round bed makes the space look dream like. Though it will not blend with the fancies of many around because of its loud appeal, but the styling is definitely class apart. The room appears like a blooming flower, which will spread freshness in all corners and etch an eternal smile on everyone's face.
Luxury bedroom interior design of Boutique W Hotel Doha

Here is a bedroom design that exudes a cool and calm appeal with the brilliant use of blue. The king sized bed gets a softer edge with sumptuous blue cushions and comforter. It offers modern luxury and the curvy appeal of the roof high headboard takes the glam quotient to an all new level. The opulent and charming appearance will fit perfectly in a contemporary setup and will pep up your mood every time you enter the stylishly designed room.
Luxury bedroom by MobilFresno

Douse the most private space of your house with a choice of colors that exudes exquisiteness. The excellent combination of colors and sticking to the idea of minimalism gives the luxury bedroom by MobilFresno an attractive appeal. The white colored bed and dark chocolate chest of drawers is totally enticing. Feel nothing but comfortable as you fall back on the outstanding upholstered headboard.
Contemporary luxury bedroom design ideas by Star Resort

The bedroom design by Star Resort is a perfect combination of fine sleek lines and modern appeal. Don't expect it to be grand in terms of stuffing in furniture items and other decorations, but it has all the right elements in place to make you feel like a king/queen. The trendy yet beautiful details will transform even a dull place into something lively and truly extraordinary.
Swimming pool master bedroom design ideas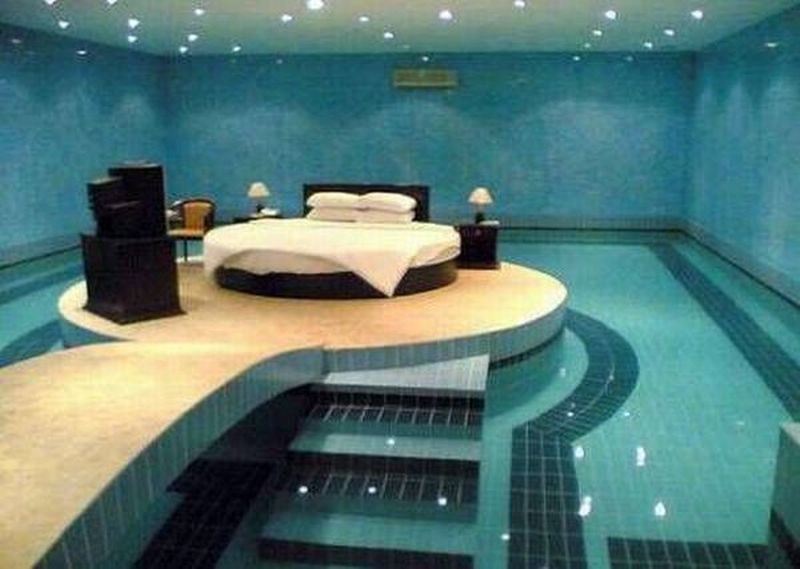 If you thought that there is a shortage of out of the world ideas when it comes to designing a luxurious bedroom, then what you are about to read will definitely make your eyes do a cartwheel in surprise. Want to sleep and swim at the same time, here is the 'swimming pool bedroom' in which you can jump as soon as you open your eyes. Though the whole concept of planting a bedroom right inside the swimming pool or vice versa is a little too weird, but definitely wows everyone.
Master bedroom design created by Semsa Bilge

Create a master bedroom with the love of your life and deepen your lives even further with the modern bedroom design by Semsa Bilge. The spacious room has been set against a white backdrop, while the floors come smothered with light colored wood. Adding a splash of color, in terms of upholstery, gives it added vivaciousness and fill it with doses of life.
Master bedroom design with mix of modern and traditional elements

Turn your master bedroom into a cozy retreat and nurture your minds and spirits. The use of light green color gives the space added freshness. It is a great amalgamation of traditional and modern traits, which gives it an added appeal. The setup will fill the space with romance as it is gifted with a great amount space.
Master bedroom designs with beautiful and good lighting

Transform your room into a dreamy place with intelligent lighting. Good use of lights can completely change the look of a place and make it mesmerizing as well as lend a more intimate feel. Flush the master bedroom with warm lights, which will soothe your sense instantly. Artificial lighting will give the space an interesting aesthetic appeal as the walls as well as various lines of furniture items further get underlined with soft hues of lamps and ceiling lights.
Master bedroom retreat by Sarah Richardson

Release all tensions as you step into your master bedroom retreat designed by Sarah Richardson. The space echoes style is class apart, which has an elegant and amazing look. There is enough seating space, in the form of two chairs and a comfy sofa placed besides a window. The complete minimalistic look is relaxing and the use of light/understated colors gives the room an airy feel.
Eclectic master bedroom design ideas

Introduce a sweet vibe to your private space and add crispness with the Eclectic master bedroom designs. The use of subtle colors draws attention, giving the room a sense of privacy and cohesion. Add sparkle by making natural sunlight kiss the inside of the room during the day, which will revitalize the area. The gentle curves of furniture items will conquer hearts, giving it a notable grace.
Luxury master bedroom design ideas

This master bedroom feels like a sumptuous sanctuary with its soft and soothing appearance. Plush fabrics and soft lights give it a touch of regal glamour. The use of neutral tones on the wall ornaments the bedroom in an oh-so-subtle way. Blending perfectly with the beige walls is the dark chocolate brown colored bed, making the space all the more stunning and nothing less than a luxury.
Master bedroom design collection by Noel Jeffrey

Create a romantic cocoon with the master bedroom design collection by Noel Jeffrey. The elegant and amazing look will pull you toward it, forcing you to spend time with your loved one in a space that spells romance. Noel Jeffrey designs will give you all the comfort you have been longing for and that to with all the beauty intact.
Divine bedrooms by Candice Olson

The earthy colors of this chocolate bedroom lend a sense of classiness along with the much needed warmth. A rich, dark, brown accent of furniture items sets the spirit soaring for this modern master bedroom by Candice Olson. Reminiscent of a posh hotel, the room extends an invitation to unwind at the end of the day.
Master bedroom design from Hulsta

Neutral shades play out in a gracious way in this master bedroom by Hulsta. The room has a very modern and contemporary appeal, which definitely gives the room edginess. The spacious room is blessed with clean shapes, providing a sense of opulence as it walks a fine line between masculine and feminine.
Master bedroom bedrooms design ideas from Meg Braff Interiors

Greens are wonderful colors for a master bedroom as it helps lift the spiritual dimensions of your reunion. Pump up the liveliness of a nice but dull bedroom an inviting soft green master bedroom. Master bedroom design from Meg Braff Interiors feels as fresh as spring season, giving it a soothing and relaxing feel. The white four poster bed will instantly become the focal point of your room and together with green walls will be nothing less than stupendous.