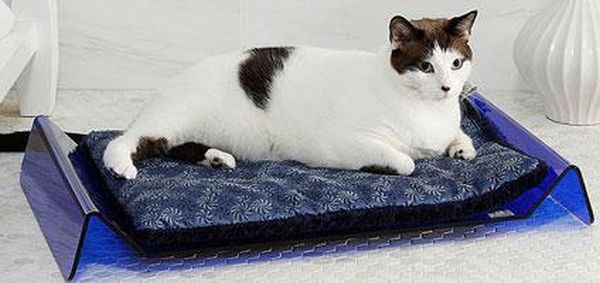 No matter which pet you own, it is your duty to make them feel safe, secured and warm. Your responsibility just does not end with offering your pet with some food and taking it out for an evening walk. What else has to be done? Well, you need to provide it with some space where it can rest in a comfortable manner. So, here are some amazing pet furniture items you can consider buying.
Nightstand
Need furniture with dual-advantage? Pets rustling your bed-sheets is not quite an idea. Accommodate your pet in this beautiful piece of furniture which you can use as a table for a lamp-shed as well as a den for your pet to squeeze into.
Wave Bed
Crafted by Cedel, Wave Bed just looks like another bed. With its built-in nightstands, the furniture looks just wonderful! Considered to be the ultimate choice for small-pet owners, the Wave Bed costs about $2000.
Tower
Cats prefer to be at height. Most cat owners must have noticed that these beasts seldom prefer walking on ground level surfaces. Such a bed fulfills this necessity. Apart from being a great surface to jump on, the furniture looks cool and trendy.
Tree House
Cats love climbing on trees and your little kitty is surely going to like this. This pet house resembles a tree and offers sufficient space for your pet to sit, rest and sleep. Feline owners have ample choices to make from its shapes, sizes, branches, floors etc.
Rattan Furniture
Made from handcrafted faux rattan, this Kitty Ball Bed is especially meant for the felines. Costing around $79, this piece of furniture includes cushion that can be washed in machines.
Pet Chalet
Your pet is definitely going to find a pet chalet absolutely comforting. Consisting of a carpet and three cardboard balls, this cardboard plaque made chalet will cost you somewhere around $26.
Modern beds
Looking for some extraordinary pet furniture for your modern home? Well, the egg-shaped pet beds are the best choice for those who own small pets. Absolutely stylish and extremely durable, the modern beds are available in various sizes.
Zen
Priced somewhere around $580, Zen is an outstanding piece of pet furniture that solves multiple purposes. Whether you want to display a flower-vase or use it as a side-table, the furniture offers sufficient room for your pet to sleep and rest.