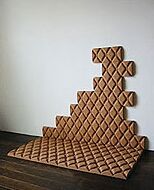 Mocoloco has brought to fore this unique furniture concept called the sofa brick. Designed by Aya Koike as a part of his PARASITE FURNITURE collection, these are basically building blocks made in cork that can be used to make a wide variety of furniture and decoration pieces.
You just have to keep on joining these blocks together to form interesting shapes that can be used to sit upon apart from adorning the living area.
Can't say much about the comfort levels, but it is definitely going to look beautiful and add variety to your interior.
Via: MocoLoco