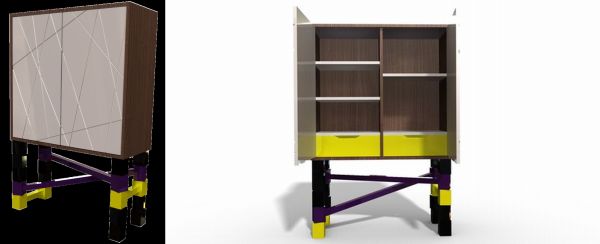 Designer: Pedro Saraiva, Aveiro, Portugal
Furniture designing is not a dull field anymore, instead it is going hand in hand with fashion and art. Designer 'Pedro Saraiva' for his firm 'Estado d'Alma' has shaped 'D. Manel II' that reveals the naughty state of a soul. The firm's signature concept of color blocking has also been used in this furniture. It incorporates the essence of shape, texture and space.
What's unique
With its splendid, elegant and royal appearance, it truly justifies its name, 'D. Manel II', 'the last king of Portugal'. In addition, its cool and unique design with versatile storage can be used for the spaces that seek the importance of decoration.
High points
The color blocking concept used for its twisted legs give it a different yet stylish look. The bow in between the legs renders asymmetrical appearance that symbolizes its revolutionary character. Big front doors, incorporating puzzled lines enhance its majestic character. With all these artistic features, it also serves its purpose of storage honestly with five shelves and two drawers.