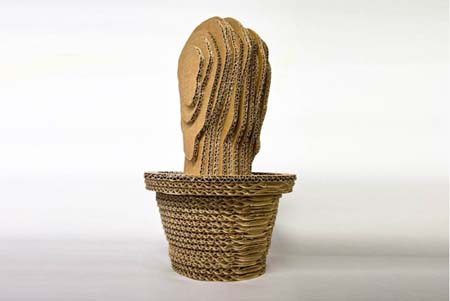 At the Milan Design Week for 2012, a unique and exciting new technology was put on display. This design truly caters to the need in bringing down pollution within a household. The designer of the cardboard cactus, which can filter clean air within its perimeter, was clearly aware of people's need to breathe in clean air. Meta Material, the Italian design people who created the cardboard cactus has put up the design, which can be used in two styles. They can be fashioned as the cactus filter and another one more as a minimalist cube design. They are even willing to create customized design on order.
Different shapes of the cardboard air filter
With the ever-increasing need to look for ways in which people can relatively breathe in clean air, such products have always depended on two basic methods. The traditional products are usually the natural houseplants or the industrial air purifiers. Of course this method works just as efficiently but houseplants need to be looked after and the industrial purifiers are noisy and bulky. Meta Material has given a neat and clean look to their cactus cardboard air purifier by using recycled corrugated cardboard kits. This is in far contrast to the usually chunky and industrial looking air purifiers, which not only take up a lot of space but can be visually unappealing. The beauty of this design is its discreet way of being able to be shaped into many forms according to the fancy of the user. Whether it takes on the shape of a cactus or a minimalist cube, its efficiency as an anti-bacterial air filter is not dampened in any way. It also makes for a perfect piece of aesthetic room decor.
Features of the cardboard air purifier
Despite being made purely out of recycled cardboard, the design has been given a high end technology as it comes complete with a USB adaptor for the laptop. This is very convenient for people who are mobile as they can carry their air purifiers around with them. The air filter is silent in its operation and comes treated with organic anti-bacterial element, which fairly increases its efficiency and can be most hygienic for the kitchen and dining area. This hybrid air filter is as efficient like a mechanical air purifier and as attractive as a real houseplant. The Meta Material people claim that this form of air purifier can drastically cut down bacteria and other air contaminants even better than traditional air purifying devices. The cardboard device comes with a chart which explains all the ecological benefits for the environment. At present the price ranges from $26 to $52 depending on the design.
Meta Material are more concerned about the functionality of their product as it has proved to scrub the air clean, providing respiratory relief with no noise level. They have truly bridged the gap between the mechanical and natural air purifying methods. Their design also adds a dash of something aesthetically unique to the home.