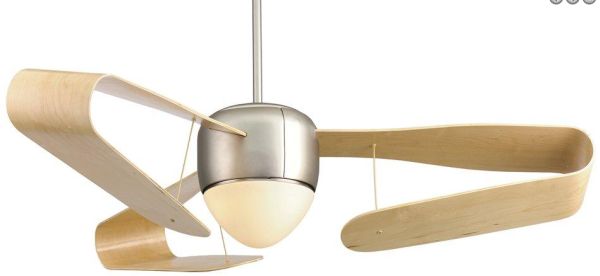 Gone are the days when a ceiling fan was only meant for circulating air in the room. Modern times have not only changed the way these humble fans were designed, but also have made them double as a beautiful decoration unit as well. The ceiling fans, in the modern era, are a great blend of beauty and functionality, which accentuate the room and add additive magic to its overall appearance. From vintage to modern and bold to sleek, the market is flooded with mesmerizing options that will give an edge to the inside of a dwelling. Let us have a sneak peek into the modern ceiling fans that not only look great, but also maintain a comfortable indoor environment.
Hunter Fan 28614 72-inch Fellini ceiling fan

Add an exuberant charm to your home with the Hunter ceiling fan. The fan comes fitted with five wooden blades that have been carved to impress. The Fellini has a bladespan measuring 72 inch, which is truly grand. The fan has been designed in a way that makes it look very beautiful and will add to the appeal of any space. It comes with a light dimming remote and even the speed can be adjusted.
What's unique: The tapered wooden blades have been hand carved and look like delicate palm leaves. Its cocoa colored finish will blend with almost all kinds of interiors.
Cap fan modern ceiling fan

Want an awesome ceiling fan that will not only cool you off, but also add to the aesthetic appeal of a place? Then, the Cap fan is just the right thing for your sweet abode. These cap fans blend perfectly with a contemporary setup and jazzes up the environment further. They are simple to look at and have really clean edges.
What's unique: Modern roof fans come in various shapes and sizes, hence can be picked as per the individual requirements. The best part being, these rank high on the performance and functional level, which makes them an instant hit among buyers.
Modern Isis by Big Ass ceiling fans

Do you have a spacious room and is the ceiling of your home high? Then the struggle to hunt for that perfect fan that will circulate air all across the room ends here. Modern Isis, a product by Big Ass Fans, is ideal for both summer and winter seasons. It will result in perfect interior temperature by making good use of the fact that cold air falls and hot air rises.
What's unique: Isis fan will keep your heavenly abode warm in winters and cool in summers. It will consume less power as compared to other fans, thanks to its angled blades that reduce drag and further optimize airflow.
Artemis ceiling fan

If you crave that the ceiling fan comes smothered with exquisiteness, then the Artemis ceiling fan will leave you wheezing. The unique design is very eye appealing and is perfect for modern homes. It has been fashioned in an ultra modern way and provides outstanding circulation. The outline is stunning and manages to draw attention.
What's unique: A curvy silhouette and aerodynamic three vane design will provide a cooling effect to the space in no time. It comes fitted with a 100-watt holder that can be fitted with a halogen bulb, which will make the area glow when it is switched on.
Retractable blades fan by Fanimation

There are times, like the winter season, when fans have no purpose at all. The sight of still blades of a fan may add as a dampener to rest of interior design when not in use. Keeping this in mind, Fanimation designed retractable blades fan. As the name suggests, the blades of this attention grabbing fan can be pushed away, leaving behind the well crafted center design.
What's unique: The retractable fan blades will give two absolutely unusual forms to the same product. It is versatile and will enhance the beauty of the area further. The design is not only practical, but also very clever.
Acero fan

Acero fan has a practical as well as thoughtful design. It has been styled in a retro-industrial manner and comes with three speed settings. The center features a cage like design, which gives a very rugged feel to the fan. The blades have been set 14 degrees apart that not only increases the life of the motor, but also move the air perfectly.
What's unique: Acero Fan can re-circulate warmth that rises up from fireplaces and heat stoves when it is moved in the reverse direction. It can be fitted with a light piece, which will illuminate the area while cooling it.
Ellington Teardrop modern ceiling fan

Ellington Teardrop modern ceiling fans come coated with a lot of style and elegance. The fan is accompanied by a hand held remote control and is also capable of reverse movement. It can be adjusted to three speed options as per the requirement. This serious air moving machine will circulate air effectively and give the ceiling added flamboyance at the same time.
What's unique: Ellington Teardrop modern ceiling fan can be wedged on the ceiling with or without a light. The design is a fine example of minimalism industrial design, which will dramatically lift up the appearance of a room.
Fanimation Centaurus Tropical ceiling fan

Fanimation Cantaurus Tropical ceiling fan is a creation that will stand out in true sense. It comes fitted with three blades and will spruce up your dwelling with its charisma. The wood blades have been curved in a spectacular manner, which will cast a magical spell every time they rotate. It is available in two colors: black and satin nickel and will also work well with slopped ceilings.
What's unique: The ceiling fan is a head turner and a true performer. The sleek housing and downlight will add charm and offer a dazzling look.
Casablanca bungalow ceiling fans

Casablanca bungalow ceiling fan is a true example of fine craftsmanship. It has a geometric shape that will make it center of attraction in the room it is wedged in. The fan blades enable an efficient air movement in the room. The magnificent ceiling fan includes 120 watt incandescent light fixture with bulbs that make it shine like a star. The motor housing glows with the presence of a lighting unit, which further gets accentuated by the presence of glass shades.
What's unique: The design is quite practical and flamboyant at the same time. It will give an artistic touch to an area and will prove to be an excellent choice due to its sheer versatility.
Ribbon

Ribbon ceiling fans boast of a 3D geometry, with blades that will twist and twirl like a delicate ribbon. As compared to a conventional fan, it will circulate an ocean of air that will be felt from floor to the ceiling till every corner of the room. The design is simple yet very beautiful and comes tagged with a lot of vividness.
What's unique: Ribbon ceiling fan is sure very tasteful, but does not comprise on the practicality level. The aesthetically appealing creation will add a touch of sumptuousness to ultra modern interiors and lift their style quotient further.
Faltfan ceiling fans by Joa-Herrenknecht

Giving an all new meaning to origami folding techniques is the Faltfan, which has been designed to impress by Joa. It ranks high on the minimalism graph and fine lines as well as edges give it an eye-striking look. The air is moved in a strong way, thanks to the use of aluminum sheet that is used to craft this splendid ceiling fan.
What's unique: The visually appealing and graceful design makes it a fan for the next generation and modern day homes. The blade design is pretty innovative, giving the fan a style that is worth a steal.
Minka Aire Gyro ceiling fans

If you want the fan fitted at your place to throw air wall to wall, then the Minka Aire Gyro fan is bound to please you. The creation comes caked with an industrial age look and, without a second thought, has an unusual appearance. The design is stylish and is quite stable.
What's unique: The complete assembly can rotate 360 degrees at 3 rpm, which is worth buying.
Amazingly Practical Sensors-Driven ceiling fans For Smart Homes
The humble ceiling fan is joining the smart tech revolution. Many people have homes with smart devices connected to their smartphones through apps. This gives them the freedom to control all devices with just the smartphone. Now, you can connect your smart fan too and truly convert your home into a smart home.
The smart fans are extremely practical and some of them have the capacity to heat a room during winter, reducing your energy bill drastically. These fancy fans come with a host of features which were inconceivable earlier. Curious? Read on to find out more:
Haiku with SenseME
The Haiku SenseME fan is a smart fan; that has similar functions to the best air conditioners available. You have to download the Haiku home app to get all the advantages. You can set the temperature and control all the fans in your home by grouping them together and using the app.
The SenseMe motion sensors turn on and switch off the fans by detecting your presence or absence in the room. Therefore, switches are redundant with this tech. The Whoosh mode creates a natural breeze sensation which make you feel as if you are on a picnic in the countryside, while still at home. The sleep mode ensures that you can sleep in a temperature which is most suitable to you and don't have to wake up too hot or too cold.
It has smart heating and cooling features to save energy and cut down your bill. It integrates with partner products like Amazon Echo and Nest Learning Thermostat, the Ecobee Thermostat for more effeiciency.
Symphony and Signal from Hunter
You can control The Symphony and Signal fans from Hunter from your smartphone anywhere using Wi-Fi. You can trigger the built-in LED light using the Apple HomeKit.  The light ensures that your home is never dark when you step inside; moreover, you can keep it on when you are away. This will give people the impression that your home is not empty; thus making it more secure. It is energy efficient and keeps the home cool; along with ensuring that no one intrudes your personal space. What is even better, is that you can sync the fan with your thermostat. This fan is stylish and will blend in perfectly with your designer home.
Panasonic F-56PZM
This fan has temperature sensors for airflow adjustment and comes with a LED light. It has 1/f Yuragi to provide a comfortable breeze. Its blade design is 3D enabling smooth airflow. You can control it with a LCD wireless remote control, has 5-speed selection and safety wire.
Thermal safety fuse is built-in the fan with a convenient sleep mode that saves energy by switching off if you forget to turn it off. It ensures the blades will never fall off and has PPG material blades for greater durability. 
KDK ceiling fan
This ceiling fan comes with a remote control; and has temperature sensors and up to 9 control levels. It has a 1-8 hours timer with sleep mode and 1/f Yuragi function. You can choose from 4-blade or 5-blade design. The KDK ceiling fan has the blade fall-off prevention; with a built in blade safety plate and safety wire. It is direct current motor adapted. There are many options to choose from – standard type, antique type, low ceiling height and lamp adaptable type.
Crompton Avancer E-Sense
The Avancer E-Sense has temperature sensors and comes with a child friendly RF (radio frequency remote). It senses the ambient temperature and controls the speed automatically to give a hassle free, comfortable cooling experience. The RF remote is multi-directional ensuring smooth operations. The cable provided makes it extra-safe.
The E-Sense technology makes you stay cool and comfortable during your waking hours and while you're asleep, as it adjusts fan speed without human intervention. It comes in three colors – Baker's Brown, Onyx and Silver White. It uses 77W power, has air delivery of 230 cu. Mtr/min and 1200 mm sweep.
To sum up
All these fans are very practical and efficient, focusing on saving energy too, which make them worth buying. They will fit seamlessly into your smart home making it completely hi-tech together with all your other smart appliances.